On January 20, Armenia's government will present the list of private investors which have applied to participate in the tender announced by the country's ministry of energy infrastructures and natural resources in October last year for the re-launch of production at Yerevan's idling Nairit chemical plant.
A group of former Nairit employees gathered today outside the government offices in Yerevan to announce that they would not let the executive body take advantage of the bankruptcy process that Nairit is currently in and cancel the tender. The demonstrators also demanded that they be publicly presented the offers made by the winning and losing contenders.
Speaking to Epress.am, the former employees said tender applications have been submitted by some Russian organization, Ashot Grigoryan, the head of the Armenian community of Slovakia and the chairman of the EU-ASIA Business Finance Centre Holding. The latter, according to the demonstrators, is prepared to invest 20 million dollars to restart production at the rubber factory.
Nairit's former employees said they would prefer to see Grigoryan win the tender since the entrepreneur intends to re-launch the plant in full, and has also promised to reinstate all of the laid-off high employees at high salaries.
"The Russian organization, to our knowledge, plans to only re-launch the production of chlorine and acetic acid, which does not constitute re-launch of Nairit. Besides, negotiations on part of the European organization are led by Karen Israyelyan, who was the director of Nairit in 2006-2007," protester Anahit Manukyan told our reporter, adding that representatives of EU-ASIA Business Finance Centre Holding have already met with Armenian government officials once for preliminary negotiations.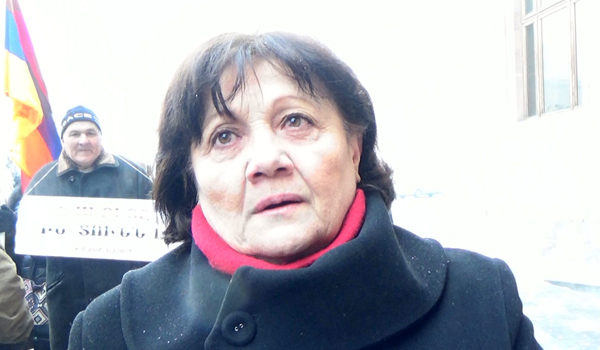 Karen Israyelyan, for his part, insisted in conversation with Epress.am that his represented company "meets the contest criteria far better" than all the other contenders.
On Wednesday, the former Nairit employees also addressed an open letter to a number of Armenian political parties, including the Prosperous Armenia Party, Armenian National Congress, Heritage, and Armenian Renaissance, asking for their support in the plant's re-launch process. The letter also urged the parties to take measures to stop the bankruptcy proceedings of the plant and to not allow that the "rehabilitation program improvement" only covers chlorine and acetic acid reproduction.
"If all the other equipment [for the production of acetylene and rubber] is sold in the bankruptcy process to pay the employees' back wages, then Nairit will never be able to function fully. We rely mainly on the parties that have representation in the National Assembly. Prosperous Armenia and Armenian Renaissance have previously drafted a bill over Nairit, which envisaged tax benefits for the plant. We urge the parties to make sure that this bill enters into force," Anahit Manukyan said today.