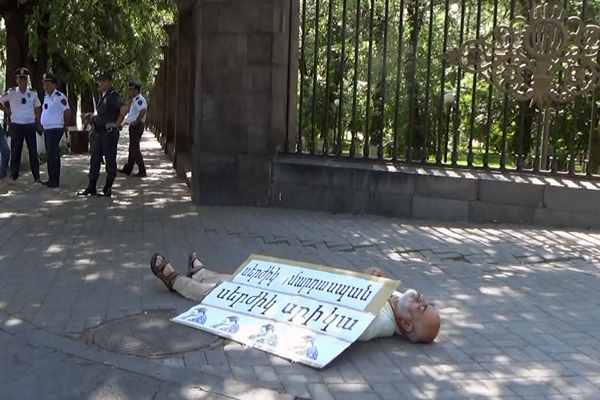 Yerevan-based prominent civil rights activist Vardges Gaspari carried out Friday morning a lie-in protest at the Baghramyan-Demirchyan intersection in Yerevan – Armenian president Serzh Sargsyan's usual route to office. "The regime killed the Food Bringer. And that's all there is to say about it," Gaspari, who was holding a poster that read 'serzhik is a murderer, serzhik is a rascal,' told an Epress correspondent.
Gaspari said that a few days ago he had tried to cross the intersection with the same poster in his hand but was blocked by a wall of policemen. The officers then prohibited Gaspari to stand there – hence his decision to hold a lie-in today. "I have no idea why they did not allow me to hold a protest then; I have not spoken to them for a long time because I have nothing to tell them. This is all I've got to say to Serzh [points to the poster] and all his subordinates, including rank-and-file policemen," Gaspari noted.
The activist added that he wants the Armenian president to know that none of the three million population "is crazy about him."
"There is at least one living person who does not accept Serzh and believes he is a murderer, but this person is not allowed to speak out. This is therefore my dialogue with a representative of the regime – Serzh Sargsyan. This is my way of showing him what I think about him," Gaspari, who has been holding similar protests for years, concluded.