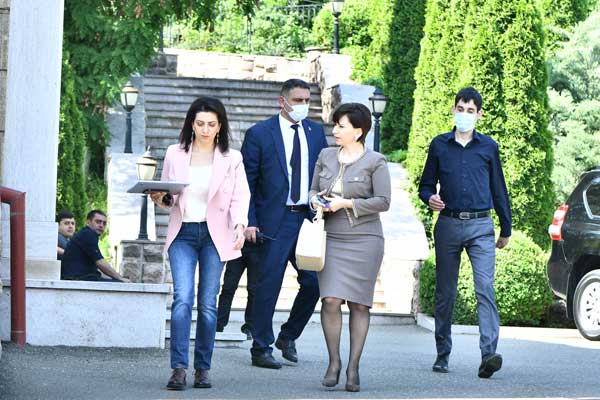 Anna Hakobyan, chairwoman of the Boards of "My Step" and "City of Smile" charitable foundations, former journalist, wife of Armenia's Prime Minister, met Kristine Harutyunyan, wife of the newly-elected President of Nagorno Karabakh, Arayik Harutyunyan and other female public figures of NK on May 22.
She presented the goals and activities of the "Women for Pace" campaign she heads, and suggested that the women of NK also join. "As women, mothers, sisters we have the right to demand our husbands to spare the lives of our sons, brothers, husbands and shift the power race to the realm of intellect. There is nothing impossible, we only need a political will to denounce wars and resolve all conflicts through negotiations. The negotiations table is no less a battle field, where everyone can turn to be a winner, all we need, as opposed to war, is human mind and not human lives." In the press statement released by Anna Hakobyan's office, it is mentioned that the "Women for Peace" campaign is presented as a weakness, which is not true.
"I am confident that any military assault on Artsak will raise not only our army to its feet, but also the entire Armenian public, military or civilian, men or women, in defense. Both I, and I am confident many women, are ready to take up arms to defend their homeland and children. But not for the sake of war, but in order to prove that there is no alternative to peace.
We will spend a major part of our time on "Women for Peace" campaign and to prove the above-mentioned, we are planning to attend military training. As women and mothers, we need to spare no effort to bring peace to our countries and the region; this is what "Women for Peace" is devoted to."