On July 3, Yerevan City Council member from the ruling Republican Party faction Naira Nahapetyan, along with an unidentified man, attacked several beneficiaries of the Right Side NGO, a Yerevan-based organization that focuses on transgender issues, and beat them up, NGO head Lilit Martirosyan said in an interview with Epress.am, suggesting that the incident was linked to the organization's activities.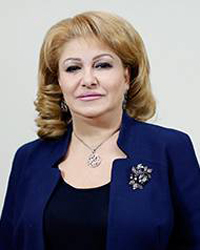 "I was at the office when I heard voices coming from downstairs; I tried to open the door to see what was going on and saw Naira Nahapetyan coming up the stairs. She pushed the door open, forced herself inside and began screaming and demanding the lease documents for the territory. She then asked whether we had relevant documents for conducting our activities. I showed her the papers which proved that our activities were legal," Martirosyan recalled.
She added that the apartment that the NGO has been renting as an office area is located on the first floor of a building on a central Yerevan street where Nahapetyan resides with her family: "So I assume she saw these people coming out of the entrance and decided to pay us a visit. The noises from downstairs would not stop, so I, together with Nahapetyan, went down to the building entrance and saw an unknown man hitting our clients. One of them has suffered a broken finger as a result. I tried to intervene and also received a blow from behind. I have no idea who this man was, but I assume that he could be Nahapetyan's husband because he accompanied her to her apartment after the incident."
When at the Right Side office, Martirosyan went on, the City Council member warned those present in a threatening tone that they had to leave the area as soon as possible if the didn't want "anything to happen" to them. "We said we would call the police but they replied that they did not care. They also said that once the police arrived, we should tell them to go up to their apartment because they had no desire to remain at the [Right Side] office," the NGO head said.
When contacted by an Epress.am for a comment, a police spokesperson said law enforcement authorities were gathering materials on the incident.
"I don't know why Nahapetyan would feel offended by our presence in the same building, but I assume she knows what issues our organization deals with and what kind of people frequent our office. The attack therefore could be based on hatred in connection with sexual orientation and gender identity," Martirosyan noted, stressing that in the six months that they have been renting the apartment, they never caused any inconvenience to the neighbors.
The Right Side NGO has also reported Nahapetyan's threats to Yerevan mayor Taron Margaryan, hoping that he would at least subject the City Council member to disciplinary action. Right Side also expects public apology from Nahapetyan, as well as compensation for psychological and physical harm.