Several days ago Yerevan-based lawyer Artak Khachatryan made offensive comments on Facebook about prominent civic activist Vardges Gaspari. Khachatryan took a photo of Gaspari during one of his protest actions outside the Armenian Chamber of Advocates and subsequently published it on Facebook with the following caption: "I've been wanting to meet him for so long; now he came here himself and lay down under my feet. As they say, 'good opposition is a lying opposition.'"
Gaspari has been holding protest actions outside the Chamber of Advocates for weeks against public defender Marine Tovmasyan, who continues to represent the interests of arrested oppositionist, New Armenia movement leader Zhirayr Sefilyan against the latter's will.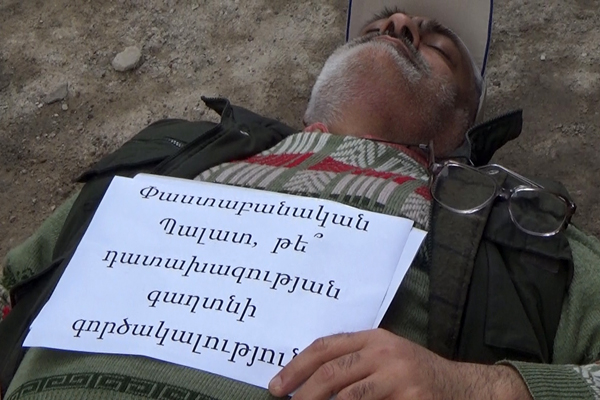 Epress.am contacted a spokesperson for the Chamber of Advocates to find out whether Artak Khachatryan would be subjected to disciplinary action for his unethical conduct. "As of present, there has been no report against him, so no. We'll initiate proceedings when there's a complaint," the spokesperson replied.
Nonetheless, according to the Armenian law on the Chamber of Advocates, an official complaint is not a necessary requirement for initiating administrative proceedings. Proceedings can be launched based on media publications alone. According to the code of lawyers' conduct, lawyers are obliged to show not only professional but also ethical behavior. The first article of the code states that the duties of lawyers do not begin and end only with the diligent performance of their obligations, and that lawyers have responsibilities not only to their clients but also to the public.