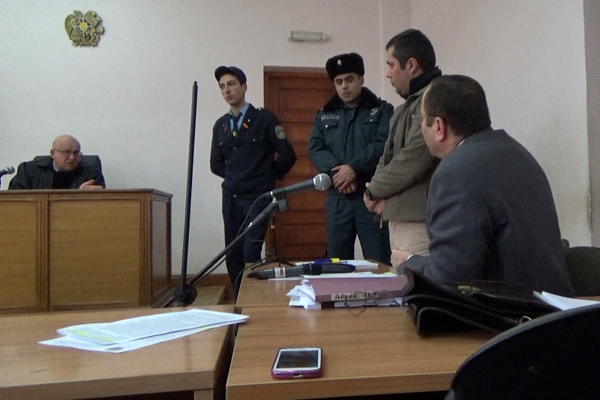 Gevorg Safaryan, an opposition activist who is currently standing trial on charges of assaulting a police officer last winter, has no hope of being acquitted. In a brief exchange with reporters after this year's last hearing at Yerevan's Kentron and Nork-Marash district court, Safaryan, a member of Founding Parliament and New Armenia anti-government movements whom prosecutor Vahe Dolmazyan has asked a 2-and-a-half year jail sentence for, also said he had "no expectations of justice" from the court.
In his concluding argument, Safaryan's lawyer. Tigran Hayrapetyan, for his part, insisted that the charges against his client "couldn't be more politically motivated." The text of the official indictment against the opposition activist, he added, even states that Safaryan "has repeatedly made provocative statements, thereby setting up the society against the authorities."
"It's a well-known fact that Safaryan was heavily involved in political activities and did not hide his strong pro-opposition views. Time and again, he has been subjected to harassment and violence by the authorities, including the 2014 attempt to murder him with an iron rod. The case has so far not been discovered, despite the incident having been caught on numerous surveillance cameras. This is yet another proof of the fact that Safaryan os causing trouble to the authorities with his demands for regime change," Hayrapetyan told the court.
The defense lawyer also found it noteworthy that the alleged victim, police officer Gegham Khachatryan, has acknowledged in his testimony that he had "left no curses from the citizens unanswered."
"Prior to the incident, Khachatryan had written on his Facebook page that he was going to the Freedom Square to 'chase away with monkeys.' In other words, Armenian law enforcement officers consider it their official duty to use swear words against citizens. Gegham Khachatryan did not even try to deny this in court, which means that he is under someone's patronage and can afford to openly speak about his behaviour," Hayrapetyan noted, once again urging the court to acquit Safaryan of the charges.
The verdict is expected to be handed down at the next hearing, on January 16th.
Safaryan has been behind bars for nearly year; he was arrested on January 1, 2016, and subsequently charged with assaulting police officer Gegham Khachatryan, after several dozen members of Founding Parliament and New Armenia scuffled with police as they tried to celebrate the New Year on Yerevan's Freedom Square.