18:03 Despite strong resistance from local residents and stall keepers, Yerevan authorities nevertheless continued Wednesday afternoon dismantling the open-air market on the capital's Firdusi street. About a dozen law enforcement officers were brought to the scene to prevent the protesters from hindering the works.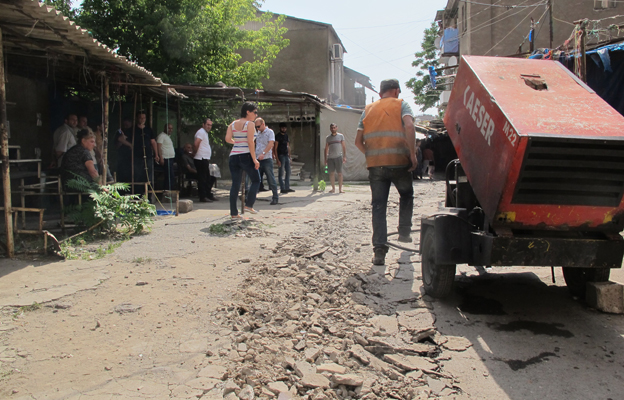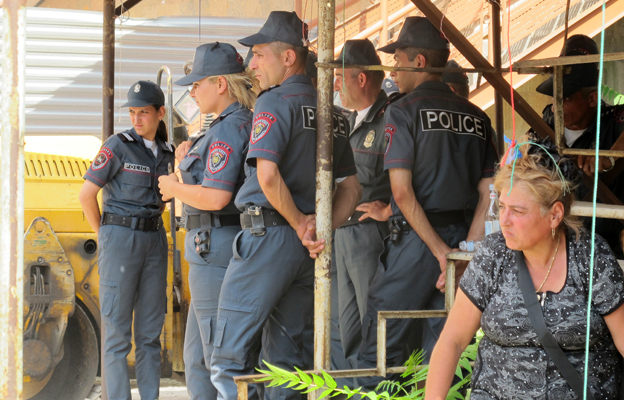 13:17 Employees of Yerevan's municipality began dismantling the stalls in the open-air market on the capital's Firdusi street early Wednesday morning. Speaking to Epress.am, stall keeper Emma said the works have now been suspended since stall keepers and residents of nearby buildings have blocked the entry of excavators into the territory.
The protesting traders also told us that they did not expect the dismantling works would begin without a prior notice. Meanwhile, the municipality employees argued that the two months given to the stall keepers by mayor Taron Margaryan for relocation have long expired.
The tenants of the residential buildings nearby the market, in turn, read out an open letter addressed to Armenian president Serzh Sargsyan, asking him to provide them with apartments nearby, which in the future would exclude the possibility of litigation. They also asked the president to put off shutting down the market until the stall keepers find new places to work.
Thee idea of shutting down the Firdusi market was put forward back in 2010, when the city authorities cracked down on street traders on Yerevan's Komitas and Tigran Mets avenues, insisting that street trade negatively impacted the appearance of the city. It was, however, unexpected that the authorities gave the traders only a week to leave.
The municipality has promised to relocate the 200 traders to other retail outlets in the city, mainly to businessman Khachatur Sukiasyan's Yerevan Fair trade center, and oligarch Gagik Tsarukyan's Arinj Mall. The stall-keepers, however, are not at all happy over the prospect of moving to these trading centers as stalls are too expensive there and trade is not so good.