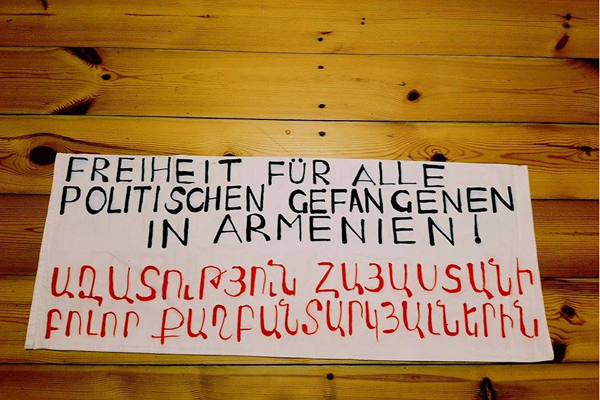 Catholicos of All Armenians Karekin II was met on October 21 with a trilingual poster reading "Freedom to Political Prisoners in Armenia" at the Evangelical Cathedral in Berlin. The author of the poster, Lusine Mheryan, had come "to meet" with the Catholicos in Berlin from the state of Bavaria. In an interview for Epress.am, the woman said the aim of her action was to draw attention to the existence of political prisoners in Armenia and the cases of human rights violations in the country.
"It should not be surprising that my protest action was held specifically in the church. Our church and its supreme head should stand by our people. I have an issue with Karekin II personally; we are not his sheep. Nerses [Poghosyan, a hunger-striking defendant in the case involving oppositionist Zhirayr Sefilyan] is dying of hunger; has the clergy ever shown interest in his condition?"
A few minutes after the woman raised her poster, security guards of the church approached her and requested that she lower it. Despite this, Mheryan, who has been living in Germany for nearly 30 years, is convinced that her action has been successful in achieving her goal.
"I think [the action] sobered up many people. My eyes met Karekin II's eyes, and he saw my poster. It was like a shot in the head for him," Mheryan insisted.
Note, Catholicos of All Armenians Karekin II paid a five-day visit to Berlin last week to attend the official events within the framework of the 500th anniversary of the Reformation in Europe. Karekin II, along with the spiritual leaders of other Eastern Orthodox Churches, also met with German president Frank-Walter Steinmeier and the Armenian Church community in Berlin.