MIRAM mining company has resorted to cheating in order to begin natural resource extraction activities as part of its gold-polymetallic mining project at the mountain Shekaghbyur, thereby jeopardizing the health of the population of Ardvi village in Armenia's Lori province, the Ardvi-Lori initiative group said in a statement on Wednesday.
The company, according to the group, has removed the 146 hectares of land on the administrative territory of Ardvi from the project, leaving only the 54 hectares on the territory of Mghart village. This area is located 3.4 km away from Mghart's residential houses and in 2.2 km away from the houses in Ardvi. "This means that the exploitation of the mine would be more than dangerous for the health of the local population," the authors said.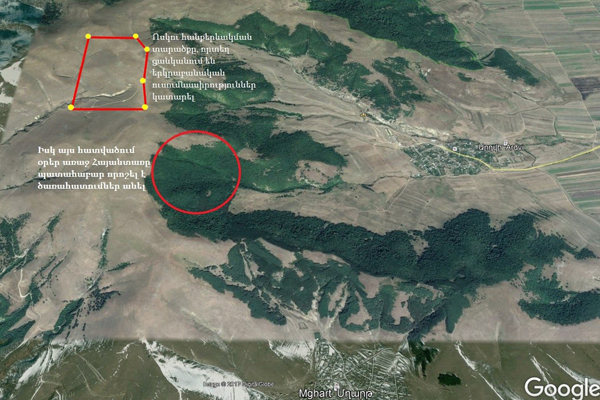 The Ardvi-Lori initiative group has written an open letter-application from to Lori province MPs on behalf of Ardvi residents, asking for their support in stopping the Shekaghbyur mining project.
The letter says that on October 4, MIRAM held a public discussion in Mghart without notifying the Ardvi village in advance; having received Mghart's initial consent, the company sent the project documents for an examination to the Armenian ministry of nature. The ministry accepted the application and recognized the village of Ardvi as an impact zone of the Shekaghbyur mining project.
According to the initiative group, the residents of Ardvi are convinced that after the recent community enlargement program in Armenia, their village has completely lost its independence; the residents are now waiting to see what decision the village of Odzun, which Ardvi was merged into, makes on the issue.
Note, the next public hearings on the Shekaghbyur project will be held on December 1 in Mghart.