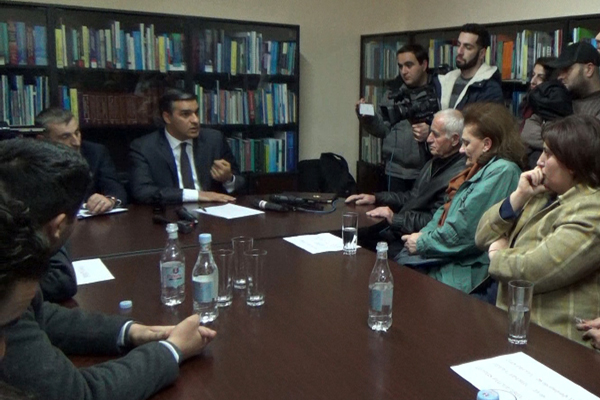 On Thursday afternoon, several dozen citizens gathered outside the office of Armenia's human rights Ombudsman to draw his attention to the two hunger-striking members of the Daredevils of Sasun armed group – Armen Bilyan and Smbat Barseghyan. Recall, the two jailed oppositionists – both refusing food for 17 and 25 days, respectively – demand that they are transferred to Armavir jail from Yerevan's Nubarashen prison. In addition, Bilyan demands that he is provided with proper medical treatment in a civilian hospital.
At a meeting in his office, Ombudsman Arman Tatoyan talked in detail about the appeals he had managed to send to this or that structure: "We've invited doctors, psychiatrists, psychologists. We have met with the prisoners in prison, even during the holidays, and explained to them the consequences of the hunger strike.
"Our task at the moment is to see to it that Bilyana and Barseghyan receive proper treatment at the prison. We are not authorised to make any decisions here, but we consistently render assistance," Tatoyan said.
The Ombudsman's response, however, only further angered and annoyed those gathered: they argued that "constant assistance" was not enough to satisfy the hunger-strikers demands. Tatoyan, in turn, countered that he had already sent an appeal – albeit an unanswered one – to the Penitentiary Department of the Justice Ministry, asking the officials to look into the issue of transferring the prisoners to the Armavir jail. The Ombudsman then promised to send another appeal after their meeting.
"Turns out the Ombudsman himself is being ignored; no one bothers to answer to his letters," one of the protesters charged, urging Tatoyan to go with them "as an ordinary citizen to the Penitentiary Department to demand an answer to the letter." Tatoyan, the protesters further argued, had to report through the media that he had not received an answer to his appeal.
"Do not get me wrong: I am obliged by law to give an opportunity to the relevant state structures to provide explanations for their actions," Tatoyan tried to justify his behaviour.
"So you are basically saying that if Bilyan were to die, he should at least die healthily. If something happens to him, it will weigh on your conscience. We will remind everyone that Ombudsman Tatoyan only made sure that Barseghyan and Bilyan were transferred from one cell to another and neglected the main issue," Alec Yenikomshyan, a member of the Founding Parliament opposition initiative, stated.
At the end of the meeting, Smbat Barseghyan's sister Lusine Barseghyan and protester Davit Yeghiazaryan announced that they intended to create a "Save Armen Bilyan and Sambat Barseghyan" civil initiative to continue to fight for the prisoners rights.