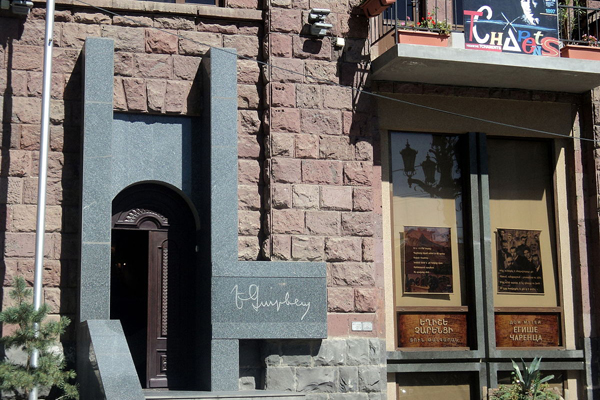 The management of the Yeghishe Charents House-Museum in Yerevan recently violated a previously reached agreement and refused to provide space for the presentation of the Armenian translation of the book by former Georgian President Mikhail Saakashvili "Awakening of Force."
"We reached an agreement with the director of the house-museum Anahit Asatryan on January 25, and I created a Facebook event for the presentation the same evening. On January 26, however, they told us there were some technical issues with the agreement and that we could not hold the presentation there," Mikael Nahapetyan, the translator of the book into Armenian and the organizer of the event, said in an interview with Epress.am.
The organizers have been forced to change the date of the event: the presentation will take place on February 7, at a yet unknown venue. "I am really sorry that the book is getting bad press before people have even had the chance to read it. I can tell you about my motivation for translating the book: a state changed right under our nose, it underwent a fundamental change. Good or bad – that's not the point now. People have the right to receive information, the right to hear the point of view of the team that implemented these changes, to see their methods and to decide whether there is anything to learn from their experience," Nahapetyan added.
The public has been comparing the cancellation of the presentation of Saakashbili's book with the closing of the exhibition dedicated to the victims of the Bolshevik tyranny past September at the appeal of Armenia's Ministry of Culture. The Ministry have yet to comment whether they had anything to do with the cancellation; spokesperson Ruzanna Khachatryan has been telling reporters to send them written inquiries. The director of the Charents house-museum, for her part, has not been answering our phone calls.
Judging by the comments on the event page on Facebook, Armenian-speaking users have dramatically different opinions about Saakashvili: some people "really admire" his reforms, while others accuse him of being "anti-Armenian." Namely, Mesrop Yesayan, an assistant to the Minister of Nature Protection, commented: "Does [the book] mention the Armenians of Javakhk jailed by Saakashvili?"