"The people breathe in this stench, so you have to, too," opposition Yerkir Tsirani member Marina Khachatryan announced today at a meeting of Yerevan's Council of Elders before  attempting to put jarfulls of sewage water and waste from Nubarashen on mayor Taron Margaryan's table.
The oppositionist's actions were prompted by the Monday protest rally of residents of a number of apartments blocks close to the Nubarashen prison in Yerevan, who temporarily blocked the road to the prison, complaining that sewage leaks from the prison were causing foul stench in the neighborhood.
As Khachatryan tried to approach Margaryan's table, the mayor ordered no one in particular to "stop her, quickly!" A number of Republicans then surrounded the oppositionist and tried to take away the jars, spilling their contents on the floor as a result. The situation quickly escalated to insults  – "idiot," "fool" – and physical force against Khachatryan and another Yerkir Tsirani representative Sona Aghekyan. The latter received more serious injuries from Republican karate fighter Gor Vardanyan.
Once the passions had calmed, mayor Margaryan warned the Yerkir Tsirani members that he would remove the faction from the Council if they "ever try to  behave like this again."
Yerkir Tsirani leader Zaruhi Postanjyan, in turn, told reporters that the sewage waste was a gift from Nubarashen residents to mayor Taron Margaryan.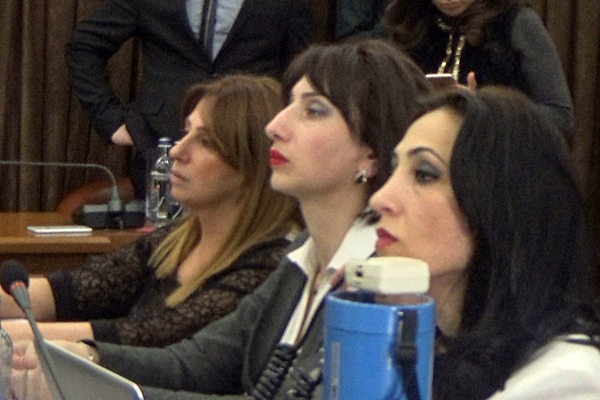 After the resumption of the meeting, opposition Yelk bloc member David Khazhakyan took the floor to condemn his colleagues' behaviour: "Our meeting was simply disrupted. What happened today can never benefit anyone, including those who organized all this."
Female members of the ruling party, for their part, criticized the Yerkir Tsirani representatives' behaviour as "unbecoming of an Armenian mother and an Armenian woman." They went on to justify the force used against the oppositionists as "self-defense."