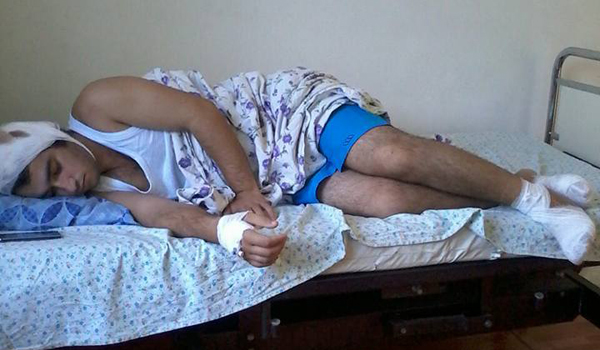 22-year-old resident of the Armenian city of Etchmiadzin Murad Ghazaryan was electrocuted while on the job in a greenhouse. The incident occurred in June, 2017; the young man has since been bedridden. The family are afraid to file a court complaint or reveal the employer since the latter has a close relative who works as a high-ranking official. Ghazaryan's mother, Anush Sukiasyan, is convinced that "it would be meaningless to go to court anyway: we'll never be able to achieve justice."
Murad Ghazaryan, a sexton at the St. Gayane Church in Etchmiadzin, used to work as a handyman in one of the city's greenhouses. On June 30, 2017, according to the mother, he was told by his superiors to climb to the room and fasten the wind damaged metal roofing.
"They did not however warn my son that there was a 10,000 volt wire passing through the roof. When trying to climb down the room, he fell into a high-voltage electromagnetic field and suffered an electric shock, which  passed through the whole body and came out through his feet, tearing them apart," Sukiasyan said.
Ghazaryan has since undergone three surgeries; he has been suffering from recurring headaches and seizures: "His feet would not stop bleeding… He has undergone an open-head surgery, the skin on his leg has been removed… There's still an electric current in his body."
Ghazaryan's employer had initially assured the family that he would pay for the young man's treatment and do everything in his power to help him recover. "He gave us 80 000 drams over the following few months; however, we haven't received anything from him in the past two months. We tried calling him, but the number is unreachable."
Murad has been assessed with a second-degree disability; the family are currently trying to raise money to continue his treatment in Europe.