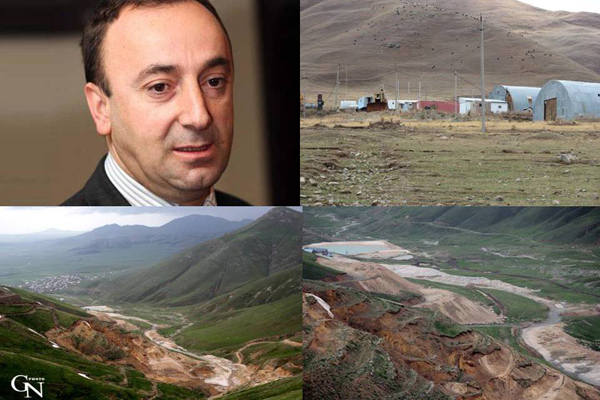 Originally published on Facebook in Armenian by journalist Galust Nanyan:
– In 2013, having studied the electronic register of the Armenian government in the course of a journalistic investigation, I found out that Mego Gold LLC, the founder of which is former Minister of Justice and newly-appointed chairman of the Constitutional Court, falsifier Hrayr Tovmasyan, had been registered back on December 11, 2000.
Tovmasyan father's address – his birthplace in the village of Darakert in the Ararat province – was listed as the company's legal address. In 2000, when Tovmasyan founded Mego Gold with the intention of exploiting a gold mine, he worked in the Constitutional Court as a leading specialist in legal advice, a chief specialist, and a deputy head of the service.
This company exploited the Tukhmanuk gold-polymetallic mine for over 10 years ago. Under the patronage of the above-mentioned person, part of the Aparan region was destroyed, causing major damage to the environment of Melikgyukh and surrounding communities, to the water basin, to the land fund, to human health.
Eighteen years ago, Tovmasyan perhaps did not imagine that less than two dozen years later he'd become the chairman of the Constitutional Court and untouchable until the age of 70, "shaking off" his years' worth of dirt…
In December 2016, I raised this issue at the United Nations Office in Geneva; I talked about the work that had already been done and how the country's economy and communities were being destroyed under the patronage of the state. [I also stressed] that the public did not trust the state or the justice system in many matters.