11:00pm: The rally at the Republic Square ended with Nikol Pashinyan leading the thousands of demonstrators to the residence of Serzh Sargsyan on Baghramyan Avenue. The residence had already been cordoned off by police officers in full riot gear.
After spending a few minutes here, the demonstration turned away and marched down the avenue: "I had promised that from now on Serzh Sargsyan would only get to see Armenia through the holes on police shields. We came here to check whether that was the case. It was, and now we can leave," Pashinyan said.
10։00pm: Nikol Pashinyan's plan of action presented at the Republic Square rally:
"I hope to see hundreds of photos of Serzh Sargsyan flying out of classroom windows tomorrow; secondly, kids, please continue boycotting classes.
"Dear people, block each and every highway you see. Tomorrow we will gather here at 8am sharp to surround government buildings and prevent officials from going inside.
"I won't list the buildings; let it be a surprise for Serzh Sargsyan. Tomorrow Serzh Sargsyan will hold his first Government session as Prime Minister [at the Government building on Republic Square].
"We should probably come here at 8am tomorrow."
To the demonstrators' excited suggestion to "surround the building right at this moment," Pashinyan replied: "Let's not give in to emotions. Those who want to resolve the problem should gather here tomorrow at 8am. For now I suggest marching to Baghramyan Avenue. We won't say why, whether we plan to stay there or not, whether we plan to start a sit-in or not.
"Let's just hope that Serzh Sargsyan has stocked up on blood pressure pills. We wish him good health."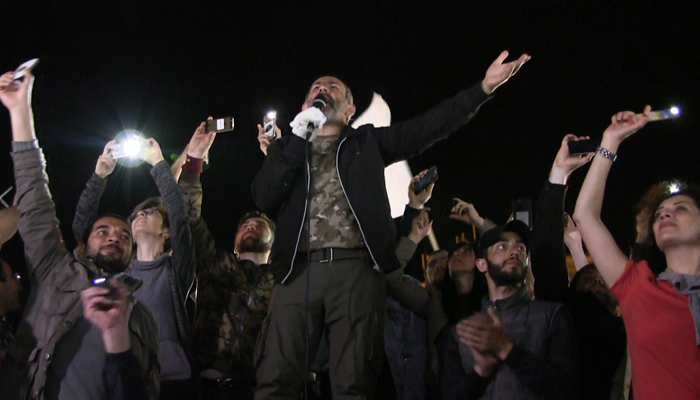 6:55pm: Thousands of demonstrators are currently gathering at the Republic Square for Nikol Pashinyan's day-end rally.
Footage of Wednesday afternoon events below:
5։45pm: A total of 84 people were detained in various parts of Yerevan on Wednesday, the police press service told us. Thirty people have already been released after initiation of administrative proceedings; 54 are still in detention on suspicion of having committed a crime.
4։21pm: Thousands of demonstrators have surrounded a number of ministry building in Yerevan, including the Foreign, Education and Science, and Justice Ministries. Nikol Pashinyan urged all ministry employees through a loudspeaker to come out to the streets and join his rally at 7pm.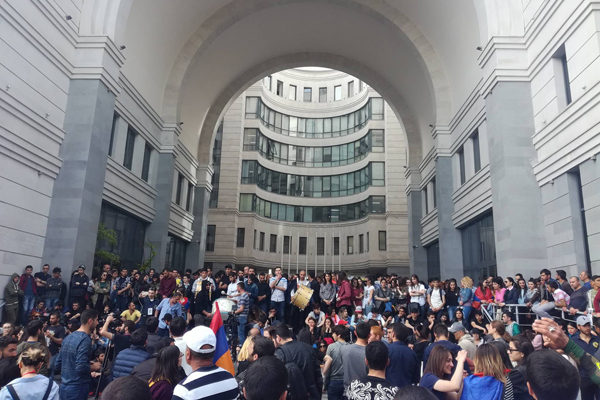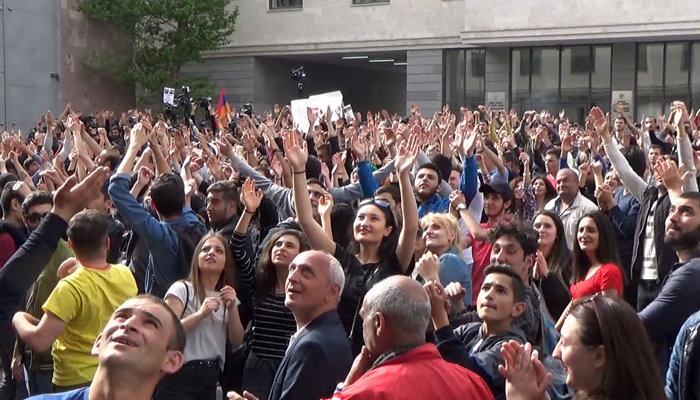 2:50pm: The situation remains tense on the section of Mashtots Avenue close to the France Square. Demonstrators keep attempting to block the street, and are quickly pushed out of the roadway by police. Several people were just detained. Police walls are currently blocking away the roadway from demonstrators.
2:40pm: The marchers led by Nikol Pashinyan have reached the Yerevan Municipality and are taking a brief break there. Pashinyan just reminded everyone that the march will end in a rally at 7pm at the Republic Square.
Note, the main entrance to the Municipality building has been cordoned off by police.
2:20pm: Moscow police have detained three Armenians protesting outside the Armenian Embassy in the Russian capital. Epress.am spoke to one of the men, Tigran, over the phone, who said that they have been detained on suspicion of hooliganism. The group are waiting for a meeting with a lawyer.
2pm: Police spokesperson just informed us that 72 people, including 6 minors, have been detained and taken to various police stations in Yerevan. Lawyers, meanwhile, have been reporting that they have yet to be allowed to meet with the detainees.
A group of demonstrators has blocked a section of the Mashtots-Tumanyan intersection leading to the France Square. Police in riot gear also remain at the square.
Daniel Ioannisyan on Facebook: I was just officially told by the Investigative Committee that none of the people who yesterday broke traffic lights and attacked police officers in downtown Yerevan were detained. Police detain peaceful demonstrators and let criminal walk #Armenian_Law_Enforcement_System
1:20pm: Nikol Pashinyan continues to lead a march of several thousand demonstrators through the streets of Yerevan. The opposition leader regularly reminds his supporters that they should refrain from any form of violence and be respectful towards police officers.
The video below shows the demonstrators' earlier actions on Baghramyan Avenue.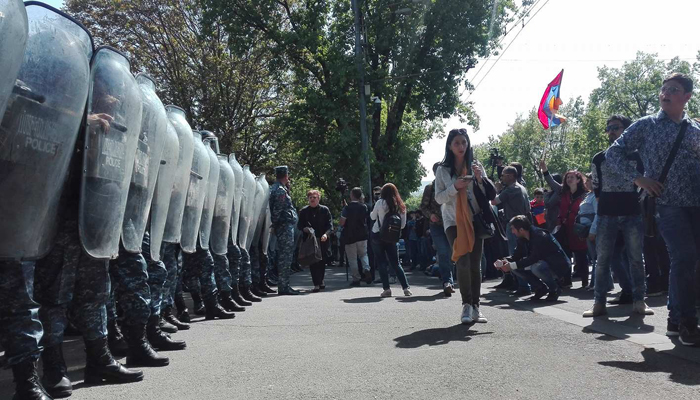 Opposition leader Nikol Pashinyan again rallied supporters at the France Square in downtown Yerevan early on Wednesday and marched towards the presidential residence on Baghramyan Avenue. The reason for coming to Serzh Sargsyan's residence, he announced, was to make police forces again install razor wires in the area "so that wires are what Serzh sees first when he look out of his window."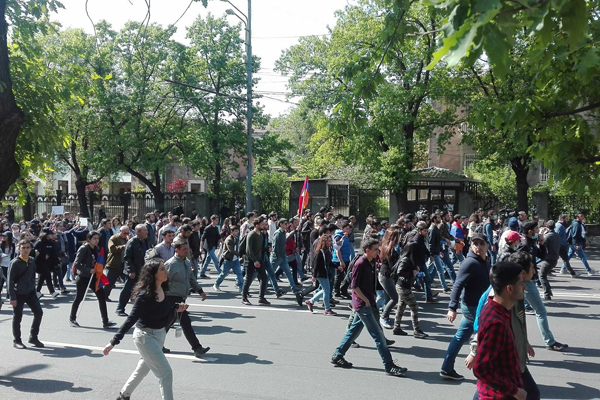 After a short break on Baghramyan, Pashinyan and his thousands of supporters started walking the avenue towards the France Square, where police had begun actively detaining demonstrators. Among those detained is prominent civic activist Vardges Gaspari. Police forces in full riot gear are currently stationed on Mashtots Avenue and the nearby France Square.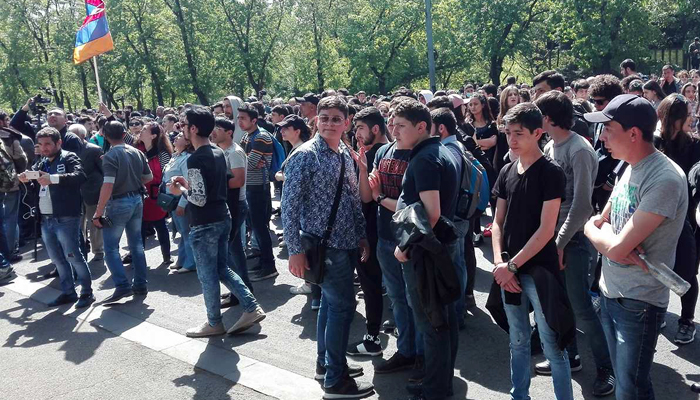 It took nearly 10 minutes for Pashinyan to be able to convince police officers to open the road for the march. They have currently reached the central building of the Yerevan State University and intend to continue moving further after a 15 minute break here.
Meanwhile, deputy Yerevan police chief has told reporters that "police are will open any roads and street that the demonstrators attempt to block unlawfully."
Updates to follow.