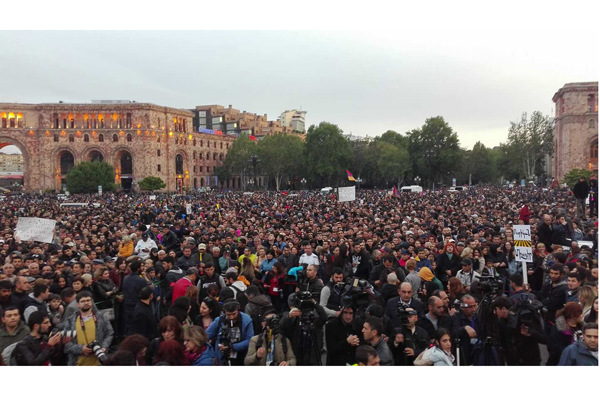 10pm: Nikol Pashinyan started his rally speech by declaring to the tens of thousands demonstrators that "every new days proves that our non-violent velvet revolutions is unstoppable and the victory is inevitable!"
Pashinyan then talked about his conversation with President Armen Sargsyan, saying that the latter had yet again repeated the authorities' negotiation offer. "I said that I would not negotiate in any state building and offered instead to hold the talks at, for example the Mariott Hotel." The oppositionist went ahead to ask for the demonstrators' permission to negotiate on their behalf and received an excited chant of "Yes!" in response.
"I want you to know that I've told Sargsyan that I would only discuss the terms for Serzh Sargsyan's resignation," Pashinyan assured the crowd.
The oppositionist did not say anything specific about the plans for Sunday, announcing only that their traditional march would begin at 11am "somewhere in Erebuni district."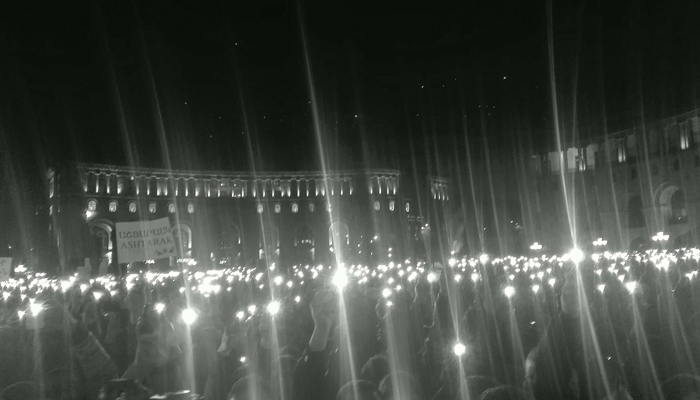 7:30pm: Newly-appointed Armenian president Armen Sargsyan had arrived at the Republic Square to negotiate with Nikol Pashinyan. The two had a quick talk in the center of the square; Sargsyan had asked reporters to turn off their microphones. After an about 15-minute talk, Pashinyan opened the way for Sargsyan and helped him leave the area. On his way to his car, Sargsyan refused to answer reporters' questions and said he would invite them all to his office for a press conference.
According to some reports from the square, Pashinyan told Sargsyan he was willing only to discuss the terms for Serzh Sargsyan's resignation.
7։10pm: Human rights defender Artur Sakunts reports that prominent Gyumri journalist Levon Barseghyan has been detained from the city's bus station.
According to reports from lawyers, opposition activist David Sanasaryan, one of the leaders of the Reject Serzh movement, has also been missing for over three hours.
As of 5:30pm, 102 citizens have been detained from various parts of Yerevan.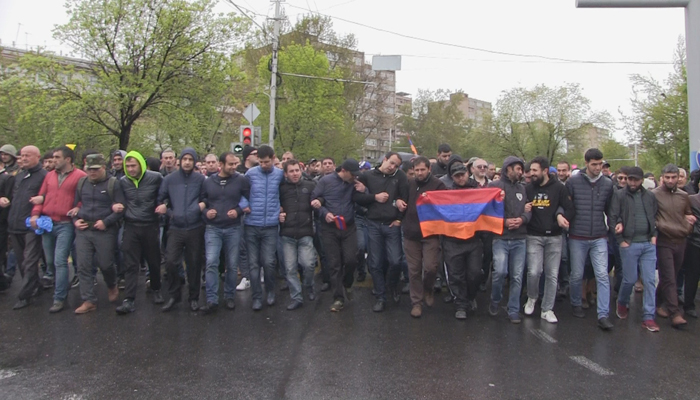 6pm: An hour before the 7pm rally, tens of thousands of demonstrators have already gathered at the Republic Square. Nikol Pashinyan addressed the dozens of police officers who had surrounded the stage area, saying that they should leave the area and not comply with unlawful orders. "Serzh Sargsyan has to go; there's no other option," he said.
The officers did not seem to object; they quickly got into a line and moved to another section of the square. The demonstrators welcomed the act with applause and chanted: "The police are ours!"
5:50pm: The central Mashtots Avenue is currently filled with thousands of excited demonstrators marching to the 7pm rally in the Republic Square:
5:40 A group of women, some holding their kids in their arms and others pushing them in stollers, are marching on Nalbandyan street towards the Republic Square where Nikol Pashinyan is expected to hold the day-end 7pm rally.
Photo from Yervand Varosyan's Facebook page:
5։05pm: Rural resident have since early morning been blocking highways in various provinces. In Tavush province, in particular, Noyemberyan villagers held a march and blocked traffic several times on the road leading to Yerevan. They were subsequently joined by residents of other villagers. A part of the group then moved towards the Baghratashen checkpoint and occupied the area briefly.
Aragatsotn province Kosh villagers, in turn, blocked the main Kosh-Yerevan road.
A convoy of 10 cars is travelling to Yerevan from the village of Ujan in the same province.
4։56pm:  Former Republican MP Arakel Movsisyan has been spotted ordering truck drivers to block the Etzhmiadzin-Yerevan highway to prevent demonstrators from marching to the capital. In conversation with Azatutyun.am, Movsisyan said he did not regret his actions one bit.
4:55pm: Reject Serzh initiative member Armen Grigoryan who had been detained from downtown Yerevan earlier today wrote on his Facebook page that he was taken the Special Investigation Service: "Everything is fine, people. Don't worry about me. Go on just as boldly!"
4։52pm:  A female driver named Silva was just detained from the Mashtots-Tumanyan intersection for parking her car in the center of the roadway in support of the demonstrators in the area. Silva has taken her car keys with her to the police station. Several other women remained inside the parked car, among them a pregnant woman. Demonstrators have brought them food and water.
4։50pm: Civil Contract party member, Nor Kyanq (New Life) village head Garik Sargsyan wrote on his Facebook page that he, along with his family members and a taxi driver, was being "held hostage" in the parking of the Artashat police department.
"Dear people, my father, my sister, my brother,  the gg driver and I are currently being held hostage in the Ararat police department. We're all doing fine. We are waiting to see what the police do next. Don't lose your spirits; the revolution is now a reality!"
4:40pm: A group of demonstrators had blocked traffic on Margaryan street. With no police officers around, a dozen young men in civilian clothes began fighting the demonstrators and pushing them away from the roadway. An eyewitness told Epress.am that the men in civilian had links with Republican Party MP Galust Sahakyan's son, Arman Sahakyan. The men uninhibitedly left the area after the arrival of police officers.
Video showing the Malatia gold market workers' march to downtown Yerevan:
4։05pm: Demonstrators marching to Yerevan from Etchmiadzin have completely paralyzed traffic on the highway. Scores of people keep joining the march.
4:00pm: Samvel Aleksanyan, a local oligarch close to Serzh Sargsyan, is personally fighting demonstrators in Malatia district. In a video published on Facebook, Aleksanyan is seen kicking a protester who is then forcibly put into a car.
4pm: Several masked people, accompanied by police officers, detained Reject Serzh member Armen Grigoryan from a cafe in downtown Yerevan around 2:30pm. Grigoryan's friends have yet to find out where he has been taken to.
3:30 Several dozen cars and hundreds of people have blocked the Bagratashen checkpoint. Police are trying to remove the demonstrators from the roadway. A protester is broadcasting the incident live on Facebook; the video shows that work at the checkpoint is paralyzed.
3:10pm: Several dozen people, including Canadian-Armenian actress Arsine Khanjyan, today gathered outside the Armenian Embassy in Berlin to express their solidarity with the demonstrators in Armenia.
3pm: Protests against Serzh Sargsyan continue across Armenia. According to reports coming in from provinces, unknown people in civilian clothes keep attacking demonstrators, and uniformed police do nothing to stop them. In Artashat civilian-clad people attacked Azatutyun.am reporter Arus Hakobyan, hit her in the face and tried to take away her camera. Police in the area, however, remained indifferent to the incident.
2։48pm: A group of young women blocked the Moskovyan-Teryan intersection. Dozens of people subsequently joined their protest. Traffic in this area is paralyzed.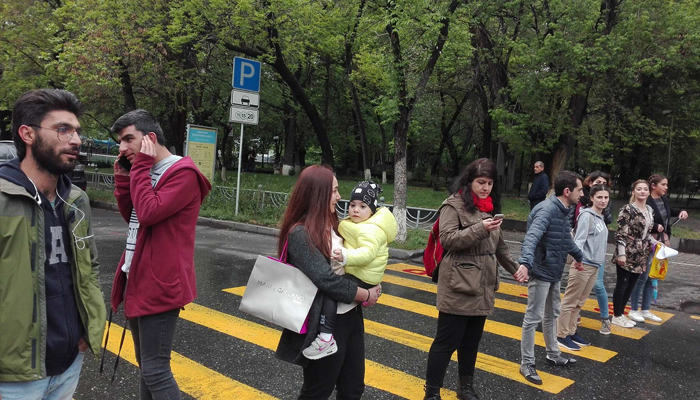 2։40pm: Demonstrators are asking police officers to help them block the Vardanants street; otherwise, they say, they are willing to give themselves up for detention. Video by Azatutyun.am.
2։30pm: Hundreds of citizens are marching to Yerevan from the town of Etzhmiadzin. Police officers are overseeing the march. The demonstrators are carrying a poster that reads "Reject Serzh!"
As of 1:30pm on Saturday, 62 people have been detained from various parts of Yerevan.
2։15pm: Police have installed razor wires on Baghramyan Avenue, not far from Serzh Sargsyan's residence. The lower part of Baghramyan is currently blocked by lines of police officers with shields and helmets. Armored vehicles have been brought to the avenue.
2։00pm: Nearly 6 dozen demonstrators are currently picketing "against the corrupt and oligarchic system Armenia: outside the Armenian Embassy in London, holding posters that read "Free, Independent Police!" Armenian The Beautified Project rock band frontman Andre Simonyan is also taking part in the protest. The demonstrators are chanting "Make a step, reject Serge!", and "We are by Nikol's side!"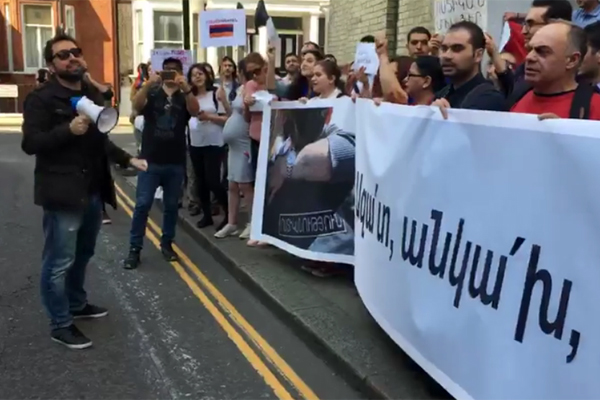 1:55pm: An opposition activist had parked his car on Abovyan street and locked himself inside the vehicle. Red-beret officers attacked the car and tried to break the windows and doors with batons. The driver subsequently left got out of the car and was forcibly detained by the officers.
1:43pm: Opposition Yerkir Tsirani party leader Zaruhi Postanjyan has since early morning been carrying out a series of peaceful disobedience acts in the Armenian city of Kapan. A group of citizens have joined Postanjyan and are now marching through the streets of Kapan, chanting "Rebellion!" Police are overseeing the march to prevent the demonstrators from walking on the roadway.
1:30pm: A number of drivers were just detained from Abovyan street for sounding their car horns, an eyewitness told us.
1:10pm: Nikol Pashinyan just commented on Serzh Sargsyan's recent dialogue offer. He told reporters again that the demonstrators are willing only to discuss Sargsyan's resignation terms:
"We also believe that there can be unpredictable consequences, therefore I urge Sargsyan to immediately accept all our conditions," Pashinyan said, adding that the conditions should be acceptable for the people. The oppositionist further insisted that Sargsyan has lost all control of the situation and does not realize the full extent of the events happening in Armenia.
1:08pm: Video published by Irakanum.am, showing a protesting driver getting severely beaten up in Yerevan's Avan district late on Friday.
1pm: The Artashat-Yerevan highway is currently blocked. Police officers have blocked the way of a motorcade moving to the capital to join Serzh Sargsyan's opponents.
12:55pm: Nearly 200 people working in the gold market in Yerevan's Malatia district have announced a strike since early morning. They are marching and driving to the Republic Square.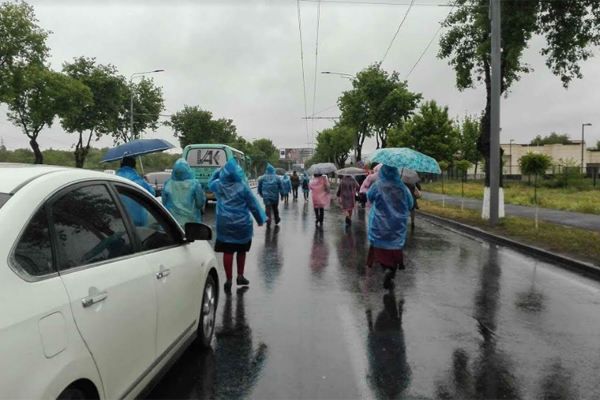 12:50pm: A woman came up to Pashinyan during the march and told him that an unknown man had earlier attacked her 12-year-old son Narek Mkrtchyan. "He came out of a car with no license plate, pulled his hoodie over his head and attacked my son. He has been missing for over an hour." The woman added that she had been actively participating in the demonstrations since day 1. Pashinyan urged the woman to call Civil Contract party member Arayik Harutyunyan and tell him about the incident.
12:44pm: Armenia's newly appointed Prime Minister Serzh Sargsyan has invited MP Nikol Pashinyan to a dialogue. The statement issued Saturday afternoon says:
"During the past week several demonstrations and marches were held in Yerevan. Everyone in our country has the right to peaceful demonstrations and marches. The authorities respected that right and will continue to respect it.
"Unfortunately, these public meetings were often held in breach of the law, getting unnecessary and anarchic manifestations as reported in numerous statements issued by the Police.
"The developments are fraught with unpredictable consequences, endanger the public order, and can undermine the complex and subtle harmony of Armenian society.
"Each of us must remember that besides him, there are other citizens of Armenia who are not less proud of their civic stance; who live, learn, work and rest in this country. Our country's social harmony should be based on cohesion and tolerance.
"I am deeply concerned about the inner-political developments. In order to avoid irreparable losses, I am urging National Assembly member Nikol Pashinyan to accept our call of political dialogue and joint the table of negotiations. It should be done immediately.
"I am confident that all the political forces of our country can contribute to the launch of such a dialogue adequate to the situation."
12:35pm: The Armenian police have issued a statement to demand that Nikol Pashinyan immediately stops the rallies across Yerevan. The law enforcement agency threatens otherwise to take measures to disperse them.
12:22pm: About a dozen cars are moving from the town of Ararat to the Armenian capital to join the anti-government demonstrations. They are calling on other drivers to join them in "rejecting Serzh." Some drivers have already joined the motorcade; others welcome the protesters by sounding their car horns
12։20pm: Opposition leader Nikol Pashinyan reconvened the daily protests against Serzh Sargsyan's appointment as Prime Minister early on Saturday in Yerevan's Nor Nork district. Pashinyan, along with a group of his protesters, intended to start a march with no exact destination point, but was quickly stopped by scores of police officers led by Yerevan deputy police chief Valery Osipyan.
Osipyan insisted that Pashinyan should immediately stop his "unlawful rallies" and let life in the Armenian capital return to normal. Several demonstrators were detained in the ensuing brawl with police officers, and Pashinyan asked Osipyan for a 20-minute break to discuss options. The oppositionist returned shortly after and announced he was stopping the current march and starting a spontaneous rally. Pashinyan backed his decision with the corresponding Armenian law on rallies and assemblies. "A rally is considered spontaneous when it is held as a public impulse for an immediate response to a socially significant event […] In accordance with Article 27 of the Law on Freedom of Assembly, we are announcing a new urgent and spontaneous rally to respond to the lawlessness that occurs in Armenia against activists."
After several minutes of arguing with Pashinyan, Osipyan finally announced he would allow the march if the demonstrators agreed to stay to the sidewalks and not obstruct traffic. Pashinyan told Osipyan the march would move towards Yerevan's Avan district.