9:50pm: NA Yelk faction leader Nikol Pashinyan: "Some thought that the people were so excited and satisfied with Serzh Sargsyan's resignation that they had forgotten why they had gathered in the first place. Acting Prime Minister Karen Karapetyan hoped that people would not go out into the streets again after April 24. But today's events proved that Karen Karapetyan has one thing to do – to irrevocably and unconditionally recognize the victory of our nonviolent civil velvet revolution. We demand the Republican Party's unequivocal and unconditional capitulation to the people.
[…] We're not saying that the PM election should take place in the square. We're saying – here is the square, and the people here have their PM candidate, and parliamentary factions have to take this political reality into account and nominate a consensual candidate.  The factions will vote and elect this candidate as Prime Minister, in accordance with the Armenian Constitution and the NA regulation. I'm happy that there have already been specific steps in this direction; we're hopeful that this scenario will at some point become reality."
He added that several Republican MPs have already come up to him and said they were willing to vote for the people's PM candidate.
9:30pm: NA Yelk faction MP Ararat Mirzoyan: "Two days ago [in the detention facility] we agreed with Karen Karapetyan that Serzh Sargsyan would resign within two hours. And he did. We agreed that April 24 [Armenian Genocide Memorial Day] would be April 24. And it was. And agreed that on April 25 we'd meet for negotiations. A few hours later, we told him that Nikol Pashinyan, Sasun Mikayelyan and I would go to the negotiations from our side and proposed that they also come in a group of three. Karen Karapetyan, however, rejected the proposal and canceled the negotiations. Karen Karapetyan wanted to come to the negotiations alone. Why? I'll tell you why. First of all, he wanted to show us that the other Republicans supposedly fully trusted him, that he was their leader. And he also wanted to show the Republicans that he was supposedly the only person that we were willing to talk to. He wanted to show the world that he was the only person who was able to handle the situation. Obviously, none of that was true."
Mirzoyan stressed also that all other parliamentary factions have joined their movement and expressed their support for "the people's candidate."
8:20pm: Civil Contract member Zara Batoyan: "I want to point out that 51% of Armenia's population are women, and I want to salute and thank all those women who've been an active part of this revolution. I want to say that women from now on will have to take part in all decision-making processes [in Armenia]. We have to build a democratic country, we have to strengthen the peace in our country in order to be able to achieve peace in Artsakh, too."
7:55pm: An excerpt from Civil Contract member Ruben Rubinyan's rally speech: "I officially declare that in the coming days the National Assembly will elect a Prime Minister, and Nikol Pashinyan will be the candidate of the people. The new Prime Minister will be elected in accordance with the following procedure: the parliamentary factions must nominate candidates, and we – the people of the Republic of Armenia – hope that the factions will come to a consensus and nominate and elect a single candidate – Nikol Pashinyan."
6:30pm: Tens of thousands of people have already gathered in the Republic Square waiting for Nikol Pashinyan's 7pm rally and a confirmation of acting Prime Minister Karen Karapetyan's reported resignation.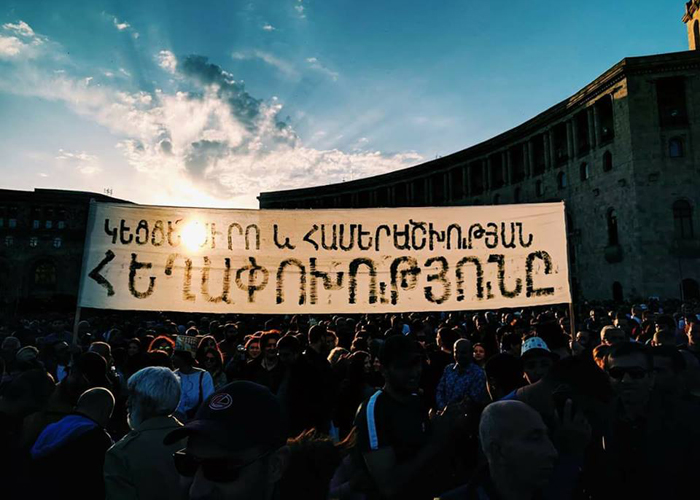 6:25pm: The U.S. Embassy in Armenia has issued a refutation of a quote attributed to Ambassador Richard Mills in an earlier statement released by acting PM Karapetyan's press service.
"The Office of the Acting Prime Minister and the U.S. Embassy regret that the quote attributed to Ambassador Mills in the press release issued by the Prime Minister's Office today was a mistranslation of the Ambassador's comments and the views of the U.S. government.  As the U.S. Embassy has said before, peaceful assembly of the Armenian people and their right to free expression are guaranteed under the Armenian constitution. We believe these rights should be fully respected and that the formation of a new government should be the result of good-faith negotiations."
A statement published and subsequently taken down from the PM's official website, meanwhile, had quoted Mills as saying during a meeting with Karapetyan: "I understand that these acts of civil disobedience are unlawful, and the Government has to ensure public order and safely as best as they can. I'm convinced that the way to democracy or strengthening of democracy does not involve a prime minister candidate being elected on the streets during a rally."
3։50pm: A Toyota driver was filmed on Pushkin-Parpetsi intersection Wednesday afternoon hitting a taxi driver who had been sounding his car horn.
3:25pm: The Bagratashen checkpoint is blocked.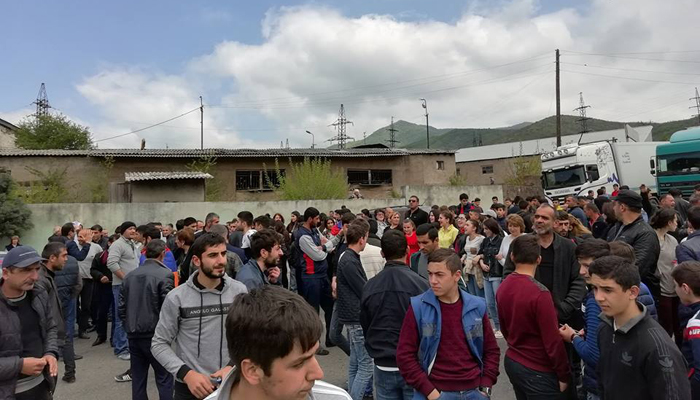 2:40pm: The Helsinki Citizens Assembly Vanadzor office reports that 14 children who had blocked a road in Gegharkunik province Karchaghbyur villager were just beaten up by people sent by the village head.
Thousands of people in Gyumri streets:
2։36pm: In support of our youth, TUMO will be closed until May 2nd. April workshops will be repeated in May in order to allow all TUMOians to get back on track with their learning paths, their Facebook page reports.
2։35pm: Republican Party parliamentary faction leader Vahram Baghdasaryan has told reporters that their party would appoint their PM candidate after the Armenian president hold negotiations will al political forces.
"We've called on the president of Armenia to invite all political forces to a dialogue. We'll choose our candidate once this dialogue is held."
2:25pm: A group of activists picketed the Yerevan City supermarket (owned by Republican oligarch Samvel Aleksanyan) in Erebuni district and urged all employees to announce a strike.
2:15pm: A group of young protesters are holding an action outside the former presidential residence on Baghramyan 26 with signs that read, "Nikol, come to work!" The residence is supposed to pass over to the country's new Prime Minister.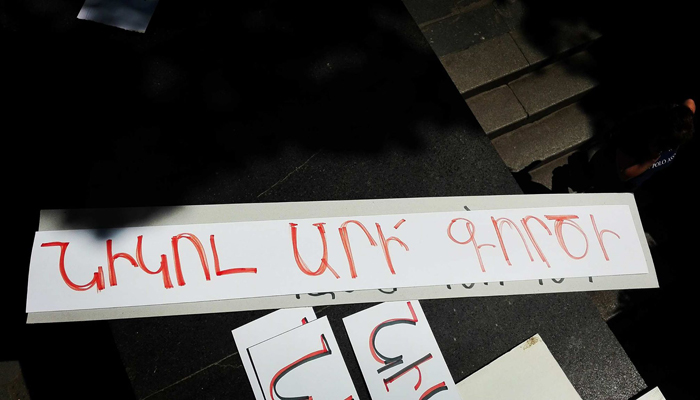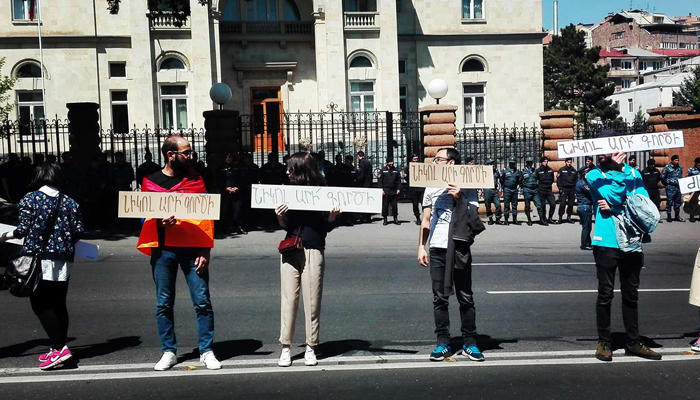 Video will be up shortly.
2։05pm: The school in Tavush province Koghb village has joined the protesters from Berdavan; the group are currently marching towards the Bagratashen checkpoint on the Armenia-Georgia border.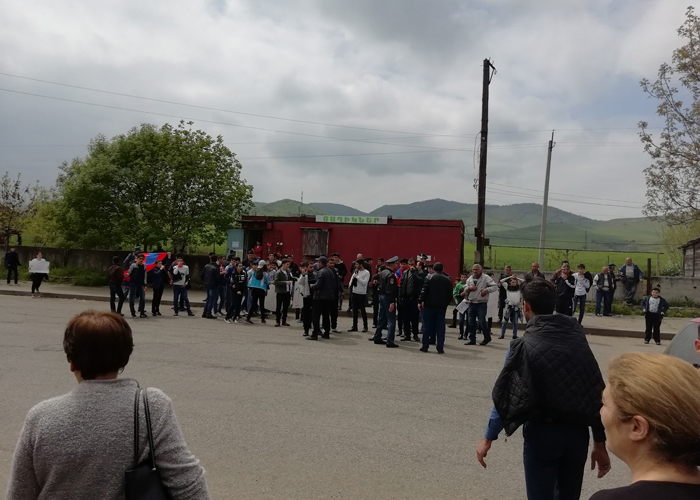 Տավուշի մարզի Կողբ համայնքի դպրոցը միացել է Բերդավան համայնքից ցուցարարներին, և նրանք միասին շարժվում ենք դեպի Հայաստան-Վրաստան սահման` Բագրատաշենի անցակետ։
1:35pm: Epresss.am was just informed that the Yerevan-Meghri section near the town of Vayk is currently blocked.
1:15pm: We've been getting power outage reports from various districts of Yerevan and Vanadzor. When asked whether the outage was related to the ongoing nationwide protests and  had a goal of depriving the people of their access to information, the power utility replied: "No, we're an independent structure."
Note, Electric Networks of Armenia is owned by Russian-Armenian businessman Samvel Karapetyan, a close friend of acting Prime Minister and former Gazprom manager Karen Karapetyan.
Meanwhile, the march has reached the Erebuni district and is passing by the Patrol Police Station.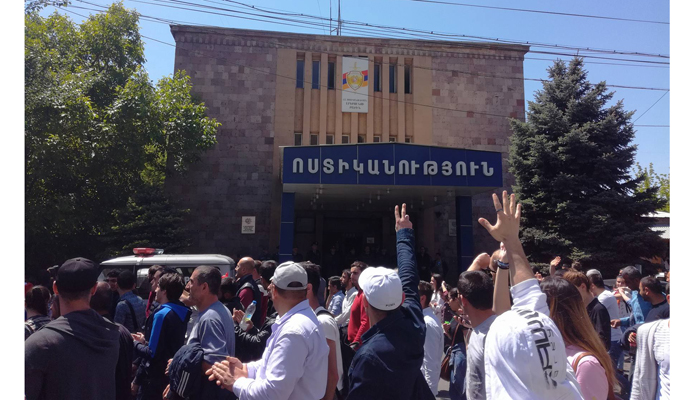 1։00pm: Hundreds of citizens are currently marching through the streets of second largest Armenian city Gyumri. Students of all Gyumri universities went on a strike to join the march.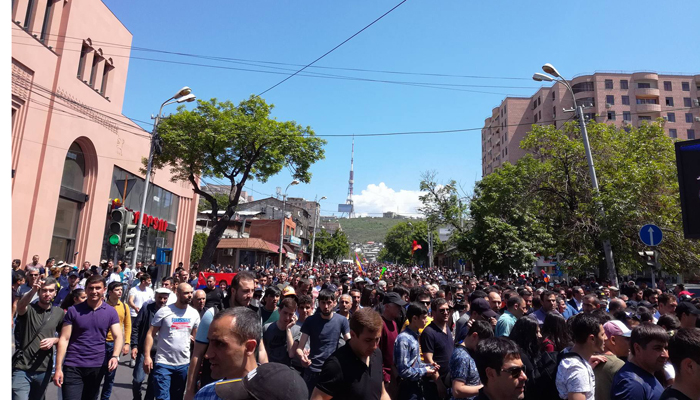 12։15pm: Pashinyan declared during the march that is happening at the moment in Yerevan: "We demand that the Republican Party gives up power! Power belongs only to the people. All Republicans should recognize the victory of the people. And therefore, RPA, get out!"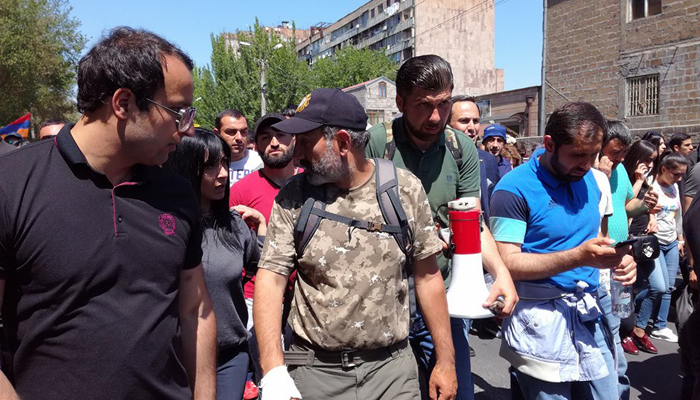 Passing by the heavy armoured equipment parked nearby the RPA headquarters, the marchers could be heard saying: "How in the world are supposed to vote for Pashinyan; these people have Iskanders.'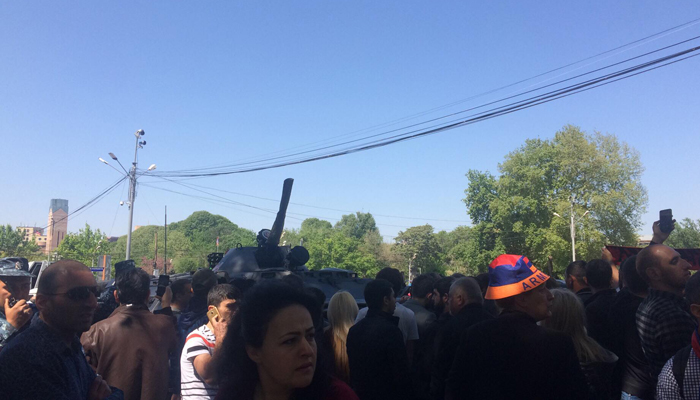 12։10pm: Nearly 500 demonstrators have blocked the main streets in Vanadzor, Armenia's third largest city. The city's main square is also full of protesters; their numbers keep growing. Students of the Vanadzor State University has gone on a strike; they are marching by other universities and urging all students to join them.
https://www.facebook.com/elvira.meliksetyan/videos/vb.100000094180607/1980456728634114/?type=2&video_source=user_video_tab
11:34am: The Yerevan-Ijevan-Tbilisi interstate road is currently blocked. A protester has told Epress.am that hundreds of people, including school children, have joined the demonstration. Police hardly intervene: "They seem to be on our side."
https://www.facebook.com/andranik.xachatryan/videos/vb.100002204727723/1686011331482341/?type=2&video_source=user_video_tab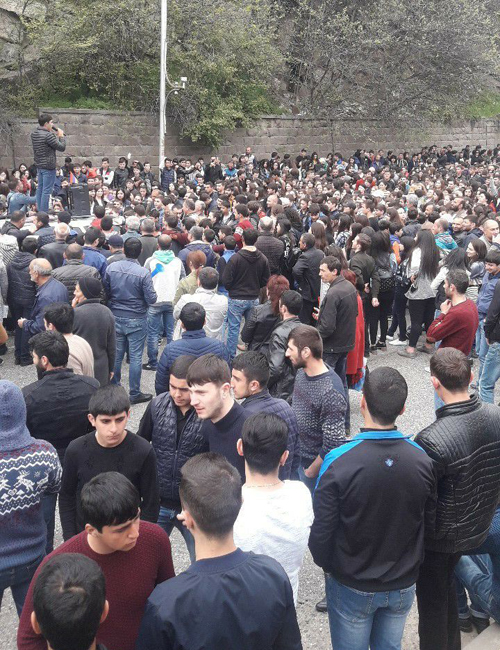 11:32am: Police are accumulating forces on the streets adjacent to the Republic Square. Heavy equipment and a large number of officers have been deployed on Melik Adamyan street, where the Republican Party headquarters are located, and near the Shahumyan Square.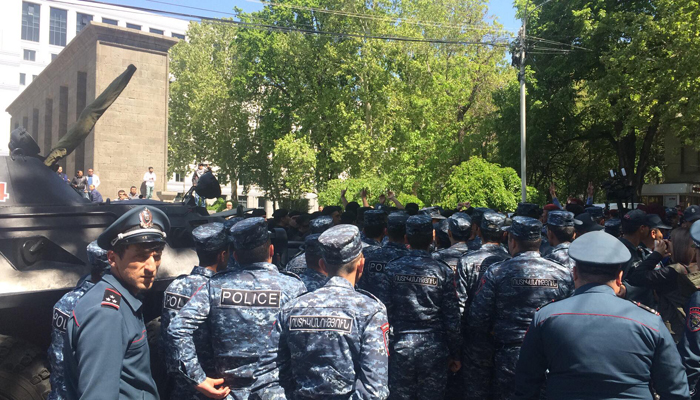 The Republican Party Continues Threatening
Acting Prime Minister of Armenia, former manager of Gazprom, Republican Karen Karapetyan has rejected oppositionist Nikol Pashinyan's demand to have the parliament elect the people's candidate as Prime Minister until new parliamentary elections are held.
"What does it even mean – the people's candidate? Please, explain. I don't know of any country where the people's candidate is elected [in a square]; there are elections for that. The citizens gathered there are unhappy; these citizens want Nikol Pashinyan, others want another candidate. I suggest we hold early elections, and if they win, then fine. But we can not act subjectively," Karapetyan said at a press conference on Wednesday morning.
He called on all political forces to sit down at the negotiating table, and urged Pashinyan to nominate a candidate from his Yelk faction, without demanding that the Republican Party does not have a candidate.
"We had elections in 2017, and we all saw that they were better. We have a Constitution, laws, and we can not leave this field. We are sending bad signals to the world. In addition to us falling into a cataclysm, we can be subjective in assessing who is the people's chosen one.  There is no chosen one. What are we striving for – a dictatorship?"
Karapetyan further warned that if the street protests do not stop, "we will have economic problems, there will be no tourists or investors coming to Armenia."
11:15am: Thousands of demonstrators have started blocking streets in various districts of Yerevan; students and workers are holding mass strikes and boycotts across Armenia. Our correspondent reports, that several thousand people have gathered in the Republic Square; drivers have parked their cars on main roads to paralyze traffic.
10am: Following the cancellation of his Wednesday morning meeting with acting Prime Minister Karen Karapetian, Nikol Pashinyan called on people to resume their acts of nonviolent civil disobedience.
"It's obvious that the Republican Party and acting Prime Minister Karen Karapetyan believe that the citizens of Armenia and the Armenian people have been fully satisfied with the resignation of Serzh Sargsyan, and it is now time to think about the reproduction of the Republican Party.
"In other words, they want to ensure the further rule of the RPA behind the smoke screen of Serzh Sargsyan's resignation. In this situation, we have to clearly present our views and demands. We have to state clearly that such a scenario of events can never be a part of the revolution's plans," Pashinyan said live on Facebook.
Recall, in a late Tuesday statement, Karapetyan had said: "As you may know, Nikol Pashinyan and I were scheduled to meet tomorrow to discuss the current situation and look for solutions.
I wish to inform you that the pre-announced meeting will not take place as Nikol Pashinyan has unilaterally set forth new demands, particularly as regards the format, agenda and media coverage of the meeting.
He proposed a list of people to attend the talks on our side, and announced that he would negotiate exclusively on his own agenda. This means he does not want to enter into negotiations or engage a dialogue, but solely to voice his own position and agenda, up to naming negotiators for us. Having some experience in negotiations, I can say that I have never heard of talks in such a format.
Concerned about the current situation, in my capacity of head of the executive power, who is responsible for ensuring a normal rhythm in the country, I appeal to the President of the Republic of Armenia to organize a meeting in his preferred format with a wide spectrum of parliamentary and extra-parliamentary political forces to discuss the current political situation and find ways of dealing with it, up to the holding of extraordinary parliamentary elections."
Commenting on Karapetyan's statement, Pashinayn today said: "There is one nuance: they want to hold these elections with a Republican as the acting prime minister. We have to not allow these elections because we know from past experience how they will turn out. We have to boycott  these elections actively, by blocking all polling station and not allowing the Republicans to ensure their reproduction.
"Our velvet revolution has a clear message – the Republican Party can not have power in Armenia. […] We call on you to continue the acts of nonviolent disobedience. We need take one more step to bring our victory to its logical conclusion.
"Dear people, no one can take the power away from you."