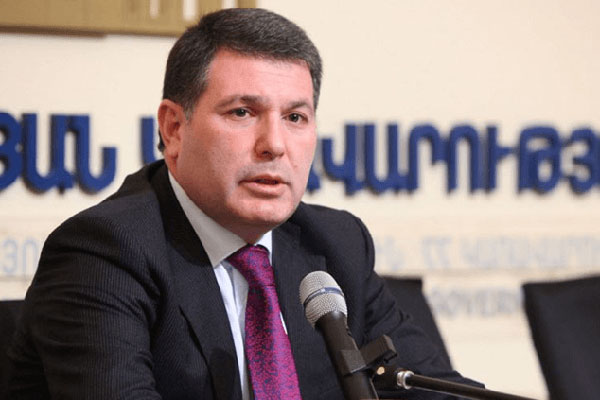 The preliminary investigation of the criminal case opened on September 11, 2015 on the account of outstandingly significant amounts of bribe-taking by a public official has established sufficient evidence that Aram Harutyunyan, current MP, in his posts of Minister of Nature Protection and Chairperson of the interagency committee providing special licenses for natural resource exploitation, demanded from S.H. and received through intermediaries significantly large amounts of bribes amounting to 14mln USD in 2008. The bribes were for provided for exploration and exploitation special licenses of 10 metal mines in Syunik, Gegharkunik, Lori, Kotayk regions of Armenia.
Before joining the Republican Party in 2006, Harutyunyan, also known by the nick-name "Bulki Aram" was a member of the Orinats Yerkir party. Aram Harutyunyan has been in the legislature since 1999, was a member of the Standing Committee on Social, Health and Nature Protection issues. In 2003, he was a member of the Standing Committee on Financial, Budgetary and Economic issues, a member of the Orinats Yerkir fraction. Was a Minister of Urban Development and Nature Protection. He held the post of Kotayk governor (Marzpet). In 2015, Aram Harutyunyan was appointed Chairperson of the State Water Committee under the Ministry of Agriculture.
The Chief Prosecutor's office is reporting that S.H. cashed 6mln USD from the bank between January and November of 2008 and transferred to Aram Harutyunyan through an intermediary, while the remaining 8mln USD bribe was given to him through a bank transfer, again intermediated.
Aram Harutyunyan used the accounts of foreign banks opened in the names of various people, transferred the bribes to these accounts with an aim to cover up the criminal origin of these amounts and thus legalized the significant amount of property (money) acquired illegally. He has allegedly committed outstandingly serious crimes under the Criminal Code's Article 311, Part 4, Clause 2 and Article 190, Part 3, Clause 1.
2 additional persons have been accused with felonies under Criminal Code's Article 311, Part 4, Clause 2 for aiding a public official in receiving outstandingly large bribes. Another 2 persons have been accused for the same crime. Arrest and a search has been announced for these persons.
The Prosecutor's office also reports that there is evidence that Aram Harutyunyan owns a private mansion, several apartments in Yerevan, a 7-storied building adjacent to the Republic Square, a restaurant complex, a public-utility building worth more than 472mln AMD at Davit Anhaght 10/1 address, more than a dozen agricultural land plots in Getamej village of Kotayk Marz. Aram Harutyunyan has declared an income of more than 1.5mln USD.
The combination of acquired evidence establishes a sufficient ground to engage MP Aram Harutyunyan as a felon and to accuse him in receiving an outstandingly significant amount of bribe under Criminal Code's Article 311, Part 4, Clause 2 and in legalizing criminally received income under Article 190, Part 3, Clause 1.
The facts investigated in the preinvestigation directly establish Aram Harutyunyan's participation in the above-mentioned actions and give reason for a justified suspicion of felony on his part. He is accused of outstandingly serious crimes against state service and economic activity. The nature of the felony, the engagement of various persons in receiving the bribe speak of its high degree of danger.
The individuals who have allegedly been engaged in committing the crime are either his relatives or persons who have worked in state and non-state institutions headed by him. This circumstance yields a reasonable suspicion that he is able to take measures to illegally influence persons participating in the court trial, which raises chances that he may demonstrate an inappropriate behavior of illegally influencing people participating in the trial, hiding and forging documents important to this case, as well as going into hiding from the law enforcement bodies.
Given the above-mentioned, Prosecutor in Chief Artur Davtyan has lodged a motion to the National Assembly, as represented by the Chairperson of the National Assembly, to file criminal prosecution against parliamentarian Aram Harutyunyan, as well as to arrest him.