Rubik Hakobyan, a lawmaker with the opposition Heritage faction, cursed at and punched Hraparak newspaper reporter Vahe Makaryan during a break of a December 7 National Assembly sitting. Speaking to journalists on the same day, Makaryan said the incident had happened in one of the Assembly halls, with no cameras around. The MP, according to the reporter, had not liked his questions about Hakobyan's previous Armenian Revolutionary Federation (ARF), also known as Dashnaktsutyun, membership and his current relationship with the nationalist party.
"He got mad and invited me for a talk. He was asking me questions, and before I got the chance to explain [myself], he cursed at me and hit me in the face. He also threatened me, saying I would not get away with it so easily," Makaryan (pictured below) claimed.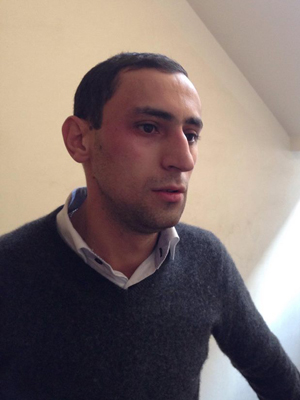 The Heritage lawmaker, for his part, told reporters that he had only been trying to teach the journalist a lesson because "he had behaved like a hooligan."
"I understood that I was speaking not with a journalist, but a plain hooligan, so I asked to talk to him to see if I could maybe teach him how to behave himself. I guess he did not like my methods… If I have done anything illegal, [Makaryan] can try to take legal action [on me]," the MP said.
Hakobyan also commented on the incident before the start of the December 8 National Assembly sitting: the lawmaker apologized to his colleagues, acknowledging that his actions had given rise to criticism of the parliament; "It pains me that certain websites and social networks negatively judged the National Assembly for the conduct unbecoming for a parliamentarian. But, in my defense, the other party involved was not a journalist; he was a hooligan whom I tried to prevent from similar further behaviour."
A number of media representatives have issued a statement condemning the incident, urging the National Assembly's interim ethics committee to call a discussion on Hakobyan's conduct and issue a public assessment of it.