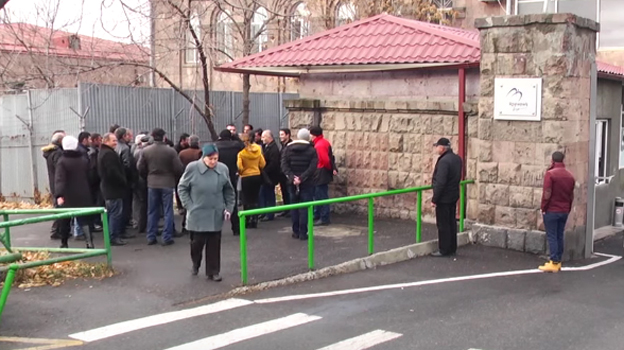 Several dozen employees of Ashtarak Kat, a bankrupt Armenian dairy company that hasn't paid its nearly 300 employees in months, gathered today outside the company's Yerevan office to demand their unpaid salaries. The protesters told reporters that they have yet to receive wages for 5-6 months – nearly 2 million drams (about $4 146) each – and they have no idea who to demand the money from, the company's former or current owners.
Note, Ashtarak Kat, previously owned by former non-partisan lawmaker Ashot Apoyan, stopped production briefly in November because of a large amount of accumulated debt. The company has since been acquired by the American Adra Remara Enterprises, whose representatives have been implementing rehabilitation works at Ashtarak Kat.
"We ask the company lawyer what the factory's current status is, and he says it's still unknown. We ask whether it now belongs to [Adra Remara], and he against says it's unknown. If everything is 'unknown,' then it is also unknown when we'll be paid our money," an Ashtarak Kat employee owed 1,3 million drams told RFE/RL's Armenian service.
The protesters insist that the new owners – despite being obliged by law to pay their back wages – have been refusing to pay their debts, claiming that "you didn't work for us then."
Speaking to Azatutyun, Artak Avagyan, Ashtarak Kat's rehabilitation program manager, expressed his firm conviction that the issues would be resolved; the official, however, did not offer concrete answers about the employee unpaid wages. "The factory was in a very rough state. The rehabilitation program envisages positive solutions to everyone's problems. The company, however, is still not solvent, and is therefore unable to give a specific date range for the payments," Avagyan said.