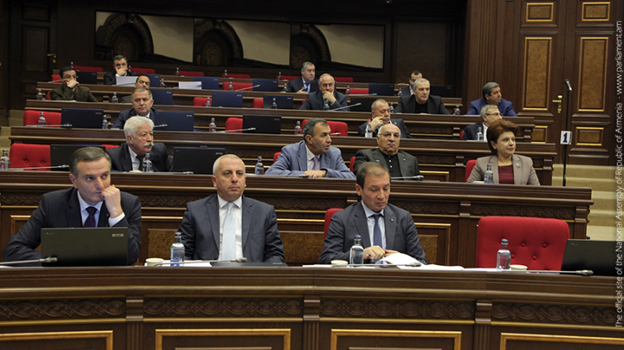 With 84 lawmakers voting in favor, a bill seeking a new tax for increasing social benefits to the families of servicemen killed or seriously injured in action was approved on its third and final reading in the Armenian parliament Thursday afternoon.
Under the controversial bill, which was already adopted by the National Assembly in the first reading less than a month ago, every working Armenian citizen will mandatorily contribute 1,000 drams (about $2) per month to the fund from which the program will be financed. It plans to pay the families of soldiers who are killed or gravely injured during military duty a one-time compensation of 10 million drams. The families of servicemen with less severe injuries will receive a one-time compensation of 5 million drams. In addition, the families of killed or disabled servicemen will receive monthly payments for 20 years ranging from 150, 000 to 300,000 drams, depending on the soldier's rank.
Over the past months, the defense ministry-drafted initiative has drawn open criticism from a number of civil society representatives, and opposition MPs, who have been arguing that there was no need to introduce a new tax and that the compensation paid to the servicemen's families could easily be increased through state budget funds.
Opposition Heritage faction MP Zaruhi Postanjyan, namely, denounced the initiative as "monstrous" during the previous debate, insisting that the bill "does not envisage any support for parents whose children are nor battle casualties. It should be obvious to everyone that this is largely a corruption bill and will benefit primarily the main corruptionist, Serzh Sargsyan."
Aram Manukyan, the secretary of the opposition Armenian National Congress faction, for his part, argued that the monthly payments should not be mandatory and that Armenia's citizens "should be able to express their support for Armenian soldiers of their own free will."
Anonymous activist groups, in turn, have staged two protest actions against the bill: the graffiti "son died; paid off my loans #1000_drams" was left in various parts of Yerevan late in November, and on December 2, a banner reading "The Poor Refuse to Die #1000_drams" was hung in front of the parliament building on central Baghramyan avenue.