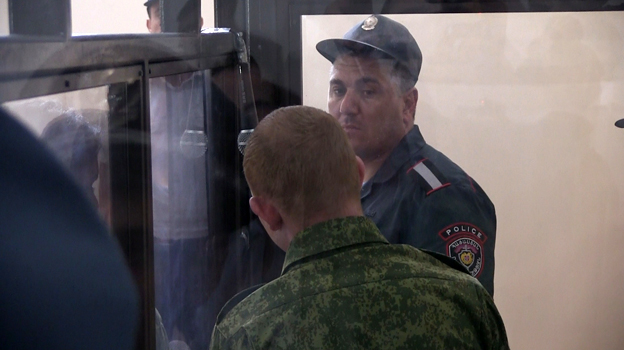 The Appeals Court in Yerevan, presided over by judge Mher Aghamanyan, upheld on Monday a lower court verdict sentencing Russian soldier Valery Permyakov to life in prison for the murder of a Gyumri family of seven in January, 2015. The court also denied the victims' relatives motion demanding 450,000 euros as compensation from Russia.
Six members of the Avetisyans' family, including a 2-year-old girl, were found shot to death in their house on January 12; the family's seventh member, a 6-month-old boy who had been stabbed with a bayonet, died a week later in hospital.
Permyakov, a 19-year-old serviceman of the local Russian military base, was detained the following day near the Armenian-Turkish border and handed over to Russian military officials by Russian border guards. The latter stimulated a protest of thousands of people in Gyumri who demanded that the investigation of the case and Permyakov's trial be conducted by Armenian authorities. Months later, Russia finally agreed that Permyakov be tried by the Shirak district court of first instance.
During the course of the trial, which ended on August 23,2016, the lawyers for the victims' legal successors announced multiple times that Armenian officials had failed to conduct a complete investigation, failing therefore to establish the actual motives behind the crime.
Prominent Armenian human rights activist Artur Sakunts, the head of the Helsinki Citizens' Assembly Vanadzor office (HCAV) and a representative for the the victims' next of kin, went ahead and appealed the verdict, insisting that the crime itself had not been fully revealed and that he was not convinced that Permyakov had acted alone. Sakunts also alleged that "the Avetisyans' might not have been the actual targets" of the gruesome crime.
Speaking to Epress.am on Monday, Arayik Zalyan, a lawyer with HCAV, called the Appeals Court ruling "predictable," stressing that Armenian authorities' conduct in relation with the case had not been very promising from the get-go.
"Neither the investigative body, nor the first instance court did anything to actually discover the case, so we did not expect Mher Aghamanyan's court to issue a favourable verdict," Zalyan said. He added that they will turn to the European Court of Human Rights if the Court of Cassation does not overturn the ruling either.