The collection of scientific articles "Yerevan-4" published in November last year also contained an article devoted to Yerevan mayor Taron Margaryan. The article, entitled "Matters of the Progress of the Musical Life of the Capital as a Subject of Yerevan Mayor's Daily Care," was authored by professor Anna Asatryan, a Doctor of Arts and deputy director of the Institute of Arts of Armenia's National Academy of Science. Reporter Anna Zakharyan presents the details of Asatryan's work in an article published in Haykakan Zhamanak newspaper today.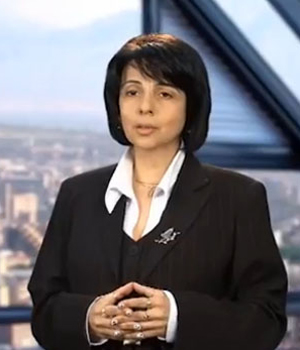 Asatryan begins her article by quoting the mayor; "I am confident that with daily care, compassionate work and immediate dedication we will soon have the Yerevan will have all dreamed about."
The doctor of arts proceeds; "[…] This fall, on November 15th, Taron Andranik Margaryam will mark the 5th anniversary of his appointment as Yerevan mayor. Citizens of Yerevan put their trust in the current mayor Taron Margaryan and his [ruling Republican Party of Armenia] team, appreciating his previous work and rich professional experience. They chose him, and rightfully so."
The scientific article on Yerevan's musical life, Zakharyan writes, then continues to praise Margaryan, saying; "Today we have a mayor who has accumulated a learning experience over the years working in local government. He is well aware of the issues facing each of the 12 administrative districts of Yerevan, the citizens' concerns and troubles; he also knows theirs solutions and, most importantly, is capable of solving them. The position is not an enjoyment to him, nor is it a way to assert himself: it is an opportunity to serve his people – the citizens of Yerevan.
"It should be noted that numerous vital factors and circumstances (proper and fundamental family upbringing, healthy and enlightening life experience, natural goodness, optimism) have formed in Margaryan highly moral traits such as patriotism, sense of duty and responsibility, honesty and devotion towards the people, exceptional sensitivity, consideration and caring attitude towards the environment, fellow citizens, their concerns and worries, and general kindness and humanity. In this sense, it is quite logical that he has occupied a special and honorable place in the distinctive and rare in its kind structure – the real constellation of members of the Academy of Humanism Problems." (The chairman of this Academy, by the way, is Grigor Asatryan, the father of the author of the article, while the author herself is a member of its presidium.)
According to the Haykakan Zhamanak reporter, Anna Asatryan, a member of the Republican party, has been awarded the Yerevan mayor's gold medal, for active participation and contribution in the work of Yerevan's Council of Elders.