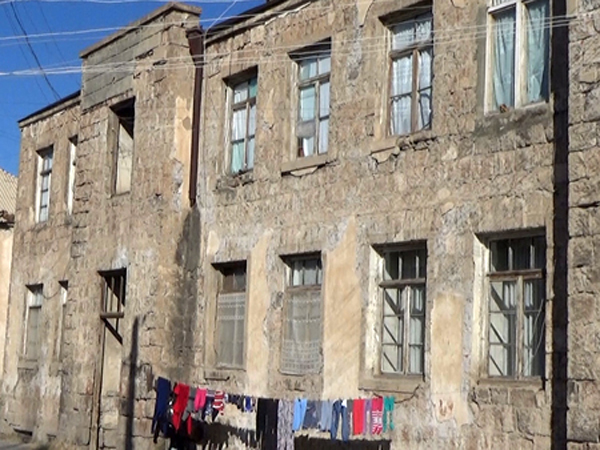 More than two dozen families in the village of Lenughi in Armenia's Armavir province will continue to live in apartment buildings unfit for human habitation. In 2016, the regional administration had promised the villagers to allocate funds from the 2017 regional budget and provide them either with new apartments or money for new housing. The Armavir budget has already been approved; however, the authorities are again urging the Lenughi villagers to wait indefinitely as they plan to renovate a culture house and a school in two other Armavir villages.
Speaking to Epress.am, head of the Armavir regional administration Urban Development department Karine Danielyan stated that she could offer no specific information on the Lenughi housing issue; "[The government] has already approved [the 2017] Armavir budget, and it only envisages funding for the renovation of the culture house and the school in Shenik and Tairov communities, respectively. The region has only been allocated 50 million drams, and Lenughi is not mentioned as a funding recipient. Nevertheless, Lenughi is the focus of the governor's attention, and he is making every effort to find the funds to solve this problem."
Nver Petrosyan, assistant to Armavir governor Ashot Ghahramanyan, had told Epress.am last week that Armenian prime minister Karen Karapetyan was to visit the village on January 27, and Lenughi village head Gegham Ghazaryan planned to raise the issue with the government head. Ghazaryan, for his part, said in a conversation with Epress.am that the governor had subsequently told him he would personally discuss the issue with the prime minister.
On January 19, the tenants of the Lenughi dilapidated houses had gathered outside the government building in Yerevan to protest the continuous postponement of their housing issue, and were advised by the government staff to submit an appeal letter to territorial administration and development minister Davit Lokyan. The villagers are expected to receive an answer to their appeal on February 9.
"They say the same thing every time. But we will wait for the the minister's reply, and if the issue is not resolved, we will continue to hold protest actions outside the government offices," Lenughi villager Tamara Khachatryan told Epress.am.