On February 15, unidentified attackers opened fire on political analyst and founder of the Institute for Democracy and Human Rights NGO (IDHR) Armine Arakelyan, according to a post on Arakelyan's Facebook page.
"I just got home. I was just passing through the gates when [unknown people] shot at me from the top of the road near my house. Thank God, they missed me, but the bullet hit [my dog] Fifi. She has died," Arakelyan wrote at around 6 pm.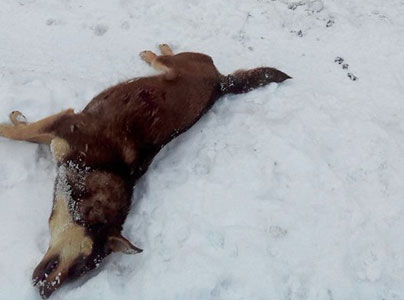 Speaking to Epress.am, a source close to Arakelyan said the shooting took place near the human rights activist's home in the village of Mughni. Arakelyan has already filed a crime report with the police.
Note, Arakelyan has previously reported being terrorized and harassed multiple times. In November, 2016, in particular, she wrote on Facebook; "RA Police, Ashtarak local authorities, and RA National Security Service, I'm warning you all not to dare to come to my house again and threaten to detain me. You did this this morning – at 10:05 am on 07.11.2016. Contact my lawyer […]"
Recall, earlier this year, Armenia's law enforcement authorities decided not to initiate criminal proceedings against the staff of Yerevan's Nubarashen psychiatric clinic over Arakelyan's allegations of torture and harassment at the clinic.
Erebuni and Nubarashen district senior investigator G. Matevosyan justified his decision not to prosecute the hospital staff by citing lack of criminal intent and insisting that investigators hadn't found evidence to prove that Arakelyan had indeed subjected to beatings at the psychiatric facility. The investigator also said that tying Arakelyan up and taking her to a psychiatric ward against her will was not unlawful since "she had displayed aggressive behaviour."
Arakelyan was involuntarily committed to a psych ward on May 17, 2016, after getting into a fountain basin at Yerevan's Republic Square. In an interview with 1in.am following her release, Arakelyan claimed that she had been subjected to mockery, beatings, torture and harassment at the hands of the staff of the Nubarashen clinic.