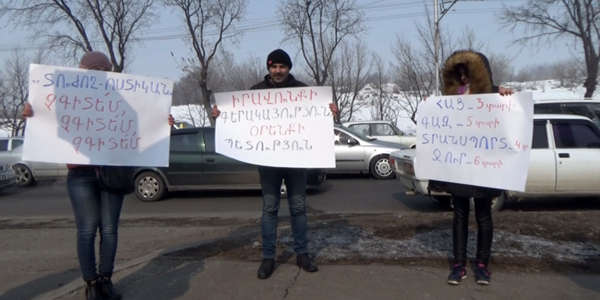 A group of residents of Yerevan's Sari Tagh neighborhood rallied on Wednesday outside the US embassy to request that the officials step in to support their relatives who were arrested last summer and are facing charges for allegedly committing violence against police officers during the clashes that occurred in the neighborhood on July 19, the second day of the stand-off in the nearby police headquarters. Note that two of the nine arrested men – who insist that they had only gone out that day to find out the causes of the power and water outages in their neighborhood – have since been released from detention, while 5 of them have been sentenced to 3 years in prison.
Toros Torosyan, brother of arrestee Harutyun Torosyan, said in an interview with Epress.am that none of the allegedly affected police officers has recognized any of the accused. "[The prosecution] has also failed to provide any concrete evidence that the guys have in fact committed any sort of crime. The police officers involved in the case as victims have even acknowledged that the men had taken to the street because of their household problems. Given all that, the court continues to keep them behind bars and impose unjustified verdicts," Torosyan stated.
Ani Kaghinyan, executive director of the Freedom and Motherland foundation who had also come to the rally to express the foundation's support for the arrestees, insisted for her part that the charges against the Sari Tagh men "are too harsh and inconsistent with their actions." According to Kaghinyan, because of the inaction of the Armenian investigative and judicial authorities, "the citizens are forced to turn to other embassies for support."
The protesters have also submitted appeal letters with a similar content to the Russian and French embassies, the offices of the prosecutor general and the president.