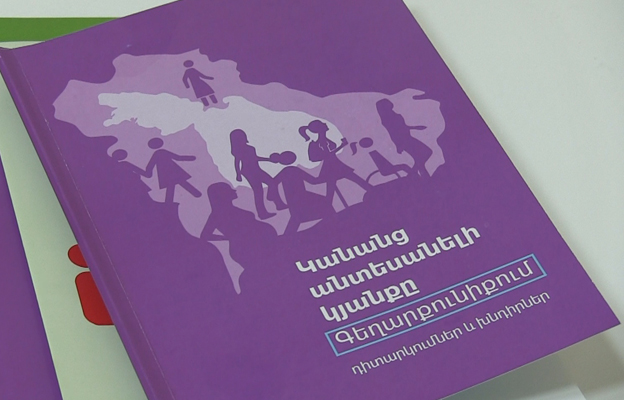 Compared to Armenia's other regions, women in the country's largest Gegharkunik province are more vulnerable to pressure and domestic abuse. In addition, sex-selective abortion is more widespread here than it is in any other part of the country. The Gegharkunik province is also unique in that 80-90% of the population are women as men here work as seasonal labour migrants abroad.
In 2016, the Yerevan-based Women's Resource Center NGO (WRC) conducted a study in 20 villages and 3 towns of the Gegharkunik province; the researchers spoke with around 5000 women about women's rights and their role in the society as well as other gender-specific issues. The findings of the study were consequently published in a report entitled "Women's Invisible Life in Gegharkunik."
Family Relationships
80-90% of the Gegharkunik working-age men, apart from those living in the villages of the Lake Sevan basin, are seasonal workers in Russia. In the absence of their husbands, women are watched over by their parents-in-law.
A large number of the research participants told the WRC representatives they were convinced that their husbands did not remain faithful to them while abroad. The women, however, also said they did not mind this in the slightest.
"It's normal that a man who spends 9 months in Russia has other relationships. He is a man after all. Most of the women here do not mind it. Besides, what else could we do? It's not like we are going to divorce them because of that. There are men who have entire families, kids with Russian women; that is something I will never accept. But what can you do; Russian women love our men," a 47-year-old woman from the Yeranos village said.
By many of the participants, domestic violence was viewed as justifiable; still others said that although the abuse was never acceptable, they did not have the resources to leave their abusive spouses; "We don't have a proper education. Besides, how could we live with the "divorced" label hanging over our heads?"
"All of the women in our village have always been and will continue to be beaten by their husbands. That's the only right way to becoming a good housewife," a 65-year-old participant from the Dzoragyugh village insisted.
Education and Occupation
There is a widespread belief in the majority of the Gegharkunik villages that being a wife is what defines a woman, and a higher professional education is essentially unimportant. Many families therefore prevent their daughters from getting an education.
"I did not allow my granddaughters to pursue a university education after school because the husband is the woman's master, and he will decide in the future whether she should get an education. As regards my grandson, I will crawl out of my skin to make sure that he gets a degree; he has a future family to provide for, and he will need an education to be able to earn money," a 68-year-old woman from Dzoragyugh.
"When I married my husband, he told me that I had to stay at home and take care of the children. I used to work as a hairdresser, but I was no longer allowed to after I got married," 32-year-old participant from the Martuni village.
Nevertheless, according to the research findings, women are responsible for the majority of the agricultural labour in the province.
Sexual and Reproductive Health
Women in the Gegharkunik province, the study found, have very limited access to birth control; none of the pharmacies in the province sell any types of contraceptives. Moreover, only male partners are entitled to choosing a form of birth control.
"My husband is the one who decides whether we should use protection; I can't do anything if he says we are going to have an unprotected intercourse. Although abortion is my greatest fear; I'd rather have another baby than resort to abortion again," a 39-year-old woman from Sarukhan.
Sexually transmitted diseases, including HIV, are also quite widespread in the province. The researchers found out that husbands who are aware of their diseases hardly ever tell their wives about them.
Another worrying issue in the province is the high rate of sex-selective abortions. According to the study, the ratio of newborn boys to girls in Gegharkunik is currently 124-to-100.
"In our village, women who have already given birth to one or two girls abort all subsequent pregnancies if they know it's not going to be a boy. I know a woman who ended 10 pregnancies before finally giving birth to a boy. I don't put a difference between a boy or a girl, but having a son is important: he keeps the hearth alight. Daughters, on the other hand, are destined to leave. So you have to at least have one son," a 49-year-old woman from Gavar.