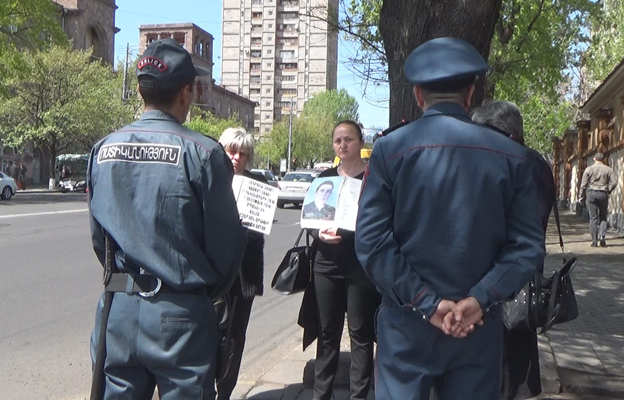 The mothers of several Armenian soldiers who died in the army in peacetime again gathered today outside the presidential residence to remind that their sons' cases are not being investigated properly. The protesters claim that they will not leave the authorities alone until those responsible for their sons' deaths are punished.
Irina Ghazaryan, mother of Artur Ghazaryan who died in a Nagorno-Karabakh military unit in 2010, told Epress.am that her son would be turning 26 today; the woman complained that in the 7 years since Artur's death, no actions have been taken by the authorities to disclose the case and to hold perpetrators accountable. "My son would be 26 today. This bastard [points towards Serzh Sargsyan's office] took my son to the army once he turned 18 and now he is awarding [Artur's] killer, Martin Jhangiryan, for taking part in the [2016] April fighting [in Nagorno-Karabakh[," Ghazaryan said.
Protester Nana Muradyan, in turn, told Epress.am that it has been 4 months since Armenia's General Prosecutor promised to resume the investigation into her son Valery Muradyan's death; officials, however, have yet to take any steps in this direction, the woman said.
"[The resumption] does not actually mean anything; they will subsequently discontinue the case again after dragging it out for years. They haven't even provided us with the written decision on resumption. Our lawyer appealed to the Special Investigation Service to find out the grounds for resuming the case, but they refused to tell him anything," Muradyan added.
The woman also commented on the new military service program offered recently by Armenia's defense ministry; a three-year optional service combining compulsory and contract-based services, after the completion of which soldiers will receive 5 million drams on their accounts.
"They offer the soldiers 5 million drams to serve for 3 years. Who would take them up on this offer? Children from poverty-stricken families, of course, who'll want to somehow help their parents. It's just yet another way to help [the authorities'] sons to get out of compulsory service. They'll protect their kids under their wives skirts, but will take kids from poor families to the frontier. And when these kids get killed, they'll just say they couldn't have done anything to prevent it," Muradyan said disgruntedly.