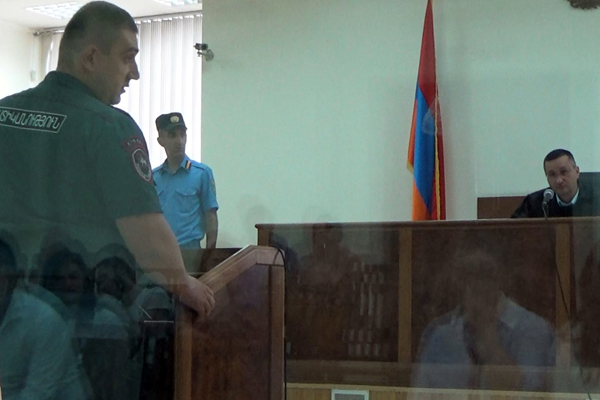 Yerevan's Shengavit district court on Tuesday held another hearing on the Mansuryans' family axing case, during which police officer Arsen Mkhoyan testified that on the day of the incident he, along with his colleague Davit Varosyan, had been given an order to see Taguhi Mansuryan and her mother, Karine Mansuryan, home.
Recall, on July 8, 2016, Vladik Martirosyan attacked his former wife Taguhi Mansuryan and her parents, axing his former mother-in-law to death and leaving Mansuryan and her father severely injured. In his pre-trial testimony, however, the defendant claimed that his actions had not been premeditated and that he had "only taken away the axe from Vachagan Mansuryan in self-defense." Meanwhile, speaking to reporters after the tragic incident, Taguhi Mansuryan had said her former spouse had repeatedly threatened her and her family in the past, and the attack therefore "was not a big surprise.
Officer Mkhoyan said in court yesterday that upon arriving at the Mansuryans' building, his colleague Varosyan got of the car to open the door for the women and looked around to make sure that there was nothing dangerous in sight. Mkhoyan claimed that Taguhi and her mother had neither asked them to accompany them home nor look around to see whether Vladik Martirosyan was in the area: "They got out of the car, thanked us and entered the building. They never asked us to see them to their door."
Some time later, the officer went on, when they were about to leave the area, they heard voices coming from the building. "We immediately got out of the car and saw a man of about 50 pushing Martirosyan out of the building. At the moment Martirosyan was saying something like 'I should have also taken the third one!'" Mkhoyan said.
Presiding judge Davit Balayan then asked the officer whether it was common for him to receive orders to accompany people home, to which Mkhoyan replied that "it happens very rarely."
"As far as I understand you work for the police and not a taxi service. When you are ordered to see people home, you should not just drop them off at a building. The point is that you accompany people, how do you not get that? How could you have just dropped them off an left?" the judge commented.