Head of the hydro-meteorological center of the Armenian ministry of emergency situations Gagik Surenyan is very pleased with the heavy rainfall in Istanbul and the floods it caused in the Turkish city in the early hours of Tuesday. The official expressed his contentment in a short but very telling Facebook post: "Heavy rainfall flooded Istanbul a few hours ago. P.S. Wish the same to Baku," Surenyan wrote.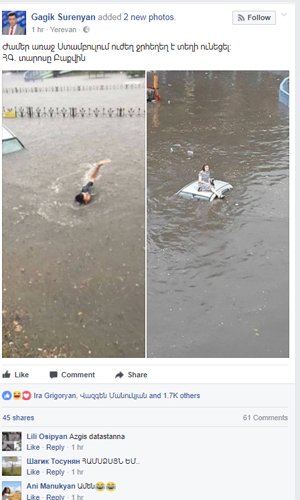 The official's post has managed to receive over 1700 likes and hundreds of comments from Facebook users within an hour. Some of the comments read as follows: "Post a video – help us stay cool [during Yerevan's heat];" "Post more photos;" "Now they only need to be wiped off the face of the earth;" "Dear Surenyan, floods in Istanbul can never be heavy enough. I mean, there is always room for more…"
Note, a heavy rainfall has been in effect in Istanbul since the early hours of July 18, paralyzing the city's daily life and flooding the main roads and several metro stations. According to local forecasters, the rain is expected to continue through the afternoon and last until evening.