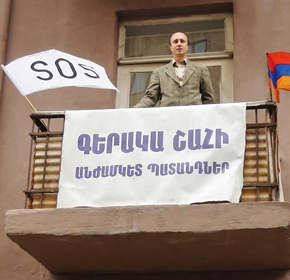 Vardan Geravetyan, a members of the Sasna Tsrer anti-government armed group, has launched a hunger strike in Yerevan's Nubarashen prison, demanding a transfer to a separate cell to be protected from the propaganda of hatred against the group in the prison.
"From the very first days of our arrest, the idea began to spread that the authorities wanted to announce grants of clemency but did not do so because of Sasna Tsrer. Thus, they've been trying to sow hatred between Sasna Tsrer members and other inmates. In addition, with the beginning of our trial, they began carrying out frequent searches, particularly in the cells where members of Sasna Tsrer are held, which could lead to tension and possible consequent clashes in the future. Despite the fact that there have always been good-neighborly and even warm relations between Sasna Tsrer and other prisoners, it is obvious to all of us that [the aforementioned steps] are being taken intentionally, in order to provoke discontent among the exceedingly overwrought prisoners, who have ended up in the claws of so-called justice," Geravetyan said in a statement published by his lawyer Davit Gyurjyan.
The Sasna Tsrer member also demands that those who have been arrested for their political and civil views, including Shant Harutyunyan, Andreas Ghukasyan, and residents of the Sari Tagh neighborhood, be recognized as political prisoners.
Recall, before the takeover by Sasna Tsrer of the Erebuni police station in July 2016, Geravetyan spent 9 years fighting peacefully against the Yerevan city authorities and the Armenian government, trying to restore his and other 25 homeowners' rights to their apartments in central Yerevan.
Under former president Robert Kocharyan's rule, the entire territory of old apartment buildings at 23, 25 Teryan St. and 37 Lalayants St. in central Yerevan was declared eminent domain and sold by a Government decision to Local Developers company [owned by notorious businessman, owner of the Second Armenian (H2) TV Channel Company Samvel Mayrapetyan]. More than 25 residents of the buildings, who had received eviction notices, went to court in a fruitless effort to restore their property rights.