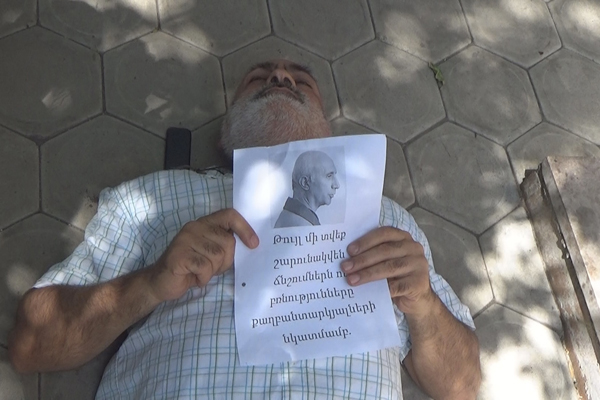 "I chose to hold this protest between 12:30 and 14:30 because that's when the staff of the Ombudsman's office leave for a lunch break. I want them to clearly see how well-off they are compared to an ordinary citizen," Yerevan-based civil rights activist Vardges Gaspari told reporters during his lie-in protest outside the Ombudsman's office on Wednesday.
The reason for holding the protest action, Gaspari added, derives from Sasna Tsrer armed group member Vardan Geravetyan's ongoing hunger strike in prison as well as from his wish to express his protest against the prison management regime in Armenia.
"Prisons are controlled not by managements but by 'area watchers' and that's why there are always illicit rules and regulations there, such as 50 000 – 80 000 dram payments to the obtshak, drug trafficking, etc," Gaspari stated. He added that he expects the Ombdsman's staff to speak about what is actually going on in Armenian penal institutions, even if only at the minimum level: "Ombudsman's reports always gloss over these issues; the staff work like chinovniks."
Speaking to reporters, Ombudsman staffer Hrachya Palyan announced that the staff are aware of the issues raised by Gaspari and are trying to resolve them to the best of their power. He added that today several staffers visited the Nubarashen prison in Yerevan to meet with hunger-striking Geravetyan. "It's only Gaspari's subjective opinion that we are not properly addressing these issues. I just want to note that to start a procedure over some kind of issue there first of all have to be facts which should be reviewed through specific legal regulations. Only then can it be assessed whether these allegations correspond to the reality or not," Palyan said.
An Epress.am reporter reminded the Ombudsman staffer about Gaspari's allegation, according to which his cellmate Mkhitar Sargsyan was killed in prison on March 1, 2016, for not torturing Gaspari "assiduously enough." Palyan replied that he did not remember about his incident, but if Gaspari has actually presented such a claim, he said, then "we are obligated to look into it."