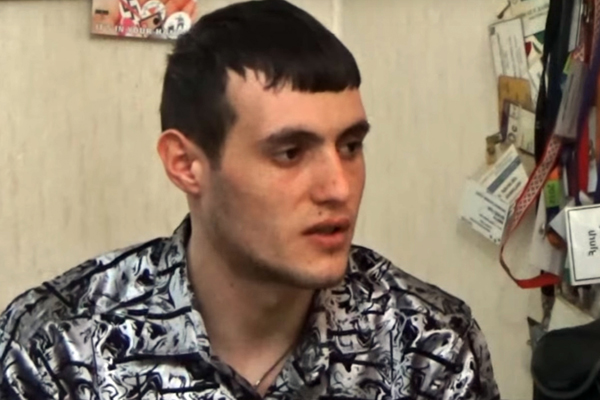 Vanadzor resident Karen Kungortsev, who was found guilty in July of the attempted murder of 15-year old Yerevan handball player Davit Hovakimyan, had managed to get married and have a baby boy in the period between his initial acquittal and second arrest. Kungortsev had yet to come to terms with the idea of having spent three years in prison when he was arrested again. Lori District Court judge Narine Hovakimyan had acquitted him in April of last year, having handed down a verdict that was unexpected for local human rights defenders, Kungorstev, and his relatives. After 15 months, however, Armenia's Court of Appeal also unexpectedly overturned this rare acquittal and sent Kungortsev to prison.
Nearly three dozen witnesses testified during Kungortsev's trial that they had not seen the defendant at the scene of Davit Hovakimyan's murder. The victim's family, for their part, have also declared that they do not believe Kungortsev is their son's killer; they have been continuously demanding that the real perpetrator be found and brought to justice.
"I was trying to start a new life and not be vindictive…" Karen tells us of his 15 months in freedom during our visit at Yerevan's Nubarashen prison.
His friends and family in Vanadzor, in turn, say that it was not easy for Karen to keep his thoughts and attitude positive since the imprisonment had not gone without consequence. "He was unable to rehabilitate. He began having heart issues, he was getting sick more often, so calling an ambulance for him was not a rare occurrence. He'd see the real murderer walking freely around the city and he'd remember that he had spent three years in prison for nothing. He could not stand it," one of Karen's neighbors says.
Immediately after the murder, it was rumored in Vanadzor that the teenage handball player had been killed by the son of a National Security Service office. Subsequently, late human rights defender Mikael Danielyan spoke to Epress.am about these allegations.
Kungurtsov recalls that living in Vanadzor had become unbearable for him because he'd often randomly bump into the police officers who had subjected him to violent beatings to force him to take the guilt for the murder.
"Officers Arman Galstyan, Ara Karapetyan and Anubagh Hambaryan continue to serve, and the latter two have even been promoted. They'd torture me to force me to write a confession. I later reported this, but the investigation was subsequently terminated," Karen recalls, adding that intended to move to Russia with his family once all the judicial proceedings were finally over.
Karen's imprisonment has also cost his family negative financial consequences: the family have accumulated large volumes of debt. During our August 19 visit to Vanadzor, we found Karen's mother Anahit and his 5-year-old brother living in a dilapidated house. Their electricity and gas had been cut off for non-payment; Gazprom Armenia has even gone to court demanding payment of the AMD 63 debt, with interest.
In addition, Anahit Harutyunyan has to pay an AMD 250 fine for offending prosecutor Vahe Dolmazyan in court. "How come it was not offensive when the prosecutor threw a pen at my son in the courtroom?" the mother demands. The woman is waiting for the Judicial Acts Compulsory Enforcement Service to refer her to a job to eventually pay off this fine.
The family also recall that the Appeal Court would delay the trial process for over a year: "It was not easy to take a taxi from Vanadzor to Yerevan every week. We'd go to Yerevan, and they'd tell us that the hearing had been postponed," one of his relatives complains.
Karen now awaits the decision of the Court of Appeal to be able to appeal to the Court of Cassation, and in case his appeal here is rejected, Karen intends to take the case to the European Court of Human Rights.