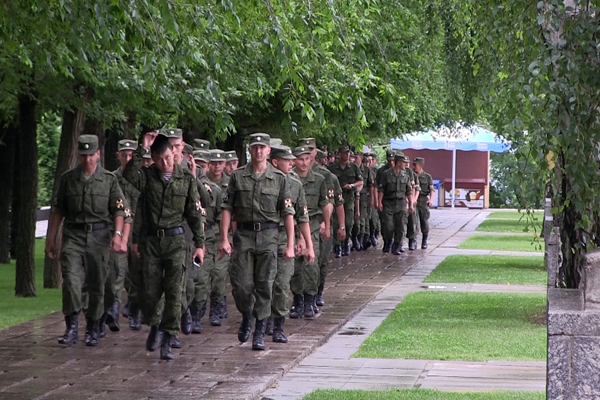 In the summer of 2017, several Epress.am reporters went on a work trip to the southern regions of Russia, where they met with migrant workers and refugees from Azerbaijan, Nagorno-Karabakh and Armenia. The following video is the final product of the trip; it comprises three segments – "Transcaucasia," "A real Armenian – who is that?", and an interview with anthropologist Evia Hovhannisyan.
– You went around many people; before coming to see me, you should have met with the community head, the chief of the South Caucasian communities, and the leader of the church diocese.
We met the author of the book about the history of the local Armenian church at the university where he works, during the long break. We only had 40 minutes to talk to him.
– I have no taste for being in the public eye; my job is not to give interviews but to write articles. There are people who love being in the spotlight, but you won't even be able to find a biography of me. It's only available in the Armenian Encyclopedia (published in Rostov-On-Don). I don't even know who you are. I've recently had a similar experience: some people came to me and presented themselves as journalists. They were trying to get me to talk; turned out they were from the neighboring country.
– Azerbaijan? We are from Armenia. You can see my passport if you want. Although, there is the word "Azerbaijan" in it.
– Where were you born?
– In Kirovabad.
– Gandzak.
– It was called Kirovabad when I was born; now it's called Gyanja.
– Yes, Gyanja. Wait a minute, so you were born in Gyanja? What year?
– 83.
– You look younger than your age.
– You are the first person to tell me that. Usually people say I look 10 years older.
– You need to shave; then everything will fall into place. I was born in Russia, but my roots lie in Karabakh.
– I won't lie –  I have such roots, too. From Martakert.
– My family was also from Martakert. There are many people from Kirovabad and Baku here. You know you can't film inside universities without a special permit, right? Why have you come here?
– We've been meeting with Armenians who came to this region in different times. We were advised to come to see you, too. We don't expect to draw any conclusions…
– You couldn't even if you wanted to. You can't understand anything…
– That's the very feeling we wanted to share with you…
– I read a lot of websites, but I've never heard of yours.
– It's not the most popular one.
– What product do you plan to give? What's your ideology?
– Well, the people who are forced to leave Armenia and migration are represented in the Armenian media in a very specific way. Can't say that we like this picture. Migration is the most mass expression of protest in Armenia, but it's not represented as such in the political and media fields. Can you imagine the state of a person who is willing to leave his familiar environment, his friends, family, and come, say to Russia, where he will most probably be very vulnerable, become a churka or a khach, hoping that his kids at least will be able to adopt…
– Now we are talking… You have to show that it's not just fun and games here, that a professor and a lecturer earns only 19 000 rubles…
– Well, migrant workers rarely work at universities…
– Of course… They earn much more money.
– I wouldn't be so sure…
– You have to show that migration is not salvation. Do you know how many people get killed here? I'm not saying Russia is a bad country. No, it's a good one. But these people get lost; they get involved in conflicts and end up dead. While they could have stayed in their homeland.
– We are trying not to engage in patriotic games…
– That's strange. I thought that in a country which is at war and has such neighbors everyone would be involved in patriotism… What media do you follow? What websites do you know that write about Armenians in Russia?
– I know Noev-Kovcheg, Yerkramas, but I read Kavkazsky Uzel.
– Hmmm, Kavkazsky Uzel. I see. I want to understand what your sponsor expects from you with regard to your trip. Traveling here is rather costly.
– We've been planning to come here for over two years. We were finally able to save some money. Over the years, the website has been financed by Norwegian, American, British, and German funds.
– See where the wind blows from?
– The wind blows from the desire of a group of friends to engage in journalisms… We wouldn't mind getting financial aid from the state budget…
– What budget can such a poor country have?
– A pretty decent one. Even the president's administration gives out grants. But we know what kind of media they sponsor. One of our main conditions is that the sponsor does not intervene with our policies. The funds we have cooperated with have yet to violate this condition.
– Freedom of speech is a good thing, but it's not for a country at war…
– That's the idea the Armenian authorities are trying to promote. "A threat of war" is a very convenient tool for maintaining and strengthening their power and for justifying violence. Look at the authorities in Russia, Azerbaijan, Ukraine…
– Human rights is for Switzerlands and other European countries…
– I'm not speaking about the Switzerland's experience; I've never lived there…
– Armenia's authorities are the least of all evils… Is it revolution that you want?
– If it were, we wouldn't become journalists. Those are contradicting and incongruous phenomena…
– Not true. On the contrary. See what Armenian media websites write?
– We do. That's what we have to live in.
– Do you want Sasna Tsrer? What was that? People not only did not condemn them but they took to the streets in their support…
– People expressed their solidarity with the Sasna Tsrer's act, not their ideology… The idea that Armenian authorities can only be overthrown with arms and violence is quite widespread in Armenia…
– What do you want from those authorities? I'd like to see what you would do had you been given power… You'd immediately be surrounded by relatives and friends who would want something from you…
– You are blurring over a very principal difference between me and the authorities…
– Last year, my colleagues and I traveled to Karabakh; we bought wine in Stepanakert before heading to Gandzasar. We stopped by one of the villages on the road and began talking to an old lady. She started complaining about how bad life was. I told her she should have instead baked some zhengyal bread and sold it to us instead of repeatedly saying how bad life was. [Levon] Hayrapetyan has done a great deal for you; he has even built roads, you want to do nothing… I can't go to Armenia, I don't speak the language, but I've learned to read… We have to free the auditorium: the break is over. I'll read your website to see who you are. Although I can already get the idea –  you were quite sincere.