A group of environmental activists today rolled a golden ball in the central streets of Yerevan, symbolizing the gold, for the extraction of which the offshore company Lydian International is building a mining factory at the Amulsar mountain at southern Armenia, thereby jeopardizing the country's environment.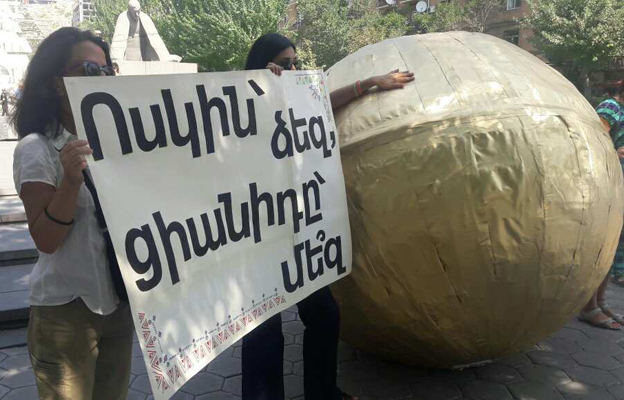 According to the estimates of the company, over 10 years, 73 tons of gold and 300 tons of silver will be extracted from the mine, which will bring Lydian an expected net profit of $1.4 billions.
Local experts and environmentalists, meanwhile, have been arguing for years that the mine exploitation will cause irreparable harm to the resort city of Jermuk, located some 10 kilometers from the mine, and Armenia's water reserves, including the Arpa River and Lake Sevan.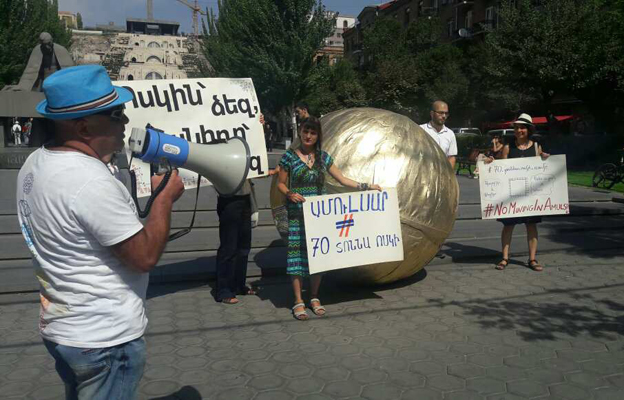 During today's demonstration, the activists rolled the ball from the Alexander Tamanyan statue to the Government building, then placed it on a central roadway at the Republic Square. Here the ball was soon confiscated by law enforcement officers.