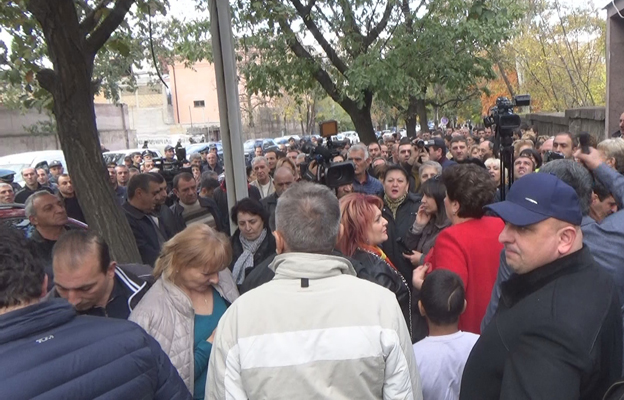 Nearly 200 business owners gathered outside the building of Armenia's National Assembly on Tuesday to protest against the Government-initiated amendments to the Armenian Tax Code, which, according to the demonstrators, will only add to the pressure on small and medium-sized businesses. The business owners' efforts to enter into negotiations with Government representatives have remained largely fruitless, and they have therefore resorted to a protest by the Parliament as a way to at least make their voices heard by lawmakers. The majority of today's protesters were stall keepers from Arinj Mall and Surmalu Trade Center in Yerevan. Incidentally, Arinj Mall belongs to the family of tycoon and MP, head of the Tsarukyan Alliance Gagik Tsarukyan.
The amendments to the Tax Code, which are envisaged to enter into force on January 1, 2018, will also unnecessarily increase paperwork for business owners, the protesters argued. "My accountant will have to keep online record of every item I take to the store from the warehouse. Should tax officers find a non-listed item at the store, I'll get fined at least AMD 200 000," one of the protesters said.
"Some of the goods we have are undocumented; we weren't given any papers for them when buying them in China or in Turkey. Some of the goods we've obtained for re-sale from local small producers. I pay my taxes properly; why should I have to get involved in additional  unnecessary paperwork?" another one added.
In addition, the protesters complained about their falling sales and insufficient profit: "Why won't they let us do our work? They have investments in foreign countries; they can leave Armenia whenever they wish and leave their accumulated foreign debt on our shoulders. But we don't mind; we are prepared to pay off our country's foreign debt if they lets us work in peace."
MPs from the Tsarukyan Alliance, Mikayel Melkumyan and Naira Zohrabyan, came out to meet with the protesters and promised to deal with their issues once they submit their concerns to the National Assembly in written form. "Tax authorities have become the bane of small and medium-sized businesses," Melkumyan then charged.