Armenia's Minister of Defense Vigen Sargsyan took to his official Facebook page on January 13 to start a crowdfunding for the treatment of 21-year-old former soldier Albert Dallakyan, who was shot in the head last year by an officer at his military unit. The head of the defense ministry admitted that the young man would receive more effective treatment and help abroad than he would in Armenia. Over the months, Dallakyan's mother has applied to the ministry several times, asking for funds for her son's treatment abroad; the officials, however, have consistently turned down her requests. Meanwhile, the officer who wounded the young soldier continues to serve. in the same unit.
According to a statement issued by Armenia's Investigative Committee following the incident, Dallakyan received a gunshot to the head on June 24, 2016, at the combat position of a military units in Hadrut as a result of a violation of the rules for safe weapons handling by Lieutenant Avag Nahapetyan. The investigation into the incident is still ongoing.
Late past December, Forrights.am published a detailed article on the case, reporting that Dallakyan's mother had been trying to obtain money for her son`s surgery in Germany for about six months. Forrights wrote that as a result of Nahapetyan`s shot, a part of Dallakyan's brain had been damaged. The Ministry of Defense, however, rejected the mother's request, insisting that the Ministry was not responsible for organizing servicemen's treatments abroad. Furthermore, the defense officials urged the woman to apply to Ministry of Health instead. The latter also refused to provide money from the state budget and suggested that the brain surgery be performed in Armenia. However, according to Dallakyan's mother, these types of surgeries are performed in Armenia with old equipment, which is a serious risk, and no guarantees are given that they would end successfully.
On January 13, defense minister Sargsyan began raising funds for Dallakyan on Facebook, calling his initiative "an additional humane measure." "By law, we can not compensate for this surgery abroad as it can also be performed in Armenia. But foreign clinics have incomparably more experience and skill in this matter, and Albert's chances of recovery are therefore significantly higher. A few of my friends and I will personally provide 10% of the amount ($ 45,000). I urge all of you to join this crowdfunding and help Albert's family to raise the necessary amount. May God protect Albert, all our heroes, our army and the people," the minister wrote.
A number of Facebook users responded to Sarsgyan's initiative negatively, insisting that trying to organize a soldier's treatment abroad in this manner "is not a normal thing" for the ministry to do. User Petros Sargsyan even went so far as to write; "Are the 1000 drams done with or is this a new way of begging?" The minister commented back to Sargsyan, saying; "You are the only beggar here." It's also noteworthy that Sargsyan has so far been consistent in deleting most of the negative comments and reactions to his initiative.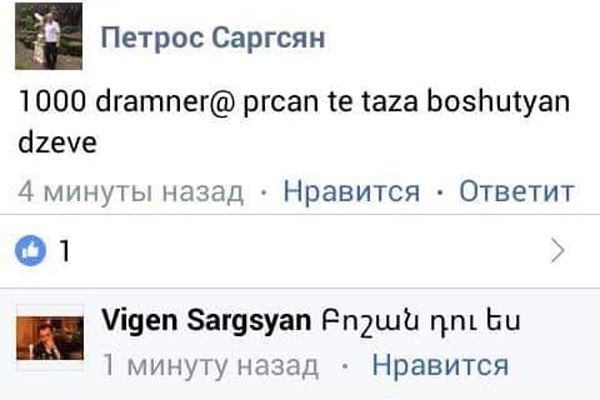 Defense Ministry spokesperson Artsrun Hovhannisyan, for his part, was quick to come to Sargsyan's defense. "Everyone seems to think that by donating several thousand drams and by helping a few soldiers, they have helped the people more than the state or the ministry had. You couldn't be more wrong. No one helps or supports them more than the Ministry of Defense does," Hovhannisyan wrote on Facebook.