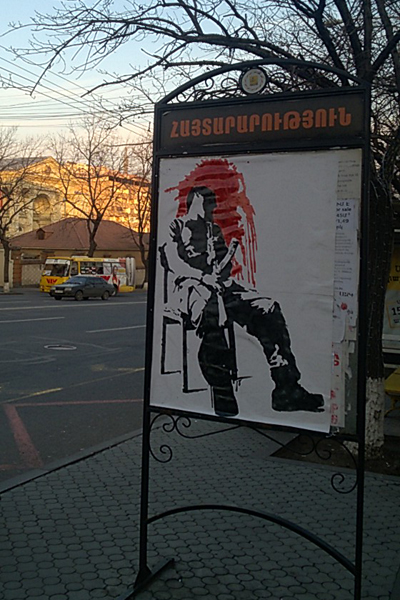 Several anti-militarist actions were held in Yerevan following the celebrations of the Armenian Army Day on January 28. In addition to surveys about military service conducted on the city streets and in social networks, the anonymous organizers also distributed stencils depicting a suicide soldier, leaflets with official statistics of combat and non-combat casualties, and excerpts from real stories of former soldiers:
"I was a 2-week newbie; someone threw himself out of a window and broke his legs. They said he would be put on trial and that he had gotten the entire unit into trouble."
"There was a guy nicknamed Tevqash in our unit. He had shot himself on the shoulder the first time he was taken to combat positions. They tried to make it look like an accident so that he wouldn't be put on trial. Didn't work."
"There was a guy from Tashir who'd always run away and take the highway to home until they caught him and brought him back. Once I told him to stop running away, otherwise his commander would be jailed. They took him to a madhouse after the oath-taking ceremony. No one would say anything to him after that."
"There was a kid nicknamed Spitak at our position. A really smart kid. He's nearly shoot people everytime he cleaned his weapon. To think about it, maybe he was doing it on purpose."
"We were only scared of penetration attempts and routine check ups."
"There was a contract Sergeant named Mkho. He had bought an Opel. He'd say he'd move to Russia once his contract was up."
"Once two Turks from the Gogveli position came out and began waving at me, so I waved back."
"We had a Sako with us at our position. Once I drew a gun on him, wanted to kill him."
"Let me tell you something: it's far better to be at a combat position than in a unit. At least there's some point to that."
"We had this guy Tashir at our position; his weapon was a PK [machine gun]. One time he began actively shooting towards an Azeri village. I ran to him and began cursing him, and he replied: 'Let me kill on Azeri so that they give me a vacation.'"
"There was this guy from Yerevan, Burnachyan. They framed him, so he robbed the teahouse to pay the debt. So then they jailed him."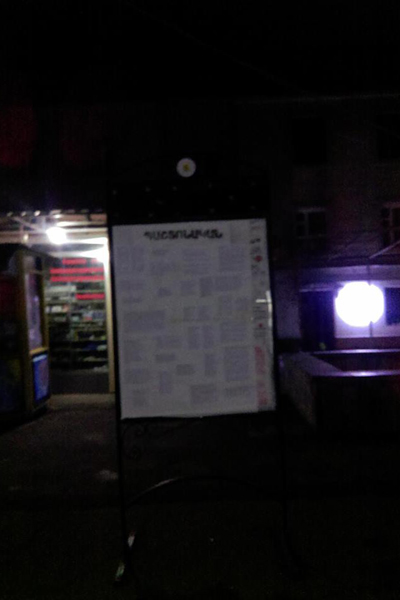 The activists, citing Armenian and Azerbaijani human rights and journalistic organizations, also presented data on combat and non-combat losses:
– according to Peace Dialogue NGO data, a total of 59 soldiers died in Armenia and Karabakh in 2017. Twenty-two servicemen were killed as a result of ceasefire violations, and the remaining 37 – in non-combat conditions.
– according to the Azerbaijani Khazar Military Research Center, the Azeri armed forces also suffered 59 losses last year; 19 of the soldiers died in combat, and 40 – in non-combat conditions.