9:15pm: Thousands of demonstrators remain on the France Square and the Baghramyan Avenue. The protesters report that the police have been moving the razor wires forward a couple of meters, despite the prior agreement between Nikol Pashinyan and deputy Yerevan police chief Valery Osipyan on not moving the wires.
Nikol Pashinyan just went up to the razor wires and asked those next to them to take a few steps back. The oppositionist reminded again that the action is not to become violent and called upon the demonstrators to hold discussions among themselves on their Tuesday plans.
7:45pm: Pashinyan started the rally with the following speech: "Thousands of Armenian citizens came out to the streets and declared that they hate Serzh Sargsyan. The Republican majority intends to appoint Serzh Sargsyan as the Prime Minister of the Republic of Armenia. The Parliament session is scheduled for 12pm tomorrow. What do we do? Tomorrow we have to carry out the Block the Street action on a larger scale and occupy all the entrances to the National Assembly."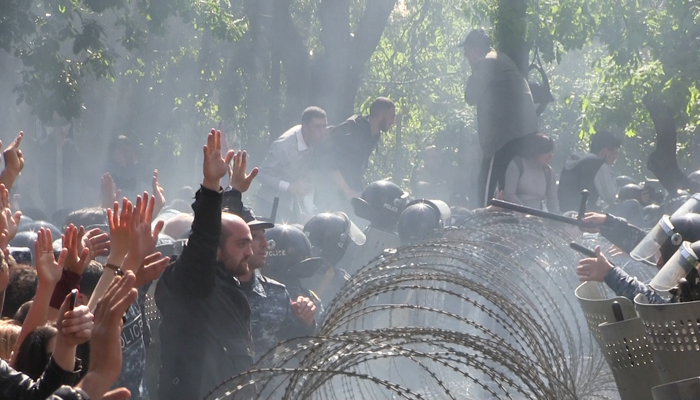 Pashinyan urged all residents of every Armenian village and city to come to Yerevan on Tuesday and help to occupy as many streets as possible. The oppositionist further suggested that the demonstrators could start blocking the main streets overnight, if they wished to.
5:50pm: Nikol Pashinyan has returned to the Baghramyan Avenue after having his hands bandaged at the Nairi hospital. The oppositionist was met at the avenue by Yelk bloc MPs Edmon Marukyan and Aram Sargsyan, who had until now not wanted to join the protest movement. Shortly after returning, Pashinyan announced he would hold a rally at 7pm to discuss further actions.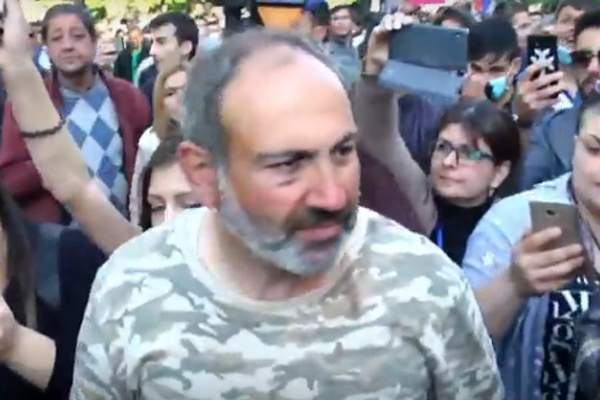 Pashinyan was injured earlier today when riot police used stun grenades and batons to keep him and thousands of demonstrators from approaching the National Assembly building on Baghramyan. At least ten other people, including police officers, also suffered injuries and were rushed to hospital. Pashinyan himself injured his hands when trying to cross over a razor wire barricade and get to the other side of the police cordon.
Go to our previous thread for details.