9։15pm: "We've found the method to bring the Republican Party and Serzh Sargsyan to their knees and it's network strategy. There is no street or square in Yerevan that would not belong to us, which means that we've won.
People usually spend the night at a square in order to maintain its occupation, but we have no need to spend the night at France Square, when every square in Yerevan is ours.
In the coming days, we will form a committee for the civil velvet revolution in the Republic of Armenia, which will guide this movement and bring it to victory. Revolutionary committee will also be created in the country's provinces, which will help us to be more organized in occupying state institutions.
[…] We will start our activities tomorrow from the France Square at 10am and will end at the Republic Square."
The demonstrators are expected to go home for the night and restart their activities early on Wednesday. According to Pashinyan's plan, people from provinces should arrive in Yerevan by 10am, after which the demonstrators will start occupying state institutions and blocking highways. Pashinyan's goal is to paralyze the entire capital, as opposed to only paralysing its center.
8:50pm: Pashinyan called upon System of a Down rock band frontman Serzh Tankyan, actress Arsine Khanjyan and singer Charles Aznavour to come and stand by the demonstrators in Yerevan: "I want to say to Serzh Tankyan from this stage that the same people [who had come to your concert at the Republici Square] are standing at the square now. You are obligated to come to Yerevan and stand by them.
"Dear Arsine, there is no need for letters because the party you're writing to is unreachable. Just come to Yerevan.
"Respected Mr. Aznavour, you've told international media on multiple occasions that Armenia is ruled by mafia rules. We're putting an end to the mafia  and your presence here is important. We have to put an end to the mafia without shedding any blood."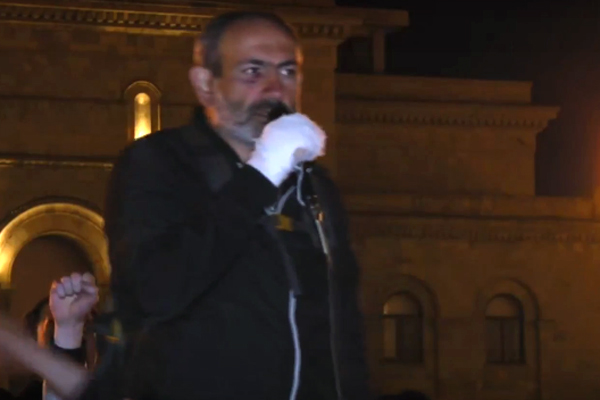 8:25pm: Nikol Pashinyan has started his rally speech: "Dear people, Diaspora Armenian actress Arsine Khanjyan has addressed an open letter to Serzh Sargsyan, in which she makes the following confession – it turns out that several years ago Serzh called the Armenian people a herd of sheep when in a conversation [with Khanjyan]. In her letter, Arsine Khanjyan tries to find an explanation [for Sargsyan's statement], saying that he might have been under political pressure.
Dear Arsine, I want to inform you that the reason for the statement is entirely different. [Sargsyan said that the Armenian people are a herd of sheep] because he has been in contact with members of the Republican Party his whole life, and the same herd today elected him as Armenia's Prime Minister.
[…] 
The Republic Square is at the moment hosting the largest rally in the history of the third Armenian republic. And we had only announced about this rally 6 hours ago. Many asked us why he had decided to move the rally to the Republic Square. To show that Armenian citizens would fill up the largest square in the country against Serzh Sargsyan."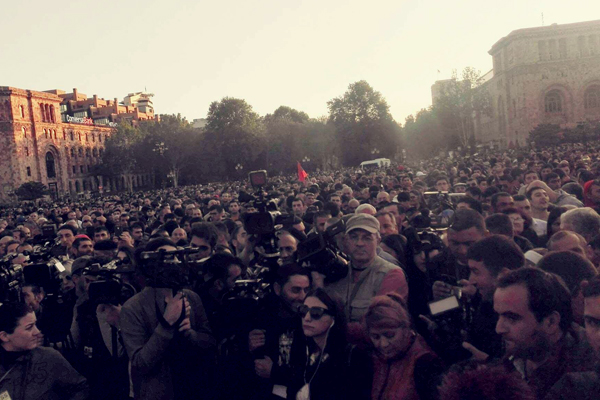 5:50pm: Nearly 3 dozen demonstrators detained today from various parts of Yerevan were finally released from police stations. The demonstrators were held in detention for over 8 hours.
5:40pm: HCA Vanadzor reports that police officers today detained 6 youths on Frik street in Yerevan and took them away in a yellow VAZ-2124 (license plant – 34 TM 967). Accourding to HCAV's source, the youths were detained without any legal reasoning although they were peaceful protesters; they did not commit any violations of the public order. HCAV has filed a crime report with the RA General Prosecutor's Office.
Tamar Shirinyan on Facebook: Sending solidarity to my Armenian comrades, especially my women comrades who are out there fighting not only the oligarcho-patriarchy of the state, but the machismo-patriarchy of their fellow protesters.
4։45 Nikol Pashinyan continues marching through Yerevan. He has warned the demonstrators against "provocateurs," whom police might use to "legitimize" any violence against protesters. Pashinyan has already sent one person away because he was convinced the person had been sent there by the police.
4։42 Video of people in civilian clothes intervening with the demonstrators on Halabyan street on Tuesday afternoon. Among the strangers, according to some reports, were people from the inner circle of Republic MP Galust Sahakyan's son, Arman Sahakyan.
3։55pm: Video of Nikol Pashinyan declaring the start of civil Velvet Revolution in Armenia:
3:50pm: Lawyer Ara Gharagyozyan reports that three dozen demonstrators detained on Tuesday have yet to be released from stations. "They have been held for more than three hours and haven't been given an official status. They are practically captically captives."
3։32pm: Opposition Yelk bloc MP Edmon Marukyan, who hasn't been supporting his colleague Nikol Pashinyan's street protests, spoke about the demonstrators today at the National Assembly.
"There are currently thousands of people out on the streets… In a couple of hours you [Serzh Sargsyan] will become Prime Minister with the help of the new constitution you drafted. Under this constitution, the Police Chief reports directly to you, Mr. Prime Minister… If someone's nose bleeds, people will blame you. Our number one task now is to do everything to prevent any use of force against peaceful demonstrators.
Civil activist Vardges Gaspari on Facebook: "Respected Edmon Marukyan, don't you feel a little bit uncomfortable carrying out your parliamentary duties in an environment surrounded by armored vehicles and heavy equipment?"
3։25pm: Police have demanded that people standing on the other side of the razor wires on Baghramyan Avenue take a few steps back so that they are able to remove part of the police forces from the area.
3։10pm: Five police cars drove towards the demonstrators gathered on the streets around the Yerevan Municipality building and forced them to open a section of the area. Two people have reportedly been detained.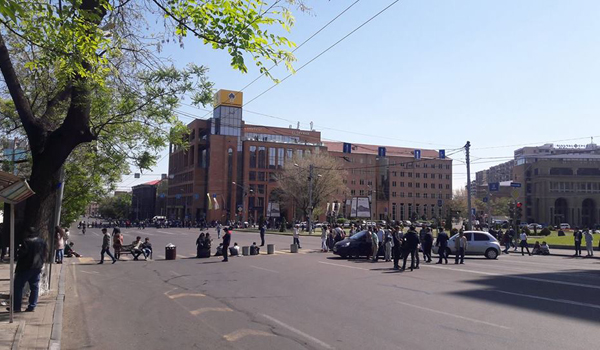 According to other reports, police have started detaining demonstrators from the Grigor Lusavorich street adjacent to the Municipality.
2:45pm: Nikol Pashinyan just spoke to reporters to remind about the rally at 6:30pm on the Republic Square. Pashinyan expressed the conviction that the really should be the largest in the history of the third Armenian Republic.
2։35pm: Representatives of the Armenian community in New York are planning to rally at 4:30pm today in solidarity with the street protests in Armenia. The information about the rally is being spread through social networks.
2։25pm: A group of Armenians held a demonstration outside the Armenian embassy in Moscow to express their solidarity with the demonstrators in Armenia fighting against Serzh Sargsyan's appointment as Prime Minister.
"Serzh Sargsyan's destructive rule is today hanging over us like a sword of Damocles. I call upon all Armenians living in Moscow to join us and make your voices heard. Let the people fighting alongside Nikol Pashinyan for our bright future know that we are not indifferent," one of those gathered said.
A woman asked one of the participants whether their rights were being violated "on this soil."
"No, I feel really good in Russia. But why should I have to feel good in Russia and not in my own homeland? Why don't I have an opportunity to live and create in Armenia?"
Watch the video below:
2:20pm: The demonstrators have surrounded a number of state-importance building in the center of Yerevan, including the Foreign Ministry, the Justice Ministry, the Central Bank, the General Prosecutor's Office buildings and the area around the Municipality.
2:05pm: A group of people today carried out an action next to the We Are Our Mountains* monument in Stepanakert to show their solidarity with the thousands of demonstrators rallying in Yerevan. They put a poster on the monument that read: "Serzh, Grandma says it's enough!"
*The monument depicts an old man and a woman, and is considered the symbol of Karabakh. It is commonly known as "tatik-papik," which translates into English as "grandma and grandpa."
2pm: Many demonstrators who were detained in the morning have yet to be released from stations, despite the fact that the 3-hour detention period is up.
1:40pm: Thousands of demonstrators continue marching through the streets of Yerevan and surrounding various Government and state buildings. Yelk bloc MP Lena Nazaryan wrote on Facebook, citing Nikol Pashinyan, that today's rally will take place at 6:30pm on the Republic Square.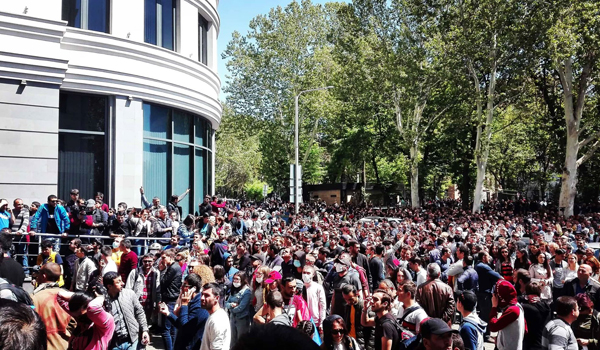 1:25pm: Excerpts from Serzh Sargsyan's speech:
– I'm sure many people in Armenia, at least 60% of them, are unhappy with everything; but being unhappy does not mean rebelling, being unhappy does not mean rejecting everything. In many families children are unhappy with their parents, and visa versa.
– I'm not saying there have never been any election violations. I'm not saying there are no issues in the judicial or legal systems. Of course, our people's opinion is the most objective for us, but so is the opinion of international specialized institutions. Because otherwise, the level of subjectivity increases.
1:05pm: Thousands of demonstrators are marching from the France Square to the General Prosecutor's Office to occupy it. Other demonstrators have already surrounded the building of the Foreign Ministry.
12:30am: Republican PM candidate, former president Serzh Sargsyan announced at the National Assembly that "evading personal responsibility is unacceptable." "I've never done that, that's why I'm here now," he said.
Sargsyan further clarified his previous claims that he would never appoint his candidacy for the PM post. "I'm not here today as an individual, or a politician, or the third president of the Republic. None of them has anything to do here. I'm here today as the leader of the leader of the Republican Party of Armenia. In defense of my candidacy, I want to state that I have enough possibilities and influence to ensure, within the boundaries of political responsibility, the harmonious work of the force that holds the majority of the seats in the parliament.
12:20pm: The Armenian Parliament has started the PM election session. Meanwhile, Nikol Pashinyan is at the France Square, urging the thousands of demonstrators not to cease fighting.
"Dear people, proud citizens of the Republic of Armenia. The National Assembly has already started its puppet show, while mass demonstrations are underway in a number of Armenian cities. Thousands of people have come out to the central square in Gyumri; students are boycotting classes in Ijevan and Vanadzor; the Ijevan-Yerevan highway is blocked; students are boycotting classes and occupying streets in Yerevan. Boycotts in Kapan and Metsamor. School children today surrounded that car of the Foreign Minister. What should we call this situation? I officially declare that the situation in the Republic is revolutionary! And I am announcing the start of the civil non-violent velvet revolution in Armenia!"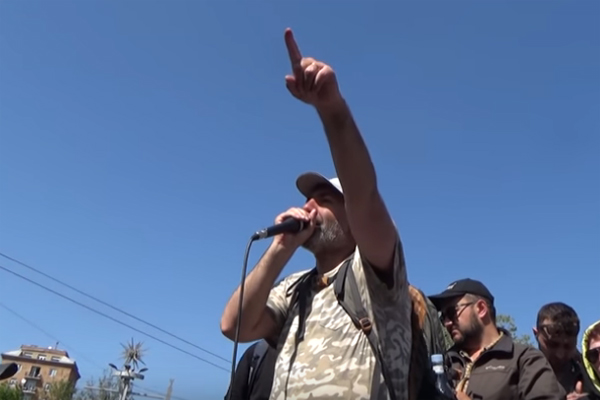 11։55am: Twelve people injured on Monday as a result of riot police using special means against demonstrators are still in the hospital in stable condition. Health Ministry reports that most of the victims have exterior injuries to their limbs.
10։55am: Lawmakers have started arriving at the National Assembly for the PM election session. Reporters asked Yelk bloc MP Edmon Marukyan whether the opposition forces would attempt to boycott the session, to which Marukyan replied: "We act through our speeches. Refusing to participate in a scheduled session would mean that we were allowing Serzh Sargsyan to be elected without any opposition." Note, neither Marukyan nor other Yelc members have joined Nikol Pashinyan's street protests.
10։35am: At around 9am, our reporter witnessed three military buses transporting soldiers towards the city center. Defense Ministry spokesperson Artsrun Hovhannisyan, meanwhile, assured the soldiers' arrival to Yerevan had nothing to do with the anti-government demonstration. According to his Facebook post, soldiers from various military units are travelling to the Sardarapat memorial to train for the celebration of the 100th anniversary of the first Armenian Republic.
Note, military buses were also spotted yesterday driving to the city center on Arshakunyats Avenue.  Hovhannisyan then insisted that the bses belonged to the peacekeeping brigade and were merely driving to their unit.
10:20am: Yelc block MP Gevorg Gorgisyan is on the Halabyan street; he has told our reporter that Republican Party members are already inside the National Assembly building. According to an information from a demonstrator, the RPA members, including Serzh Sargsyan, went to the parliament early in the morning by subway.
9։40am: Police have detained several of the demonstrators occupying a section of the Halabyan street. To one of the detainees' argument that the police actions were unlawful, a Colonel replied: "We're detaining you because you're blond."
9:5am: Nikol Pashinyan announced he plans to march through the streets of Yerevan. The number of people joining him continuously grows. A march participant spoke out to say that people no longer wished to live in a country where there are political prisoners. He called upon all Armenian citizens to turn off their computers and come out on the streets.
8:55am: Pashinyan and his supporters are walking from street to street to make sure that they are blocked.
8։44am: Dozens of demonstrators managed to get to the Abovyan-Koryun intersection and block it. Nikol Pashinyan periodically reminds everyone that they need to continue occupying streets.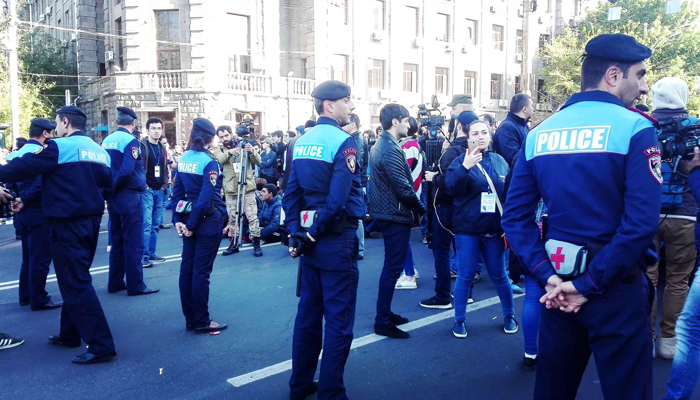 8:30am: Nikol Pashinyan and his supporters has reached the Yeritasardakan metro station and blocked the nearby Abovyan-Isahakyan intersection. People are sitting on the ground. Police keep repeating that the demonstrators' activities are illegal.
8։15am As many as 25 students have been detained by police from the area around the Yeritasardakan metro station, our correspondent reports. YSU Restart students group member Davit Petrosyan is among those detained.
8։00am: Nikol Pashinyan has arrived at the FranceSquare and is talking to police officers, saying no one can stop the people from toppling Serzh Sargsyan's election. Pashinyan keeps reaching out to the public through media to urge them to restart the acts of civil disobedience, to occupy state buildings and start sit-ins there.
7:51am: The Armenian Police issued a statement overnight, saying that they had decided to put an end to the oppositionists' rally.
7:35am: Police forces have blocked the Baghramyan Avenue and all nearby street intersections. Hundreds of officers and dozens of police cars are guarding the area around the National Assembly building.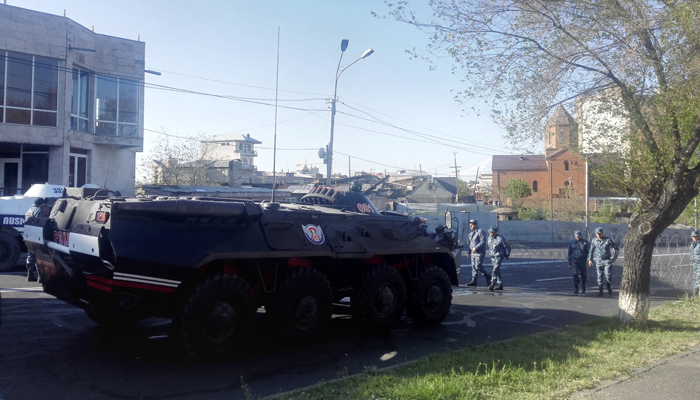 7:30am: "My Step" and "Reject Serzh" anti-government initiatives intend to today topple the Parliament session which is expected to elect former Armenian president, ruling Republican Party leader Serzh Sargsyan's as the country's new Prime Minister.