11:40pm: "Dear people, what have we done today? What have we done? We blew the roof off! Today we broke our own record: there are even more people on the Republic Square today than there were on April 17!" opposition leader Nikol Pashinyan thus began his speech before the thousands of anti-Serzh Sargsyan demonstrators. The whole world, he went on, is following the non-violent civil Velvet Revolution in Armenia, "which is not so far from victory."
"For several days now the authorities have been talking about their readiness to start a dialogue with us; they say, the authorities are ready for a dialogue [the square began chanting 'Late! It's too late!']. It's simply ridiculous that representatives of Serzh Sargsyan's  nearly-dead regime offer us a dialogue. One does not negotiate with a political corpse. Serzh Sargsyan is a political corpse. And the power now irrevocably belongs to the people of the Republic of Armenia!" Pashinyan declared.
"You're right – it's too late for negotiations. But that does not mean that we are not open for a discussion. We are, of course, willing to discuss the terms for Serzh Sargsyan's resignation. And I'm ready to say, and I think you will all agree with this, that we absolutely do not want vendetta or revenge. And if Serzh Sargsyan finally opens his eyes and resigns immediately, it will only benefit him and the Republic of Armenia.
I want to also talk about how we picture further political development:
1. Serzh Sargsyan resigns from the post of Prime Minister.
2․ The National Assembly appoints the people's candidate as Prime Minister.
3․ An interim Government is formed.
4․ According to the legislation of Armenia, within 20 days after the election of the Prime Minister, the National Assembly must approve the Government program. And when the interim Government is formed, in accordance with a political agreement, the National Assembly rejects the Government program, after which extraordinary parliamentary elections are held.
We are ready to discuss the points of this program with representatives of the Republican Party in order to ensure a smooth transition of power to the people.
"[…] The era of hatred has come to an end in the country. There is an atmosphere of mutual love here. And no one can dare to encroach on this atmosphere!"
Pashinyan called for the people to resume the peaceful acts of civil disobedience on Saturday: "Be bold, make your step and reject Serzh!"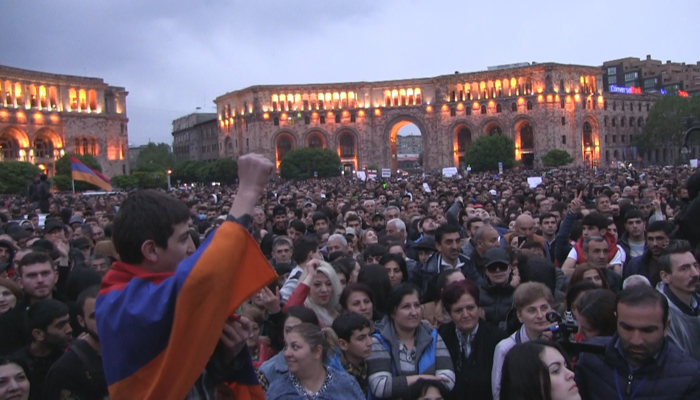 10pm: A number of theater and show business artists, including Julieta Stepanyan and Alina Martirosyan, today came to the 7pm rally at the Republic Square to support the tens of thousands demonstrators fighting against Serzh Sargsyan's appointment as Armenia's Prime Minister. Martirosyan, in particular, took to the stage to call upon her colleagues in the field to go out to the streets and stand by the people, and not "sit at home and watch the ongoing as if it's some sort of a TV show."
MyStep initiative representative Tigran Avinyan, in turn, announced that over a hundred university professors had issued a statement to support their young students' protest. Avinyan read out the text to the thousands and thousands of excited demonstrators gathered at the square after a long day of protesting and marching across Yerevan and a number of other Armenian cities and villages.
"Citizens do not violate any laws by participating in peaceful rallies; on the contrary, they exercise their constitutional rights.
"We are convinced that the expression by the young citizens of the Republic of Armenia of their political position is worthy of encouragement and support. Including from professors and teachers. We call on everyone not to interfere with their right to free expression and stop  the violence against them."
Opposition Yelk fraction MP Ararat Mirzoyan announced that tens of thousands of students in a number of universities and colleges had boycotted classes on Friday to take part in marches and peaceful acts of disobedience. "Police units are being sent to schools and colleges to prevent the kids from going out to the streets. But it's not working!"
Mirzoyan added that a high-standing official today came up to him and urged him not to stop fighting: "He pleaded me to stay strong… To not give up now… How could we give up? We won't give up! There are reports that people have started throwing away the Republican Party tickets… From now on we'll put garbage bins here for thousands of people to through that dirt into!
"The entire Diaspora is with us! People are repatriating to stand up [against Sargsyan]. And those who are not able to, carry out protest actions all over the world – in Marseilles, Moscow, everywhere. And most importantly: we have all completely overcome our fear and have unshakable belief in our victory.
"For the second day now we are getting dialogue offers. [The crowd began chanting 'Disgrace, disgrace!] Heard the answer? We are willing to negotiate with them only on one topic – the capitulation of Serzh Sargsyan and the Republican Party."
Nikol Pashinyan's rally speech to follow.