11:40pm: According to a post published on Nikol Pashinyan's official Facebook page, the oppositionist has been taken to the Sevan police department.
11pm: Serzh Sargsyan's early morning warnings and the subsequent arrest of Nikol Pashinyan and other protest leaders did not stop tens of thousands of demonstrators from gathering again on Sunday evening in the Republic Square. On the contrary, the number of people had increased noticeably compared with the past few days, and according to early estimates, there must have been nearly a hundred thousand people in the square.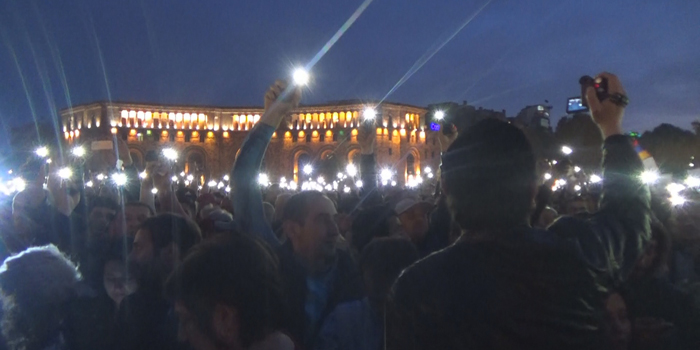 In the leaders' absence, Civil Contract members Lena Nazaryan and Ruben Rubinyan  took to the stage to urge the people to continue their acts of non-violent disobedience over the coming days. "Even if they arrest us all, remember, there are no enough prisons in Armenia for every single one of us. They won't be able to arrest the leader anyway, because everyone here is a leader," Rubinyan said.
Below are videos of rally speeches:
8pm: Civil Contract party member Tigran Avinyan has also been detained. According to his wife, Avinyan was apprehended by civilian-clad police officers and taken to the Erebuni police station.
Thousands march in Yerevan after Pashinyan's arrest:
5:55pm: According to a Facebook post, the car of the Great Britain Ambassador was spotted entering  the premises of the Foreign Ministry.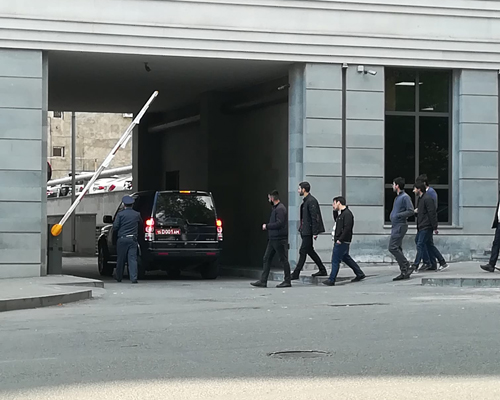 5:35pm: Hundreds of people have today again blocked the Baghratashen checkpoint:
5pm: A video was published on Facebook which shows Yerevan deputy police chief Levon Yeranosyan curses at and hits MP Sasun Mikayelyan. The oppositionist, in turn, does not shy way from hitting Yeranosyan back.
Շտապ տարածեք Երանոսյան Լյովան հայհոյեց ու հարվածեց Սասուն Միքայելյանին։

Gepostet von Artur Ter-Meliksetyan am Sonntag, 22. April 2018
4:30pm: We've just been informed that thousands of people in hundreds of car are currently moving towards Yerevan from the Gegharkunik province.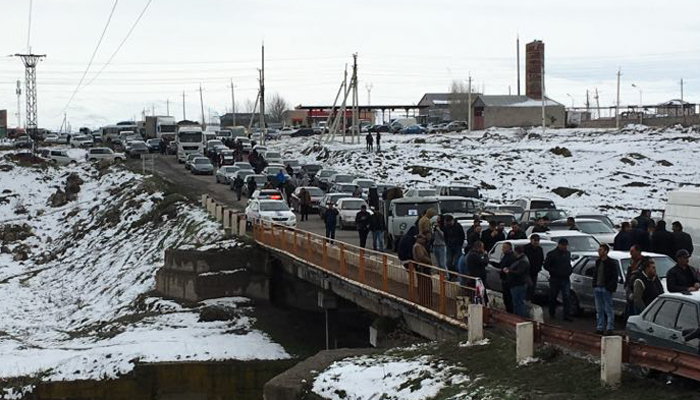 4pm: Dozens of streets are currently blocked across Yerevan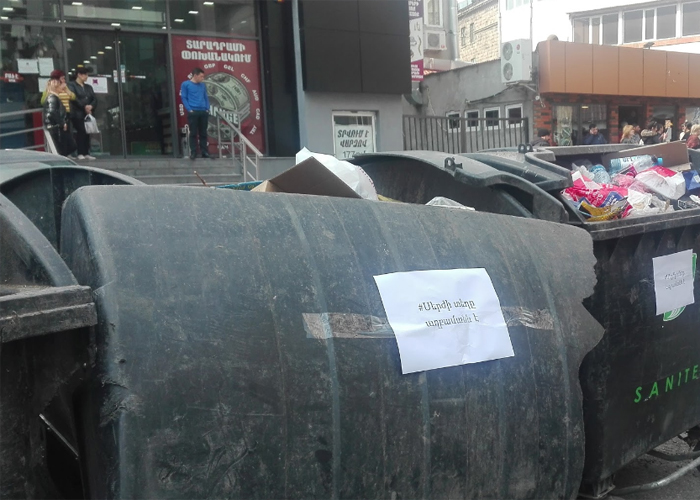 Video of police attacking marchers and detaining Pashinyan:
3:25pm: Nikol Pashinyan has reached out to his supporters through via Facebook:
"I call on all citizens to go out in the streets and remain true to the spirit of non-violent disobedience. Despite the arrest of 3 parliamentarians, the initiative group has the situation under control
"I urge everyone to again join the planned rally in the Republic Square at 7pm."
3pm: The Special Investigation Service just officially reported that Civil Contract party leaders Nikol Pashinyan, Ararat Mirzoyan and Sasun Mikayelyan have been arrested. Note, the three are parliament members and only a special National Assembly session can deprive them of immunity.
Hundreds of demonstrators have gathered outside the Shengavit police station, where Mirzoyan and Mikayelyan are being held. Pashinyan, meanwhile, was taken to the Erebuni police station, according to MP Zara Batoyan.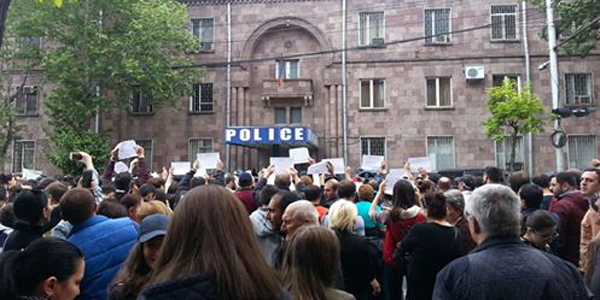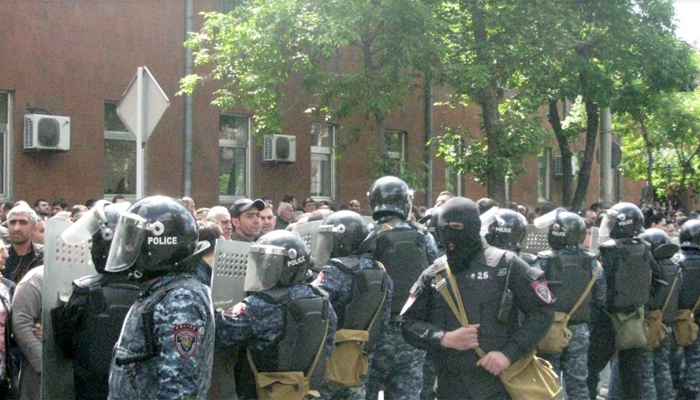 After news about Pashinyan's arrest broke, people began blocking the streets around the Shengavit station.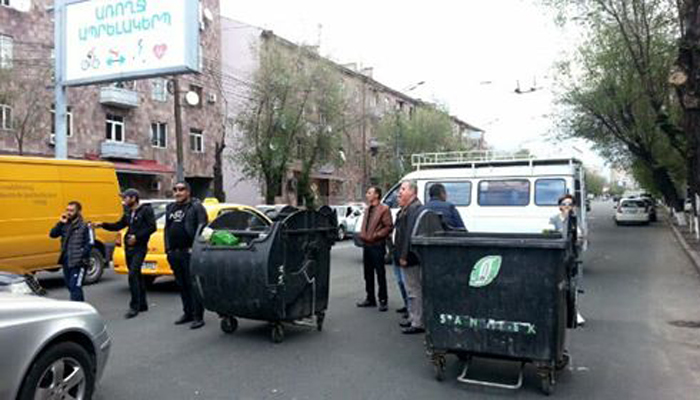 Nearly 200 demonstrators have already been detained across Yerevan.
2:20pm:  We're getting reports from provinces that villagers are blocking highways leading to the capital. Nearly 3 hundred people have blocked the Yerevan-Gyumri highway section near the Mets Mantash village. Resident of nearby villagers are joining the protesters. A number of marches are happening in other villages. They all intend to rally in Artik town a 4pm.
According to our course, the marches are being overseen by a small number of mainly civilian-clad police officers.
Dozens of demonstrators, meanwhile, have gathered in the central Vardanants square in Gyumri. The protesters informed us that university professor Gharib Harutyunyan was detained several hours ago.
Three people were detained from the rally in Vanadzor, local human rights defender Vardine Grigoryan informed us. Several hundred people are marching through central Vanadzor streets towards the city's Hayk Square.
Thousands occupy streets around the Yerevan Municipality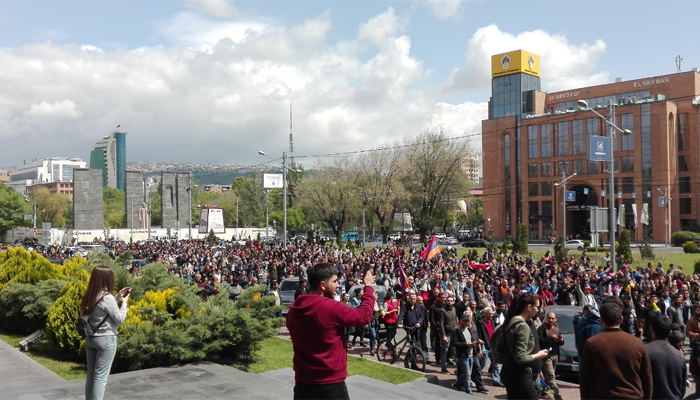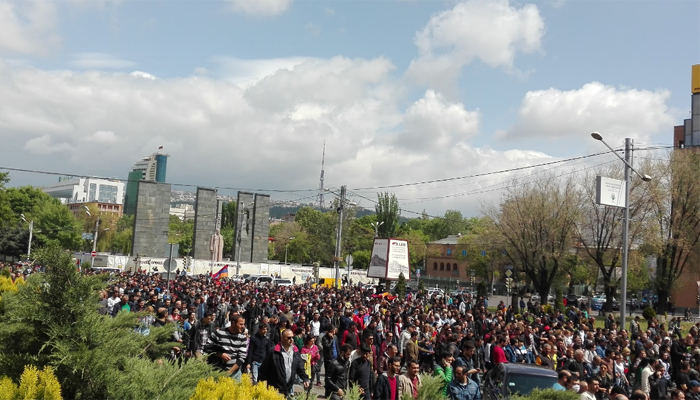 2:10pm: Opposition MP Lena Nazaryan wrote on Facebook that her colleagues from Civil Contract party Ararat Mirzoyan and Sasun Mikayelyan were taken to the Shangavit police station. Nikol Pashinyan's whereabouts are unknown.
2։00pm: Thousands of demonstrators continue gathering in the streets of Yerevan, despite repeated calls from police to disperse. A number of streets, including the central Mashtots Avenue, are currently blocked.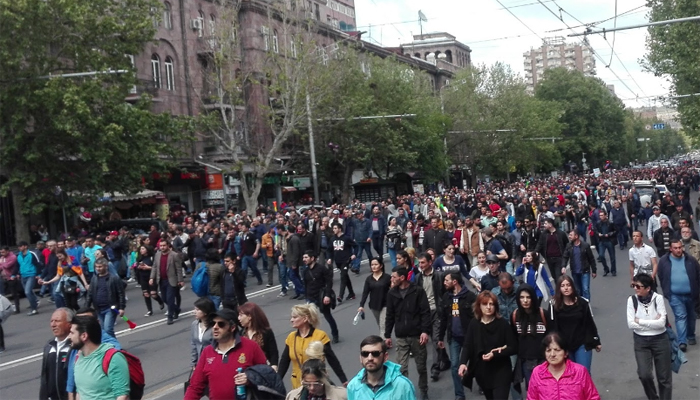 Pashinyan immediately before his arrest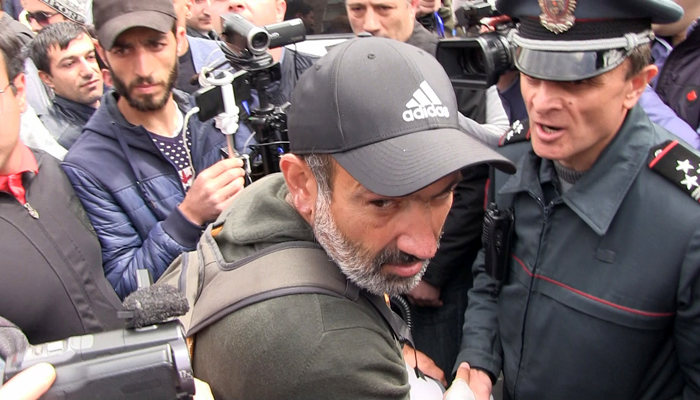 1:35pm: Ararat Mirzoyan just made the following call from the Shengavit police station through Facebook:
Not too long now until Serzh resigns.
Go out in the streets! Go out in the streets!
Decentralize!
All opposition political forces should call on people to go out in the streets; those who remain silent or urge people to go home are only extending the last agony of an inadequate madman's power and harming their own country.
All ministers, chiefs of all agencies, Republican MPs and police chief should immediately resign. Do not become an accomplice to the violence of the dying regime!
Ararat Mirzoyan
22.04.2018
1:10pm: Police just warned those gathered in the Republic Square that the rally was illegal and urged them to immediately leave the area and "go home." Dozens were detained over the past minutes. Scores of police officers are charging towards the people. Masked officers of the police special forces have flooded the square.
Meanwhile, thousands are marching across Yerevan, including the central Mashtots Avenue; traffic in many parts of the capital is paralyzed.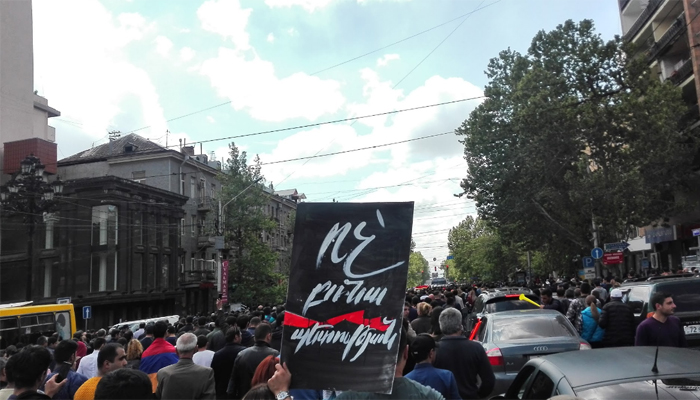 A group of demonstrators on Saryan street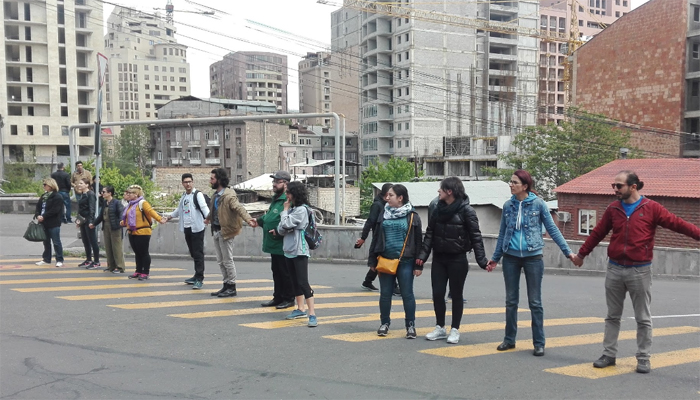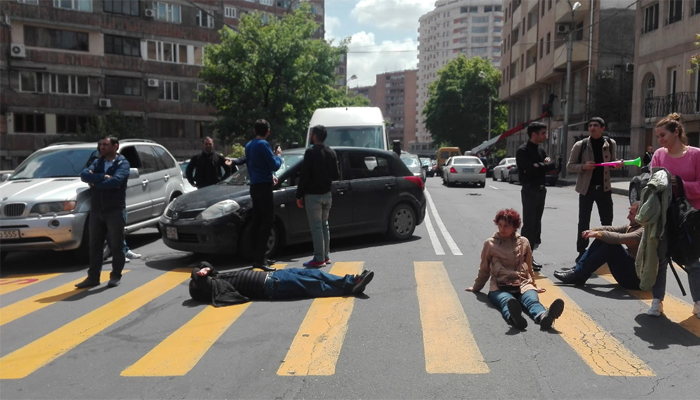 1:05pm: Arrested Nikol Pashinyan just published the following call on Facebook:
"To each and everyone,
"Go out in the street and make your peaceful disobedience step!"
1pm: Demonstrators are gathering in the Republic Square, where police have already concentrated forces and are pushing protesters away from the area. Other protester groups are blocking street across Yerevan. Thousands of demonstrators are marching down the Arshakunyats avenue towards the city center.
12:30pm: Police just issued a statement, in which they insisted the the rally on Artsakj street in Erebuni district was unlawful and rally leaders Nikol Pashinyan, Sasun Mikayelyan and Ararat Mirzoyan had to therefore be arrested.
After the brief and successful meeting with Serzh Sargsyan, Nikol Pashinyan and the thousands of demonstrators gathered in the Republic Square marched to Yerevan's Erebuni district. While Pashinyan was talking to Yerevan deputy police chief Valery Osipyan, people in civilian clothes came to Pashinyan from behind, seized him and took him in an unknown destination.
Once Pashinyan was taken care of, riot police then used stun grenades against the crowd and began mass beatings and detentions.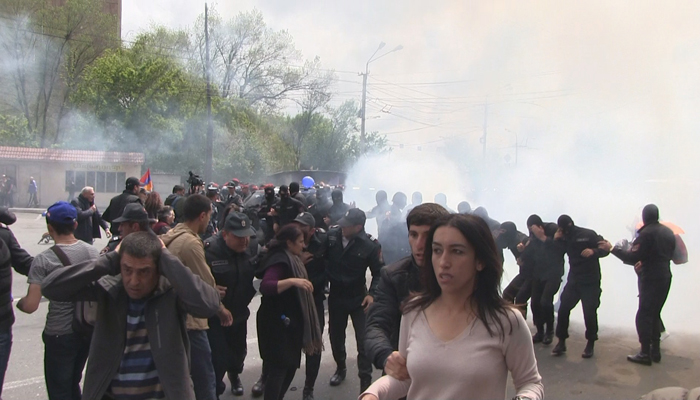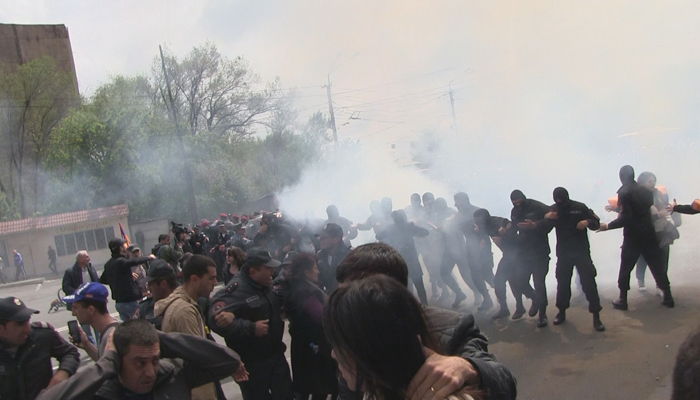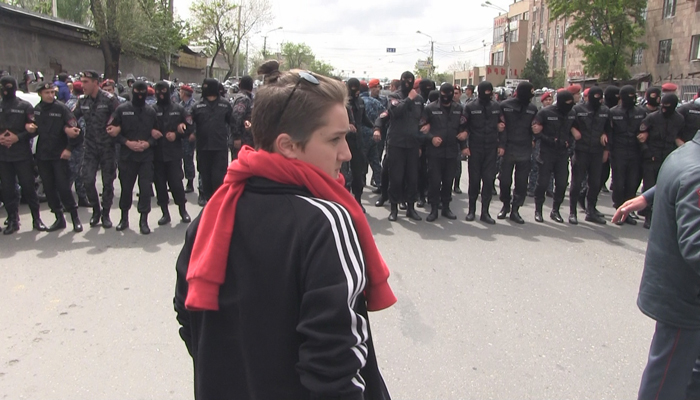 Another leader of the movement, Sasun Mikayelyan, was also forcibly detained. Police also took away opposition Yelk faction MP Ararat Mirzoyan and prominent journalist and Gyumri city council member Levon Barseghyan. Barseghyan has published the following photo of a bus-full of detained demonstrators on Facebook.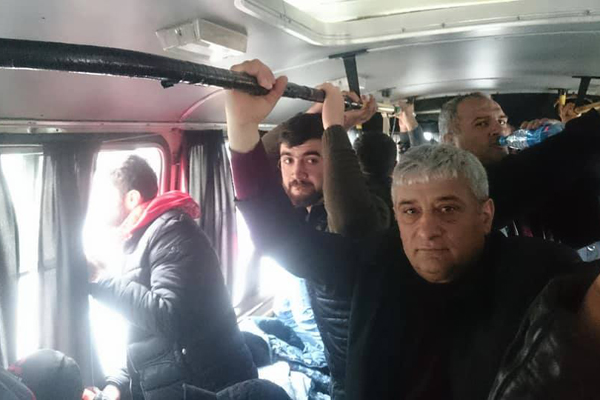 After the violent clash with police, the demonstrators began marching towards the Sasuntsi Davit metro station. A number of other groups of protesters have also already started activities across Yerevan, including street blocking.
Updates to follow.