Several dozen demonstrators today blocked the entrance to two major supermarkets – SAS and Yerevan City – owned by Republican Party MPs Artak Sargsyan and Samvel Aleksanyan, respectively. The protesters urged visitors to boycott the businesses the Republican oligarchs and not to shop in these supermarkets.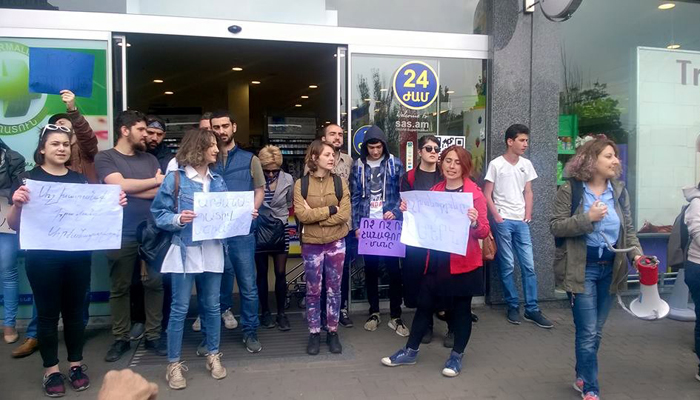 "After Serzh Sargsyan's resignation, the oligarchic system tries to maintain the power they have seized in Armenia. Our struggle was and remains against this system. The oligarchs, who make profit through and at the expense of the people of Armenia, will from now on have to listen to the voice of the people.
"The days of bribes and electoral fraud, "dads" and "backs," shadow deals and lawlessness have passed. Businesses operating in Armenia must reckon with the demand of the Armenian people and their need for change. The oligarchic system must be abolished, and it has to not intervene in the ongoing struggle or turn a national victory into a subject of political bidding.
"The voice of the people must be heard in the parliament on May 1; Nikol has the support of the people – he is the interim Prime Minister," one of the messages read out by the demonstrators said.
The protesters also recalled how during the 2017 parliamentary elections, employees of Artak Sargsyan's SAS Group were threatened with dismissal if they failed to bring in votes for Sargsyan.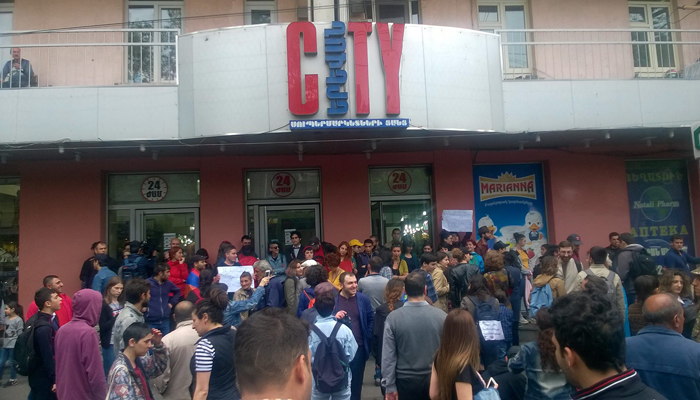 Some of the slogans chanted by the demonstrators included: "The RPA's End Has Come;" "The Oligarchy's End Has Come;" "The Power Is Ours;" "No to Threats, No to Violence, No to Poverty;" "Free, Independent Armenia;" "No to Exploitation, Yes to Justice;" "Strike, Boycott, Join!" "Work, Rights, Dignity!"