Politician Andreas Ghukasyan has been released from custody today in the courtroom. Earlier, his attorneys Karen Mejlumyan and Inessa Petrosyan filed a motion with a request to change the preventive measure. The judge Vardan Grigoryan of the Court of General Jurisdiction of First Instance of Yerevan granted the motion.
"Serzh Sargsyan, on whose request, as we believe, a criminal prosecution was initiated against Andreas Ghukasyan with such serious charges, resigned as a result of a nationwide pressure. The political situation has now changed in the country that in itself mitigates the risks that the Court could have faced in case of Ghukasyan's release", said Mejlumyan in his speech.
Inessa Petrosyan then added, "Your Honour, you are lucky to be the first among the judges to release a political prisoner after the removal of Armenia's oppressive authorities".
Those present in the courtroom chanted "Freedom!" and applauded.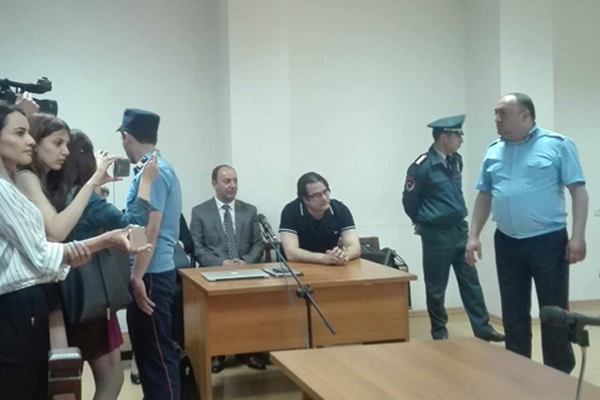 Prosecutor Petrosyan, however, objected, noting that the motion was groundless. While he was giving his speech, the audience was chanting "Shame! Shame!".
Andreas Ghukasyan was arrested on July 26, 2016 after having taken part in the actions in support of "Sasna Tsrer" group. While 8 people were arrested on the same day, 7 of them were released on bail and only Ghukasyan's preventive measures were not changed by the court. Initially, Ghukasyan was accused of organization of mass riots accompanied by violence, battery, arson, destruction or damage of property, use of explosives, or armed resistance to government representatives. Later, more serious charges were brought against Ghukasyan, accusing him of illegally obtaining, selling, storing, transporting or carrying weapons, ammunition, explosives, as well as of occupation of buildings, facilities, means of transportation or communication. Ghukasyan did not accept the charges against him.