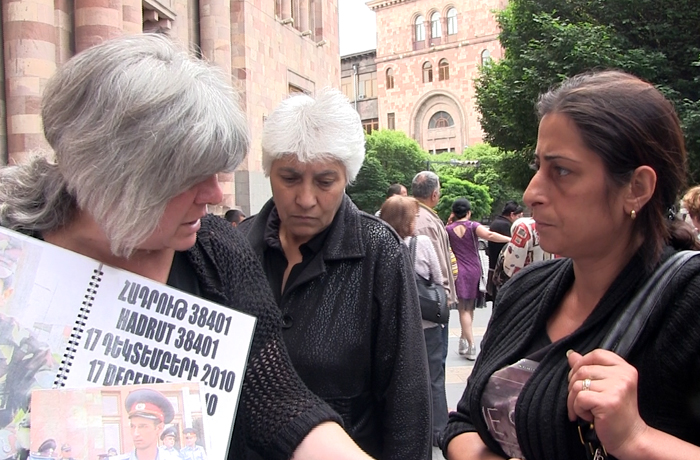 Yerevan resident Ruzanna Grigoryan's (on the right in the photo) 19-year-old son Sargis Harutyunyan suffers from nocturnal enuresis and physical deficiency. Harutyunyan is half-orphan. This January, he was drafted to serve in one of the military units of the Artsakh Defense Army in Martakert. Today Grigoryan staged a protest in front of the Government building, asking to exempt her son from military service or, at least, to change the place of his service to the one closer to Yerevan.
A 2015 pre-enlistment record sheet provided by Territorial Military Commissariat of Shengavit district states that the young man is subject to medical treatment in accordance with article 17A.
In her interview with Epress.am Armine Sadikyan – human rights defender at the Helsinki Citizens' Assembly Vanadzor Office, told that the aforementioned article suggests that the serviceman has physical deficiency, and he should have been granted a deferment.
The mother claims, that despite that, her son was neither treated nor received a determent. Moreover, he has nocturnal enuresis (bedwetting), because of which he is being mocked in the army.
"They know about the bedwetting both in Askeran and Martakert, but they all have turned a blind eye on it", – the woman insists.
She also mentions, that her son is of small built: "Everyone who ever saw him would say, how can they take him to the army".
Grigoryan herself has several health issues. Her son is her only provider. Besides him, Ruzanna has two underage children.
The woman came to the Government building with her friend Elmira, a single mother of 5 children. For a while, when Elmira had no place to live, she stayed at Ruzanna's home rent-free. Elmira wrote a letter to Prime Minister Nikol Pashinyan and even met him to ask for a place of residence. Yesterday, upon the Prime Minister's order, Elmira received a 500 sq. m. piece of land in Kharberd. Soon, a German trailer house will be brought from Vanadzor for the family to live in. Elmira told Epress.am that she is very happy and is here to support her friend Ruzanna.
Parents of soldiers deceased in non-combat situations, who hold protest actions in front of the Government building almost every week, also supported Ruzanna with advice.
One of the parents, Irina Ghazaryan, urged Ruzanna not to despair, meet the newly appointed Minister of Defense Davit Tonoyan and keep raising the issue.