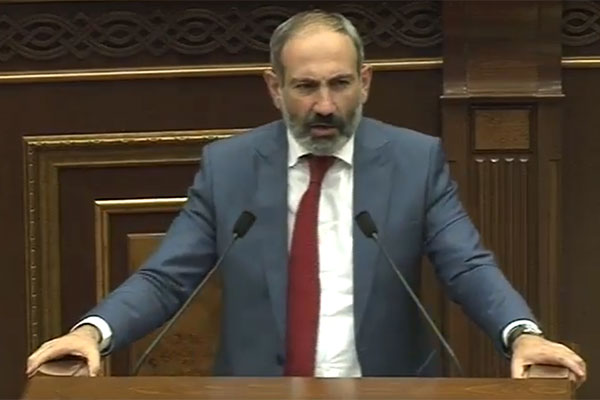 Armenia's National Assembly approved on Thursday the newly-appointed Armenian government's policy program; the program was passed amid heated debates by 62 votes to 39.
"Many argue that our program lacks numbers… In reality, however, there are a lot of numbers in it, and I will gladly present them," Prime Minister Nikol Pashinyan said in his pre-vote speech.
"What is or what the level of corruption among high-ranking officials will be in Armenia? I officially declare now that the number  is 0.
"What will the percentage of privileged be in Armenia? I officially declare that the number is 0.
"How much taxes should large businesses in Armenia give to the Prime Minister monthly? I officially declare that the number is 0.
"How many monopolies should there be in Armenia. I officially declare that the number is 0.
"I believe that the best assessment of our program was given by [Republican faction spokesman, NA Deputy Speaker Eduard] Sharmazanov. He called a program of our dreams. Yes, Mr. Sharmazanov, your party and your government trampled upon the people's dream, hiding behind numbers. This is a dream program; it's a problem that'll let us have the country of our dreams. With this program we declare that we have returned the citizens of the Republic of Armenia their right to dream," Pashinyan announced.
The Prime Minister went on to claim that the minute he realized he had lost the people's trust, he would immediately resign as the head of the government. "We all understand that the National Assembly elected me PM despite their own wishes. Let no one say that they thus did me or anyone else a favor. And let no one think that they will do be doing me or the government a favor by voting for this program. We don't need favors in the National Assembly. You're free to vote for or against. We have the trust of the people, and we've already said that the people's trust should lead to a specific political impact This will lead to a specific political impact, regardless of whether you want it or not," Pashinyan charged right before the vote.