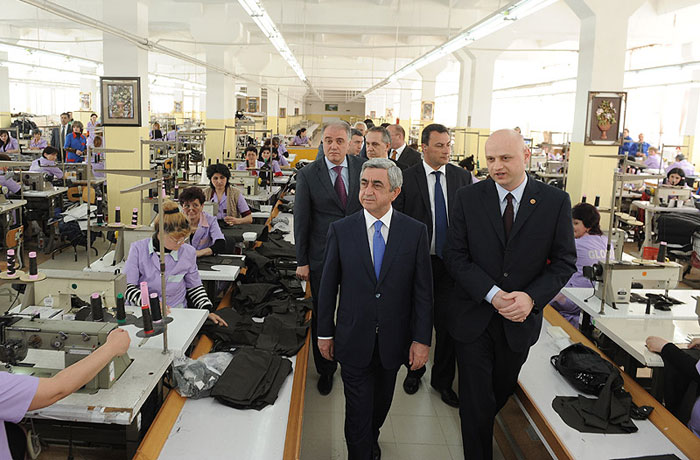 The Gloria sewing factory in Vanadzor has been the subject of much controversial discussion over the past years. Multiple articles have been written by employees of the factory themselves: anonymous complaints of gross violations of their rights, for instance. There have been publications based on official reports, whenever Gloria would receive state aid, for example, to implement an investment program, especially to create jobs for women. Why are Gloria employees unhappy with their working conditions? Does the factory really resemble a women's prison, as people in Vanadzor claim, or does Gloria constantly end up a target for those engaged in the protection of labor rights since it's one of the few enterprises operating in Armenia? A Gloria employee answers these and other questions in conversation with Epress.am:
– Both versions are correct: yes, the conditions are prison-like. Our alarm sounds at 08:15; by this time we should be at the machines. We can not take a break until the call for a break is sounded. Recently, a meeting was held to reprimand workers ending work 2 minutes before the call for a break. Conversations are not encouraged during work; those who speak will be reprimanded. We are allowed to talk on the phone, but we have to use earphones so that we do not stop working. Nevertheless, Gloria is one of the rare factories operating in Vanadzor, that's why people stay. You can always get a job here. If you do not know how to sew, they will teach you and give you a job. The majority of the staff are women between the ages of 30-50.
The legal awareness of our employees is rather low: at best, we can demand higher wages, or additional overtime pay. A few years ago, the tailors switched off their sewing machines and and stopped sewing for 20 minutes; the management held a meeting with the foremen and reported back that they had talked to customers and would be able to raise our salary by 5000 dram. None of us knows the prices for the jackets or trousers we make; that is, the price at which the customer buys them from the factory. We know that our jackets are sold in Italy and Germany for 700-900 euros. We found out on the Internet
The main concern is that we are rarely paid overtime. According to our agreement, we must work from 08:30 to 17:30, with an hour's break. But we stay longer, with a 45-minute break. If we complain, the management responds that we stay longer at our own will because we don't finish work on time. It's true, the work of all the whole staff is interrelated; everyone has their function, and if one works slowly, the work of others slows down as well.
We need to sew 40-90 jackets each day, depending on the complexity of the model. If we do not manage to, the entire staff suffers. Beginners in the teams help, I can not complain about that. But there is a tendency to reproach with this help. We have good foremen who help and work with us on equally, but giving reprimands is also a part of their job. The heads of the shops sit in separate offices; they'll also randomly reprimand us when passing by – talk less and all that.
We always complain about the lack of days off. We work even on official holidays: this year we worked on April 24 [the day of commemoration of the victims of the Armenian Genocide], on May 28 [the anniversary of the First Armenian Republic].
Last year, when former Prime Minister Karen Karapetyan was supposed to come to the factory, we were warned not to apply to him with a demand of additional payments or other similar issues. Of course, we did not even get to see Karapetyan.