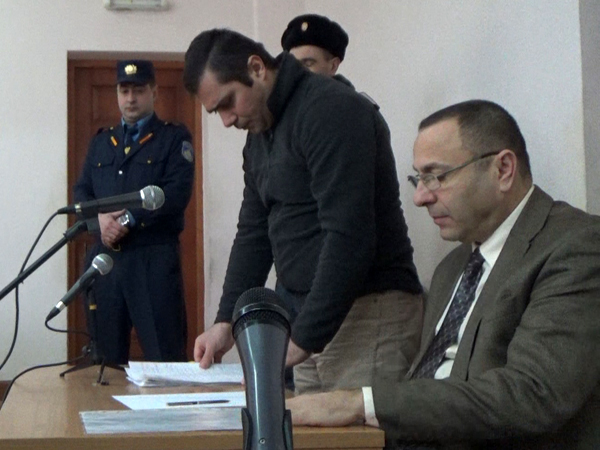 Gevorg Safaryan, a member New Armenia and Founding Parliament anti-government movements, is a victim of discrimination, a prisoner of conscience, and a political prisoner who is being subjected to vendetta by Armenia's authorities, a group of human rights advocates announced in a news conference today.
"It's pointless to challenge yesterday's verdict at Armenia's Court of Appeal; we should go straight to the European Court of Human Rights," Artak Zeynalyan, the chairman of the Rule of Law human rights non-profit, said, adding that Safaryan is a discrimination victim and is being persecuted for his political beliefs, while Armenia currently lacks the means for his legal protection.
According to Zeynalyan, the ECtHR complaint should specifically mention that in Armenia, there is no protection against discrimination and no right to freedom of expression; it should further stress, he added, that Safaryan's right to fair trial has been violated, and it's impossible to achieve justice through domestic remedies.
Arthur Sakunts, the head of the Helsinki Citizens' Assembly Vanadzor office, for his part, stated that Armenia's all political forces should be strongly condemned for failing to announce where they stand on Safaryan's issue.
Speaking about how politicized the judicial system in Armenia is, Helsinki Committee head Avetik Ishkhanyan, in turn, noted; "This is yet another proof that the judicial-legal agencies – the Investigative Service, the Police, the Court – are only formally separated from each other."
Gevorg Safaryan was yesterday convicted by a Yerevan district court of violence against a representative of authorities and sentenced to 2 years of imprisonment. He was arrested on January 1, 2016, and subsequently charged with assaulting police officer Gegham Khachatryan, after several dozen members of Founding Parliament and New Armenia opposition movements scuffled with police as they tried to celebrate the New Year on Yerevan's Freedom Square.