Although environmentalists and local communities have been fighting against the exploitation of the gold mine in Amulsar for years, Lydian, the mining company carrying out the project, will soon start development on the site, turning Amulsar into Armenia's second largest mining project – where some 10 million tonnes of ore will be processed per year – after the Kajaran copper-molybdenum deposit. Lydian insists that the implementation of the project will be at par with international standards; the company's assertion, however, does not sound very encouraging to environmentalists, who argue that the Teghut mine is also being exploited "in accordance with international standards," but it has still had a disastrous impact on the environment, turning the Shnogh river into a sewer.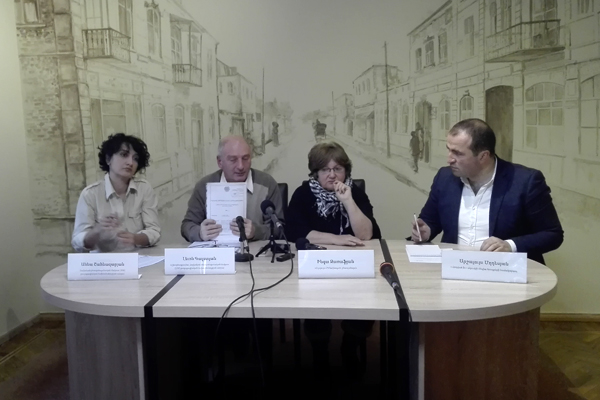 A public discussion on Amulsar was held in Yerevan on January 18, the invitation for participation in which was rejected both by Lydian and nature protection ministry representatives. Armenia's government, for its part, had failed to even respond to the environmentalists' invitation. According to environmentalist Levon Galstyan, the authorities' attitude is not surprising, given that the ministry did not even make an independent assessment of the project put forward by Lydian but simply summarized it and submitted as an opinion.
"The government is corrupt; it is inactive. It is not doing its job and does not allow us, as citizens, to call authorities to their responsibilities with the help of the judicial system," Anna Shahnazaryan, another participant of the discussion, said.
Environmentalist Inga Zarafyan, for her part, noted that since 2011, Lydian has acquired two more exploitation sites for the Amulsar project, thereby increasing the environmental risks. Moreover, in one of the areas – only a kilometre away from the village of Gndevaz – the company intends to build a cyanide plant. One of the main problems, according to Zarafyan, is the fact that many of the surrounding communities have not been recognized as direct impact areas, and no public hearings on the project have been held, for example, in Sevan or Jermuk (located 12 km from the mine).
Epress.am's reporter inquired of the environmentalists, whether they planned to stage sit-ins or on-site protest actions to prevent the implementation of the project, recalling the victorious struggle to stop the construction of the Dakota Access Pipeline near the North Dakota reservation of the Standing Rock Sioux Tribe.
Anna Shahnazaryan replied that people in Dakota protested the construction because they knew no other way, while in Armenia there is always another way out – emigration; "The people's socio-economic conditions do not allow them to worry about environmental risks. To quote the godfather of the Amulsar project, former prime minister Tigran Sargsyan, 'Let them emigrate; should they instead stay and revolt?' People in Gndevaz have already started selling their houses…"
Inga Zarafyan, in turn, added that local communities have not at all been indifferent and have been fighting the mine exploitation all along; "A petition in Gndevaz gathered at least 200 signatures, which is a big number for such a small village. They have even risen against their village head. [They have been protesting] with civilized methods."