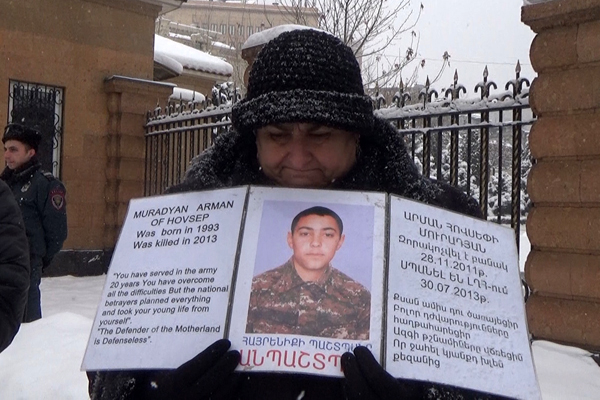 Today, on the eve of the Armenian Army Day, the parents of several soldiers who died in the army from non-combat related circumstances gathered outside the office of the Armenian president "to remind about our dead sons, who have been forgotten by the authorities." Like every year, they said, today president Serzh Sargsyan is awarding medals to a number of servicemen of the Armed Forces in connection with the 25th anniversary of the formation of Armenia's army.
"It's the Army Day, and we have sons as well; why should they remember all other soldiers, but not our sons? I want my son to be remembered on the Army Day, too," Irina Ghazaryan, mother of Artur Ghazaryan who died in 2010 in a Nagorno-Karabakh military unit, told Epress.am.
Security officers of the presidential palace urged the parents to leave the territory, claiming that the demonstrators were obstructing the work of the president's office. Nevertheless, the parents remained standing in front of the presidential gates for nearly two hours, holding the pictures of their sons and talking about the attitude of former and current defense minister towards non-combat army deaths.
"[Former defense minister] Seyran Ohanyan is now presenting himself as an oppositionist, but it was during his tenure that a number of soldiers' deaths went undiscovered in the army," they argued.
As regards current defense minister Vigen Sargsyan, the parents noted that they have applied futilely for a meeting with him several months ago, and have only received a phone call from the ministry, urging the parents to appeal to the general prosecutor's office instead, "because the criminal cases do not concern the defense ministry."
Nana Muradyan, for her part, stressed that she does not attach great hopes to the resumption of the investigation into her son Valery Muradyan's death; "The case has already been closed and reopened twice. They are deliberately wasting the years so that the case does not reach the European Court of Human Rights."